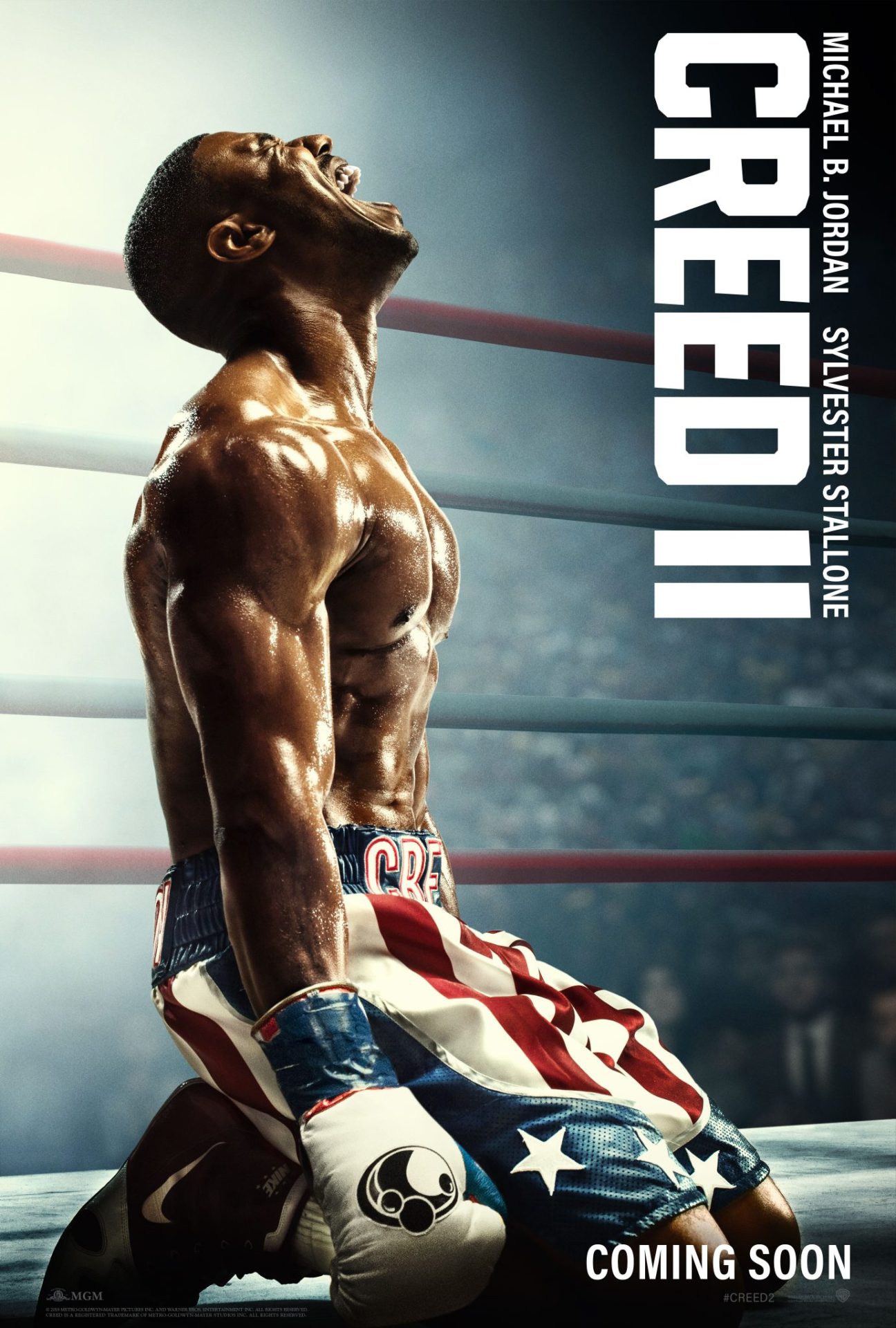 If you would like to read our review of the original Creed, click here.

Synopsis: Life has become a balancing act for Adonis Creed. Between personal obligations and training for his next big fight, he is up against the challenge of his life. Facing an opponent with ties to his family's past only intensifies his impending battle in the ring. Rocky Balboa is there by his side through it all and, together, Rocky and Adonis will confront their shared legacy, question what's worth fighting for, and discover that nothing's more important than family. Creed II is about going back to basics to rediscover what made you a champion in the first place, and remembering that, no matter where you go, you can't escape your history. (Warner Bros.)
Starring: Michael B. Jordan, Sylvester Stallone, and Tessa Thompson
Writers: Sylvester Stallone and Juel Taylor
Director: Steven Caple Jr.
Rating: 14A (Canada)/PG-13 (United States)
Running Time: 130mins
Trailer:
When Rocky's narrative returned to the screen a few years back in the form of a generation reflecting odyssey, the filmgoing community generally welcomed the character/world back with open arms. It was almost immediately obvious that there would be a sequel based on its unlikely box office and critical success, with quite a few warning signs accompanied by that mental notice. Ryan Coogler's absence from the sequel hit harder than anything else, his visceral directions made the boxing sequences and emotional tension as hard-hitting as it was. Thankfully, new director Steven Caple Jr continues to elaborate on Coogler's ideas of family bonds, the human heart and just how far is too far, as we follow Creed take on his biggest challenge yet that will overwhelm him emotionally and physically.
If one thing is certain, Michael B. Jordan will be the best part of every mammoth-blockbuster he stars in almost every single time. The vast range that he displays on-screen as Adonis Johnson, constantly ranging from vulnerable but impenetrable to any other sort of oxymoron-related emotional boundary, continues to prove his worthiness as the top of Hollywood. We see him at his most passionate and lively here, as he attempts to do his father proud from beyond the grave, which ultimately spirals into various scenarios regarding the ideas of family and how tight those bonds truly are. His performance is accompanied by a stunning and captivating family unit (accompanied by Sylvester Stallone as the all-mighty Rocky Balboa, who is also quietly beautiful in his own right) that helps to jack up the levels of emotion to the maximum.
Where the film falters, though, is fairly minuscule in the picture but certainly noticeable in the moment. Caple sure does know how to direct the emotional sides and inner recesses of Creed's narrative but he's never truly able to entirely access a sense of abundant adrenaline when executing the film's climactic boxing matches. These fight scenes are mostly accompanied by awkward point-of-view shots that provide a feeling of unjust and a heavy sense of being tonally confused with the sense of the film. There are also quite a few uses of slow-motion during these scenes, which slightly demolish senses of tension due to the fact that they come off as "cheesy" and unintentionally comical in their portrayals. Cinematographer Kramer Morgenthau may also share some blame here, based on how he frames these scenes; relieving the audience of their tension in the midst of the film's highest building moments isn't too effective.
At the end of the day, there's still so much more to be admired here than not. Caple's vision tops that of its predecessor, due to the fact that the melodrama onscreen seems far more fitting tonally, including the fact that the moments of intentional cheese is somewhat fulfilling (especially during the climax, where we witness the return of a truly iconic anthem). Its consistent engagement and sense of pride can't help but knock down a forgotten barrier between aggression towards love and the love to unleash hate, the only problem is that some of these ideas aren't seen to their full potential. Although, they make a significant impact on the heartstrings when fully elaborated throughout the narrative. The positives just outweigh the negatives here, some more than others; you will more likely than not find some enjoyment in this one, due to how far-reaching it is.
Score: 7/10
Follow me on twitter @ScangaBen and on letterboxd @theccritic.