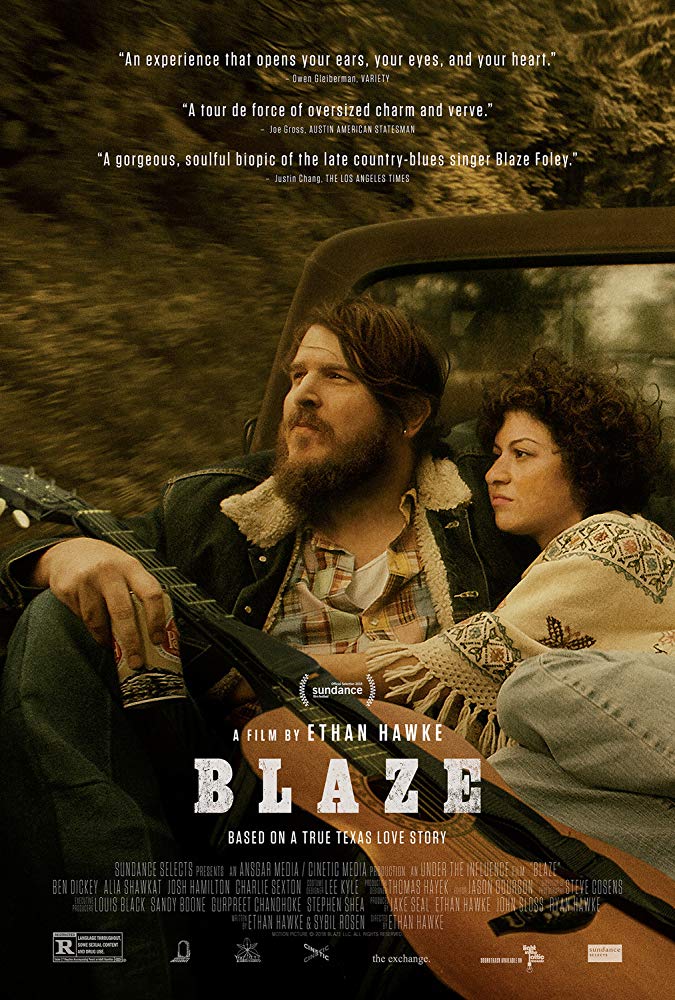 Ethan Hawke has been at the forefront of the awards conversation (although no SAG or Golden Globes nominations is troubling) for his terrific performance in Paul Schrader's First Reformed, however don't let it overshadow the fact that he also directed a solid country-indie biopic about musician Blaze Foley, a man Hawke seems to be enamored with.
Synopsis: BLAZE is inspired by the life of Blaze Foley, the unsung songwriting legend of the Texas outlaw music movement that spawned the likes of Merle Haggard and Willie Nelson. The film weaves together three different periods of time, braiding re-imagined versions of Blaze's past, present and future. The different strands explore his love affair with Sybil Rosen; his last, dark night on earth; and the impact of his songs and his death had on his fans, friends, and foes. The braided storyline terminates in a bittersweet ending that acknowledges Blaze's profound highs and lows, as well as the impressions he made on the people who shared his journey. (levelFilm)
Starring: Ben Dickey, Alia Shawkat, and Charlie Sexton
Writer: Ethan Hawke and Sybil Rosen
Director: Ethan Hawke
Rating: R (United States)
Running Time: 129mins
Trailer: 
Blaze Foley is a man you likely have never heard of. He was a (mostly failed) country music singer active in the 70's and 80's and died at age 39 of a fatal gunshot wound. Adapted from the novel  Living in the Woods in a Tree: Remembering Blaze by Sybil Rosen, Hawke takes conventional biopic beats and turns them into a southern story drenched in booze and existentialism, painting a picture of a man too proud to make it in the industry and too wild to go any further.
Hawke employs a double framing narrative to weave together Foley's (Dickey) life – the first being framed post-death while his friends recount his life on a local radio show, and the second being Foley himself drunkenly outlining his relationship with his ex-wife to a bar of patrons unconcerned with what he's saying. The film is paced and edited extremely well, Hawke and editor Jason Gourson cut with precision and ease between time frames, never confusing the audience while also delving into the psyche of Foley, who's stubbornness and alcoholism costed him what he held dearest to his heart.
Warm yellow tones and rich production design flood the screen, typical cinematography and design for deep south country films, however Hawke is too knowledgeable in the world of film to keep it that basic. He implements a variety of slow-mos and and profile close-ups to keep the camerawork dynamic and engaging, encasing the dyadic extremes of Foley's once promising life. The opening scene has an incredible close-up of Foley recording in the studio – soaked in sweat and drooling with passion while crafting his music and is later juxtaposed with the same shot, but this time of Foley's sweaty face in an Austin dive bar filled with sorrow and regret. It's really smart filmmaking by Hawke.
The cast here is solid, with Foley being played by musician turned first-time actor Dickey. Dickey disappears as Foley, with his bearish persona masking his damaged soul, Dickey navigates Foley's life with confidence and proficiency. It never seemed like he had never acted in a film before. His ex-wife Sybil, played by Alia Shawkat also delivers an incredible performance, perfectly teetering the line between love and regret. The film also features a pair of delightful cameos by Sam Rockwell and Richard Linklater as slimy oilmen trying to sign Foley to a record deal.
Blaze falls trap to conventional biopic standards in terms of what the film has to say about being alive and how people remember you after you're gone. While it's clear why Hawke needed to incorporate these aspects, as Foley was a forgotten man who only flirted with frame, the philosophical undertones felt less impactful then they should have.
"I don't want to be a star, I want to be a legend," Foley says in the back of a pickup truck as he and his wife hitchhike to Austin. Foley will never go down in history as a legend but Hawke shines a light brightly on a troubled artist who lived a rich life in a way that might leave you convinced he was a legend after the credits begin to roll.
Score: 7/10
Please follow me on Twitter or Letterboxd.