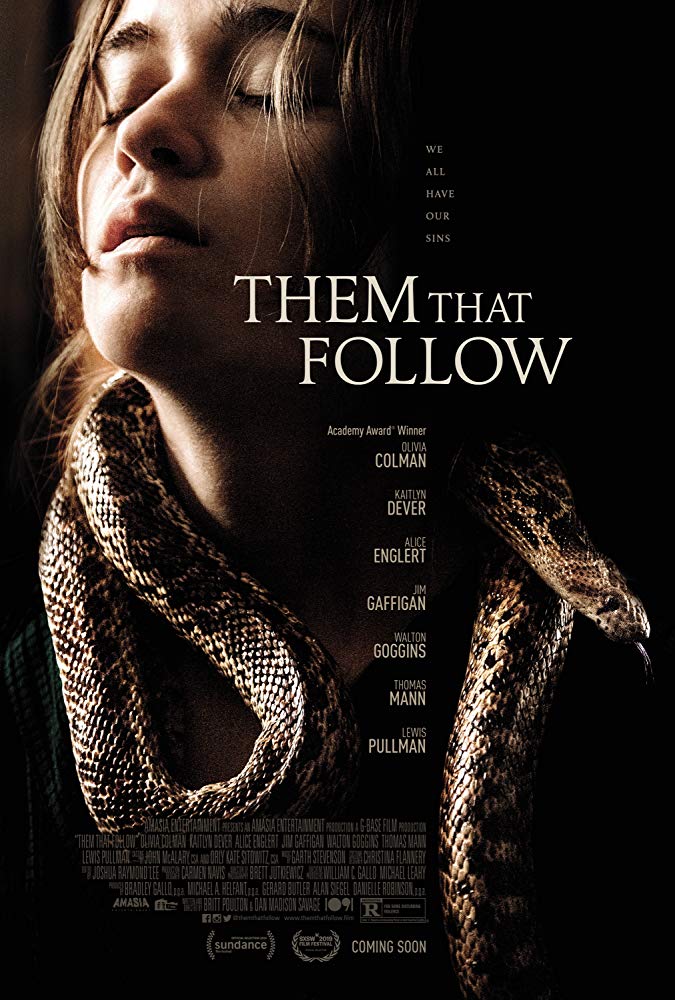 Starring

Alice Englert, Walton Goggins, Olivia Colman

Writers

Britt Poulton, Dan Madison Savage

Directors

Britt Poulton, Dan Madison Savage

Rating

R (United States)

Running Time

98 minutes

Release Date

August 2nd, 2019
Rating Summary
Them That Follow was a grounded character drama with some great performances to at least keep things interesting.
This will be one of many reviews during this year's SXSW Film Festival, to keep up with our latest coverage, click here.
The choice of family vs. faith has been featured prominently in countless films and Them That Follow was no different. The story was about a close knit Appalachian mountain community and the small subsection within in who practice a spinoff religion of Christianity utilizing snakes. Led by the charismatic Lemuel (Goggins), this group has practiced their religion while isolated from others and trying to evade the authorities. The story focused on Lemuel's daughter Mara (Englert) as she found herself trapped in a love triangle with two young men, one a fellow parishioner named Garret (Lewis Pullman) and the other, a non-worshipper named Auggie (Thomas Mann).
In choosing between Garret and Auggie, Mara would effectively find herself with a crisis of faith. She was still devoted to her father but once her beliefs would be tested. Mara would have to choose between the life that her father perhaps wanted for her and the life she wanted. The slow burn nature of Them That Follow's story, focusing on many silent moments of reflection, will make it difficult for some to connect with enough to become emotionally invested in Mara. As the story progressed, other characters would find themselves at a similar crossroads but the lack of character development only lessened the impact of their decisions.
The acting was the best part of Them That Follow as it at least kept things interesting. Englert was still somewhat compelling to watch as Mara. The nuance she displays within those aforementioned moments of reflection were quite something to behold. Goggins was strong as Lemuel while providing the kind of screen presence needed to pull of the charismatic and intimidating leader. Colman (and her cute Southern-ish accent) as Auggie's mother Hope made the most of her limited screen time with a heartbreaking performance of her own.
The slow burning story and its characters of Them That Follow certainly won't be for everyone, however, the lack of character development only lessened the impact of the tough decisions that the characters had to make. However, Olivia Colman with a southern-ish accent is always a plus.
*still courtesy of Amasia Entertainment*
---
If you liked this, please read our other reviews here and don't forget to follow us on Twitter or Instagram or like us on Facebook.