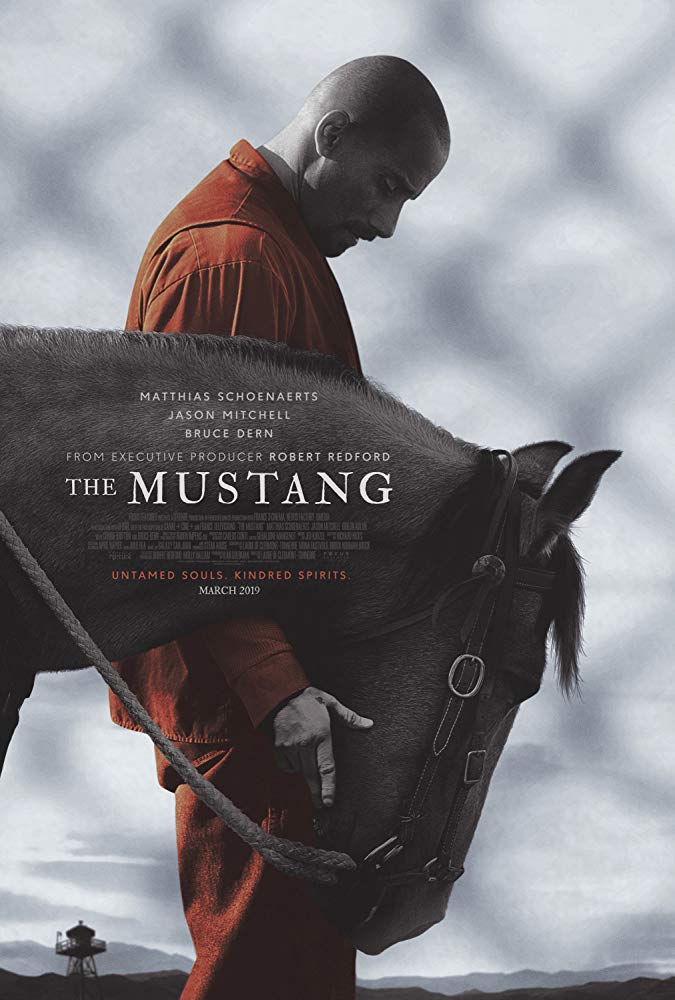 Starring

Matthias Schoenaerts, Jason Mitchell, Bruce Dern

Writers

Mona Fastvold, Brock Norman Brock, Laure de Clermont-Tonnerre

Director

Laure de Clermont-Tonnerre

Rating

14A (Canada), R (United States)

Running Time

96 minutes

Release Date

March 29th, 2019
Rating Summary
The Mustang is a brilliantly-acted character study featuring a subtly powerful and different redemption story. Not everything works as the slow burn may not be for everyone but is beautifully shot and featuring an award-worthy performance from Matthias Schoenaerts.
Redemption stories have been told since the beginning of film and have compelled us (for the most part) ever since. While we may more or less know how they go, what sets them apart is how they present these common themes. The Mustang is arguably more of the same but it will be hard to look away as the story unfolds thanks to some beautiful cinematography. The film was about an a violent convict named Roman Coleman (Schoenaerts) who joins a rehabilitation program that involved the training of wild mustang horses (an ongoing program that actually exists). Just as the themes may be familiar, the link between Coleman and the wild horses was an obvious one though it would be much more than that.
As a man, Coleman would be more of a strong, silent type who would internalize his feelings. There was definitely a lot going on beneath the surface and he wasn't necessarily the most trusting. He clearly did something that would warrant him being in prison for as long as he was, however, the circumstances behind his imprisonment were not immediately clear. Having a short fuse and haunted by guilt for his actions, Coleman preferred the solitude and the lack of interaction that came with solitary confinement. The parallels between the once caged man and a particular caged horse are what drove Coleman to him. Thus as one went, so did the other but it wasn't going to be easy for either of them. Suffice it to say that this was not a Disney story.
Over the course of the film, we start to learn how Coleman got to prison in the first place through his strained relationship with his daughter Martha (Gideon Adlon). If there was one problem with this film was how much of a slow burn it was and along with a short running time of around 90 minutes, the pacing may not be ideal for some but the film makes it easy to connect with and care for these characters. This film doesn't gloss over or sugarcoat anything, capturing raw emotion through a series of sometimes uncomfortable moments though lingering cameras and closeups. The film could have gone deeper when it came to the relationship between Coleman and his daughter and another prison subplot was unnecessary, however, the latter was kept at a minimum with the film still rightfully choosing to focus on the relationship between Coleman and his horse.
The acting was stellar across the board with Schoenaerts leading the way with his excellent performance as Coleman. The Belgian actor boasts a surprisingly good American accent as the troubled and broken convict. He was so powerful to watch, conveying as much emotion through his actions and facial expressions than the few words he spoke in a way that not many other could. Mitchell was good in a smaller role as a fellow convict named Henry. Dern was a crusty delight as Myles, the head of the wild horse prison program.
It may be another horse film but if it plays its cards right, it may be a dark-horse pick (pun intended) for some come award season.
*still courtesy of Focus Features*
---
If you liked this, please read our other reviews here and don't forget to follow us on Twitter or Instagram or like us on Facebook.