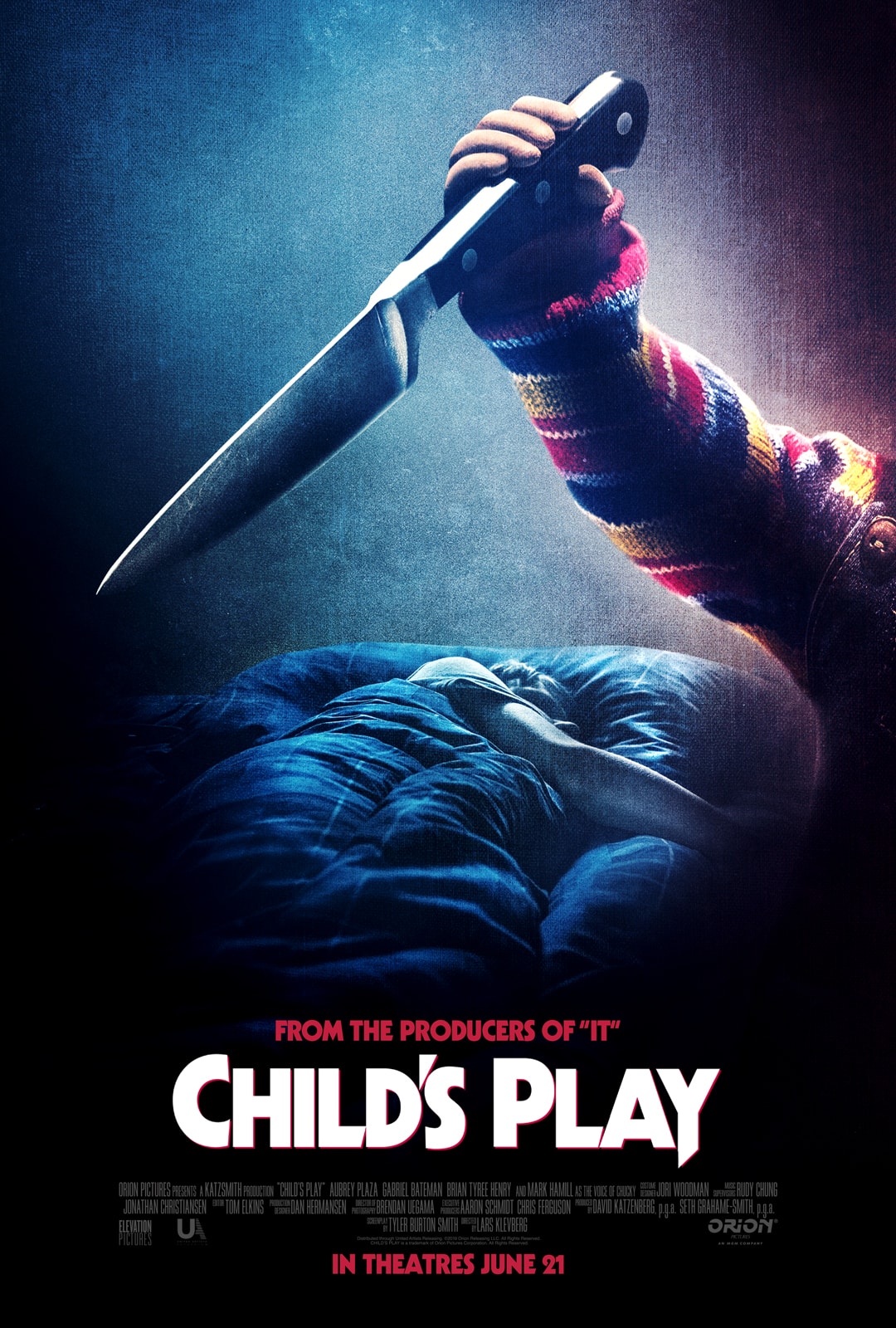 Starring

Aubrey Plaza, Gabriel Bateman, Mark Hamill

Writer

Tyler Burton Smith

Director

Lars Klevberg

Rating

14A (Canada), R (United States)

Running Time

90 minutes

Release Date

June 21st, 2019
Rating Summary
Child's Play may not do justice to the original film or Chucky himself, but is an undeniably entertaining slasher flick in its own right.
Child's Play stars Plaza as Karen Barclay, a single mom struggling to make ends meet. Her son Andy (Bateman) is having trouble making friends in their new neighborhood, so Karen buys him a Buddi. A Buddi, to put it simply, is like if Alexa had the body of a creepy little child. This Buddi, who goes by the name of Chucky (Hamill), develops a bond with Andy, and believes them to be best friends for life. But, unfortunately for Karen and Andy, this is no ordinary Buddi. He'll do anything to keep his best buddy safe. Anything. Being a remake of the 1988 classic of the same name, suffice it to say that this film had a lot riding on it. Fortunately, it's a lot of fun.
What makes the film work better than just any middle of the road slasher is its cast. Plaza shines as a sympathetic mother just trying to do right by her kid. Brian Tyree Henry plays Mike Norris, a cop who Andy and his mother befriend. Both actors' past experience in comedy gave them the tools to develop charming and likable characters. Bateman holds his own in the film as well, especially considering how most of his performance comes opposite a talking robot. Hamill is a lot of fun as the voice of Chucky. This film's interpretation of the character is very different from what we're used to and while he doesn't surpass Brad Dourif's iconic performance as the killer doll, he does put his own unique spin on it.
Whether or not you agree with the decision to reboot the Child's Play franchise, especially with creator Don Mancini still working on projects that continue the original series, you've got to respect the fact that Child's Play is more than just a tired retread. Most remakes, especially horror remakes, bring absolutely nothing new to the table and merely rehash their source material. This film strays considerably from the original Child's Play, and, for better or for worse, brings a lot of new and different ideas into play. This film carries on the themes from the original, but shifts its focus towards technology and artificial intelligence, and how they're beginning to be marketed towards kids.
The biggest difference between this film and the original, however, is Chucky himself. This is not the Chucky you know or love, and that is perhaps the film's biggest flaw. While it is undeniably fun to see this little toy malfunction and start to go crazy, it does not quite allow Chucky to become the doll he was in the original films. While this still works as its own concept, it's simply not Chucky. Also, the new design for Chucky will be controversial. It is definitely creepy, but it does not have the same effect as the original. While this film may have worked better as its own standalone film, it's still enjoyable as it stands now. It may not be the best Chucky movie, but it's definitely a satisfying slasher in its own right.
Overall, this iteration of Child's Play may upset fans of the franchise, but at least it's brave enough to go in a new direction. To the uninitiated, it should be a fun, offbeat treat of a slasher movie. Nothing amazing, but it's got the viscera and it's got a fun sense of humor about itself as well. If all you're looking for is a silly, gory good time, look no further.
Just pray Chucky doesn't pick you as his next best friend.
*still courtesy of Elevation Pictures*
---
If you liked this review, you can follow me on Letterboxd to see more. And my Twitter is a lot of fun too.
Read our other reviews here and don't forget to follow us on Twitter or Instagram or like us on Facebook.