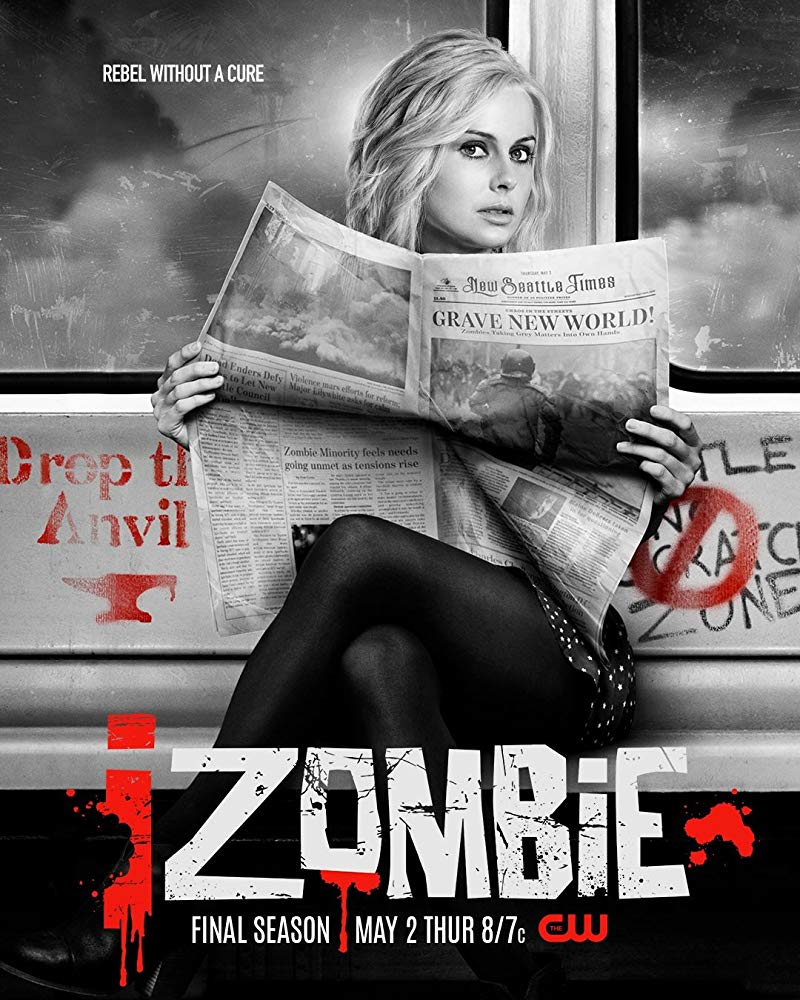 Director

Tessa Blake

Writer

John Bellina

Rating

TV-14

Running Time

42 minutes

Airs

Thursdays 8pm

Channel

The CW
Rating Summary
iZombie may be on a two-week hiatus but The Fresh Princess definitely left us with a very intriguing cliffhanger to mull over in the meantime.
If you would like to read our review of the last episode of iZombie, click here.
Synopsis: Liv and Clive investigate the murder of a beauty pageant contestant; a rival contender claims to be innocent and Liv consumes the murdered woman's brain in hopes of tracking down the murderer. (TVGuide)
iZombie ended on a cliffhanger as it announced it's two-week hiatus–that's not cool! However, it looks like it will be worth the wait when the series returns on July 11th to finish off its final season. As it has been for quite some time, human and zombie relations are still a hot mess and get more complicated when General Mills' daughter goes missing. It's because she was kidnapped by an anti-zombie group hoping to create some ruckus. Initially, no one realizes that she is even gone because her social media is being updated on the daily to make it look like she's okay.
Meanwhile, iZombie channels the 90s this week as Liv eats the brains of a 90s pageant girl named Laurie-Beth (Mellany Barros) and takes us right back to the best decade ever (like totally, right?). You see, Laurie-Beth had been in a coma for the last 20 years and then died. The suspect at the time was a girl named Velma (Jordan Claire Robbins) who just took a plea deal after being accused of trying to hurt Laurie-Beth.
Now, twenty years later, the case is being looked into again as Velma tries to vouch for her innocence. It turns out that Velma was not the one who tried to kill Laurie-Beth, and in fact, she herself was the intended victim. A drug had been placed into her face powder and when Laurie-Beth gets locked out of her room, she asks to use Velma's powder. See what happened here?
Being a 90s kid, the whole 90s aspect of the episode was great seeing that it was easy to relate to the lingo and the Spice Girls of it all. As always, Rose McIver kills it in yet another portrayal of the character of the week. As the investigation continues, Clive and Liv manage to get their hands on the recorded tapes from the pageant days from Laurie-Beth's parents. Based on the footage, Laurie-Beth goofed up her flute performance, and it made the entire case a bit more interesting. But aren't pageants always a riveting topic of conversation?
Liv had a lot on her plate this week given that her father had fallen ill, she was busy taking care of him. Much to her surprise, her mother and brother, Evan, show up asking for her help to get out of Seattle so they could get Evan some medical help. Unfortunately, an awkward family reunion made things worse before they would get better but in the end, it ended up being okay.
This stands true for the pageant cast as well after the video footage reveals that it was Laurie-Beth's mother that planted the drugs in Velma's face powder. She didn't like that her daughter was in danger of losing and would do anything to ensure her success. She only meant to give Velma a rash but never imagined that Laurie-Beth would die as a result.
By the end of the episode, everyone learns where General Mills' daughter, Sloane has been this entire time and sees her in zombie rogue mode when she is released by the Dead Enders. Sadly, the soldiers of Filmore-Graves have no option but to kill both Sloane and her boyfriend after they begin attacking the crowd at a pie festival.
Oh, and just one more thing. Remember how Peyton and Ravi were looking into the origin of the tainted Utopium? Well, they found it, and it all points to Liv's father, the probable father of zombies. Uh oh.
---
Check out my TV blog to read reviews, recaps, and much more! Be sure to follow me on Twitter, Instagram, and like my Facebook page! @watchwithreebs
If you liked this, please read our other reviews here and don't forget to follow us on Twitter, follow us on Instagram, and also like us on Facebook.