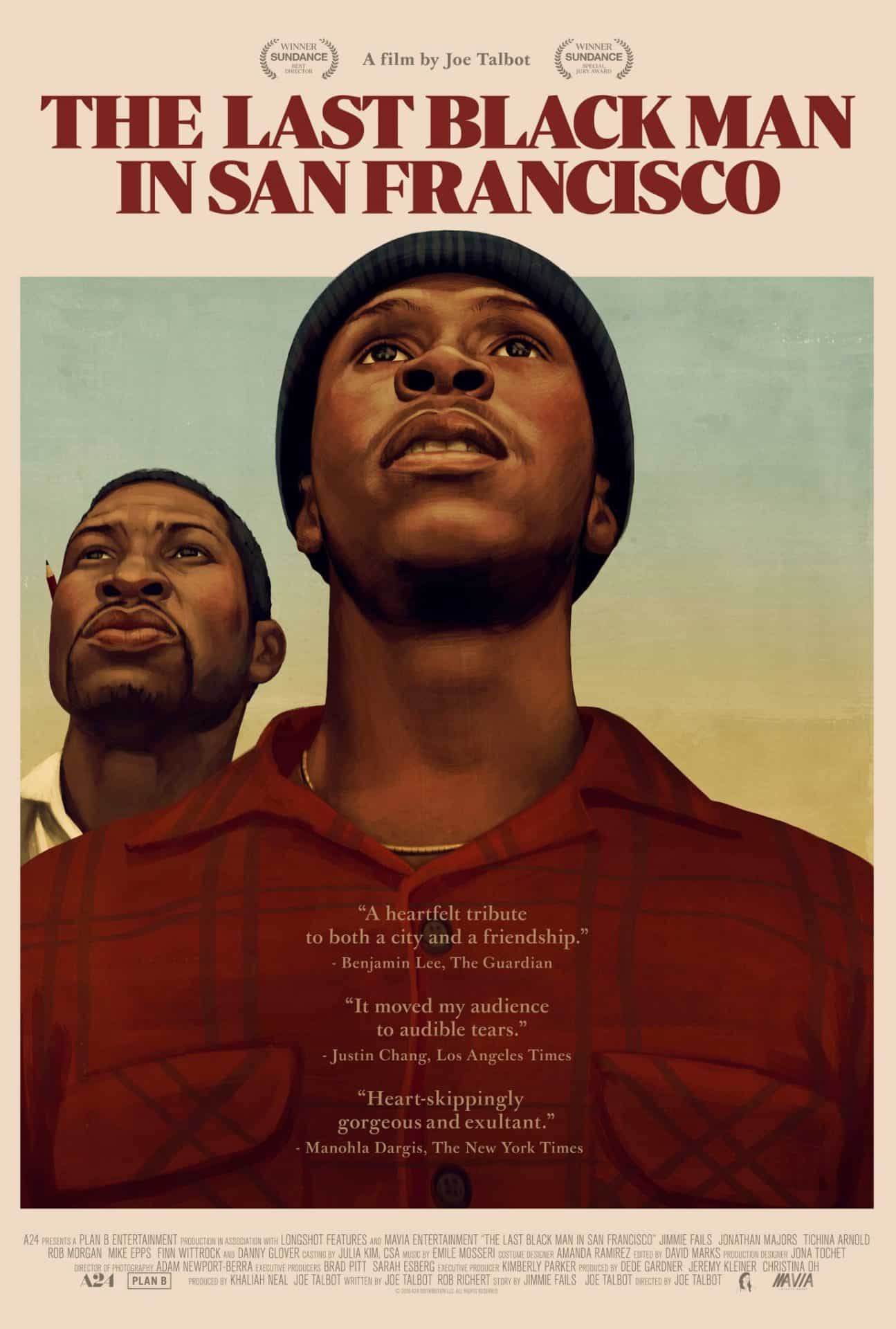 Starring

Jimmie Fails, Jonathan Majors, Tichina Arnold

Writers

Joe Talbot, Rob Richert

Director

Joe Talbot

Rating

14A (Canada), R (United States)

Running Time

121 minutes

Release Date

June 7th, 2019
Rating Summary
While The Last Black Man in San Francisco didn't quite achieve what it set out to do, it would still offer a beautifully intimate story in its own right, featuring a pair of excellent performances from Jimmy Fails and Jonathan Majors.
Ever since its premiere earlier this year at the Sundance Film Festival, The Last Black Man in San Francisco has made quite the splash, appearing on many best of the year so far lists, and it is definitely easy to see why. It certainly hits all of the right notes on a technical level but falters slightly with its plot that may be too simple and lacking depth for some audiences. While it undoubtedly beautiful to watch as it puts the city of San Francisco on display, the film would also feel empty at times. Though it may not go far enough with its social commentary, the compelling story it offers at its core more than makes up for it.
Jimmie Fails (Fails) was an African-American man from a different time who dreamed of once again claiming the Victorian home built by his grandfather in the heart of a rapidly changing San Francisco that was plagued by gentrification and mass displacement. As his city was changing around him, he felt like he was being left behind. Along with his very eccentric and observant but supportive best friend Mont (Majors), Jimmie and Mont tried to pull themselves up from their less than ideal beginnings and find their place in this new world that was much different than he was used to. Finding the type of comfort and stability they've always wanted was certainly not going to be easy, however, they were more than willing to work for it and it was easy to root for them as they were doing so.
Once Jimmie and Mont managed to find the kind of stability they were looking for, this would only be the first step on their path to rebuilding a sense of community and belonging while achieving a redemption of sorts within the new world around them. Despite what was happening to their city, they still loved their city and wanted to keep alive the memory of what it used to be. Unfortunately for most people, including Jimmie's family, they've moved on and didn't exactly share the same views as them. Little did he realize, he was so consumed by this ideal life that he was perhaps oblivious to reality. Nevertheless, it was easy to relate to Jimmie's need to achieve the type of life he's always wanted and to belong on an emotional level as he and Mont were compelling to watch. However, the film couldn't quite sustain this emotion as it would stumble approaching the finish line.
On a technical level, The Last Black Man in San Francisco was beautiful. Its detailed cinematography and set design helped make the city of San Francisco, and all that was both good and bad about it, come to life as another character in the story. It mainly uses not to subtle contrasts to display how gentrification has affected the city. Meanwhile, the story may be small in scale and focus, which would be to its detriment at times, but it certainly won't feel that way thanks to an epic and emotional score that happens to also be one of the best scores of the year so far. Ultimately, it would be the excellent performances of Fails and Majors as Jimmie and Mont and their great chemistry which made the film truly come together.
Aided by a sharp script, Fails' charisma and likability made Jimmie compelling to watch. He genuinely cared about his city and wanting a better life for himself and his family, even if it may have been misguided at times, and it was easy to care right with him. It was just a shame that the character didn't get a satisfying resolution. Meanwhile Majors was equally powerful though in a different way. The film could have gone further with the interesting Mont, however, he still stood out in his own right with a skillfully restrained and nuanced performance as the emotional center of the film.
Nevertheless, The Last Black Man in San Francisco tells a story that should be told. While it arguably doesn't quite reach its intended emotional impact, it still deserves all of the praise it has received thus far and is well worth the watch if you can find it.
*still courtesy of level Film*
---
If you liked this, please read our other reviews here and don't forget to follow us on Twitter or Instagram or like us on Facebook.