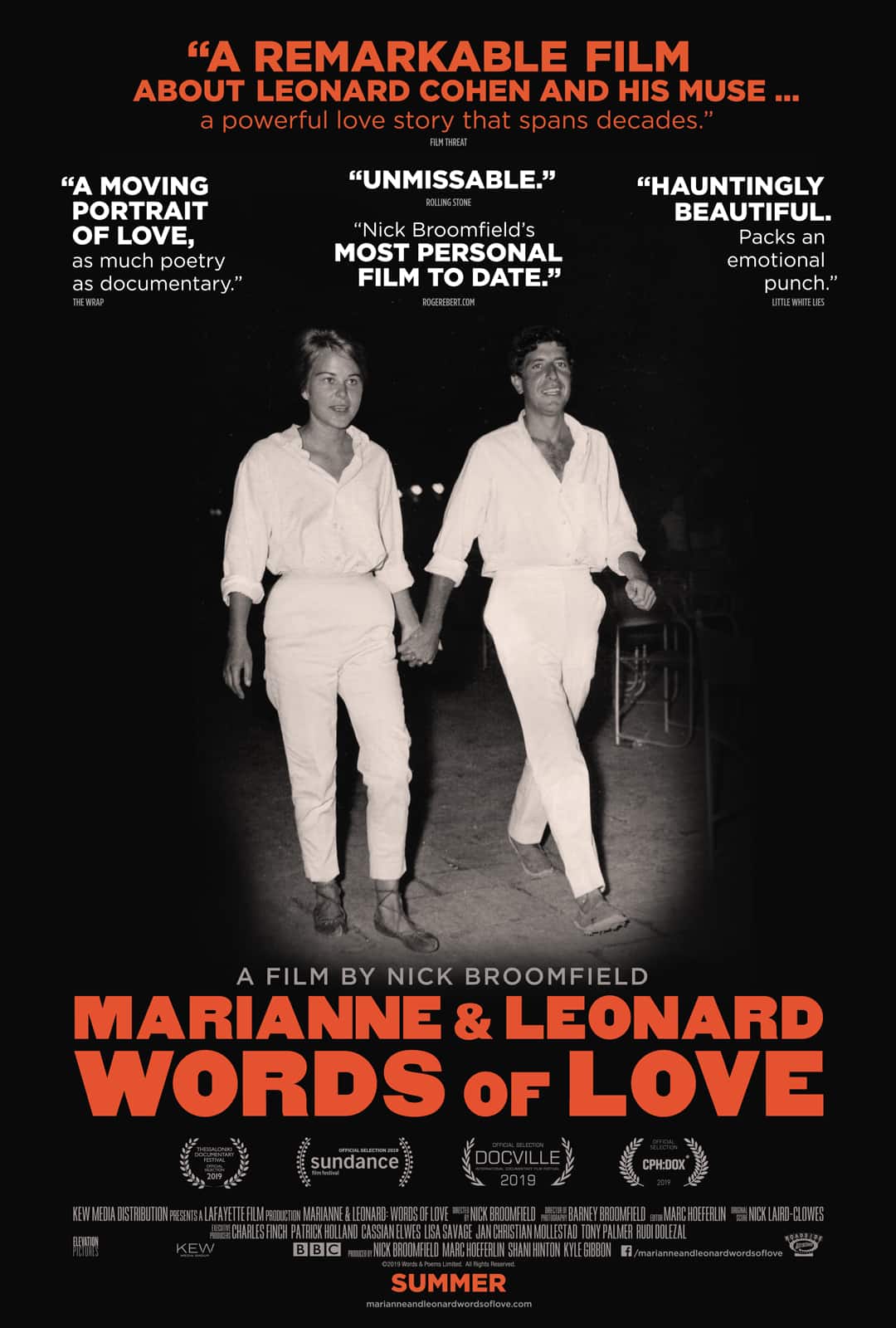 Featuring

Leonard Cohen, Marianne Ihlen, Judy Collins

Director

Nick Broomfield

Rating

PG (Canada), R (United States)

Running Time

102 minutes

Release Date

July 5th, 2019
Rating Summary
Marianne & Leonard: Words of Love is a documentary that feels like it comes from another decade but not exactly in the best way.
Leonard Cohen is a Canadian icon in his own right. With his extremely unfortunate passing in 2016, it's easy to assume that it would be a great moment to release a brand new documentary about him. There's no shortage of films out there focusing on the man's life – most notably, I'm Your Man and Bird on a Wire are acclaimed for their insight into Cohen's songwriting and rise to fame. In Marianne & Leonard: Words of Love, it's not exactly about him in particular – but rather his love life.
Marianne & Leonard: Words of Love features archival footage presented with interviews regarding insight on his relationship with Marianne Ihlen and how she quickly became a muse for Cohen. There's no denying that Cohen is as great of a musician as he is, and that is a concept that is very well established. Unfortunately, this film takes a very simple documentary approach with minimal insight, resulting in a film that doesn't have anything revelatory to say about Cohen, or his relationship with Ihlen.
From the very first minute of the film, we hear interviews from various people related to the couple, providing their insight on both why they loved each other so much, and how Marianne inspired much of the music that Leonard wrote. This continues for most of the film, and isn't exactly telling the story in a way that moves forward or progresses.
This all felt much more like a tribute to the couple, that is comprised of broken up statements from people who believed they knew why Marianne and Leonard fell in love. It's extremely difficult to connect to the film or their relationship when you are being bombarded with information in such a way, and because of this, the film feels significantly longer than it is in reality. In addition, considering the repetitive nature of what the interviewees have to say, it's hard to keep focus for it's entire running time.
There's no denying that the relationship between Marianne Ilhen and Leonard Cohen is fascinating, and when looking at the greatest of lyrics that Cohen has ever written, being able to view it with that mindset really elevates the music. It's too unfortunate that Marianne and Leonard: Words of Love doesn't really take advantage of how fascinating this is, and doesn't really use it's running time to take advantage of all the pieces that came together to form their relationship.
Cohen's music will never die, but, don't be surprised if Marianne & Leonard: Words of Love does. A real disappointment if there ever was one.
*still courtesy of Elevation Pictures*
---
Follow me on twitter @daniel_azbel and on letterboxd @danthemovieman.
Don't forget to follow us on Twitter and Instagram and like us on Facebook.