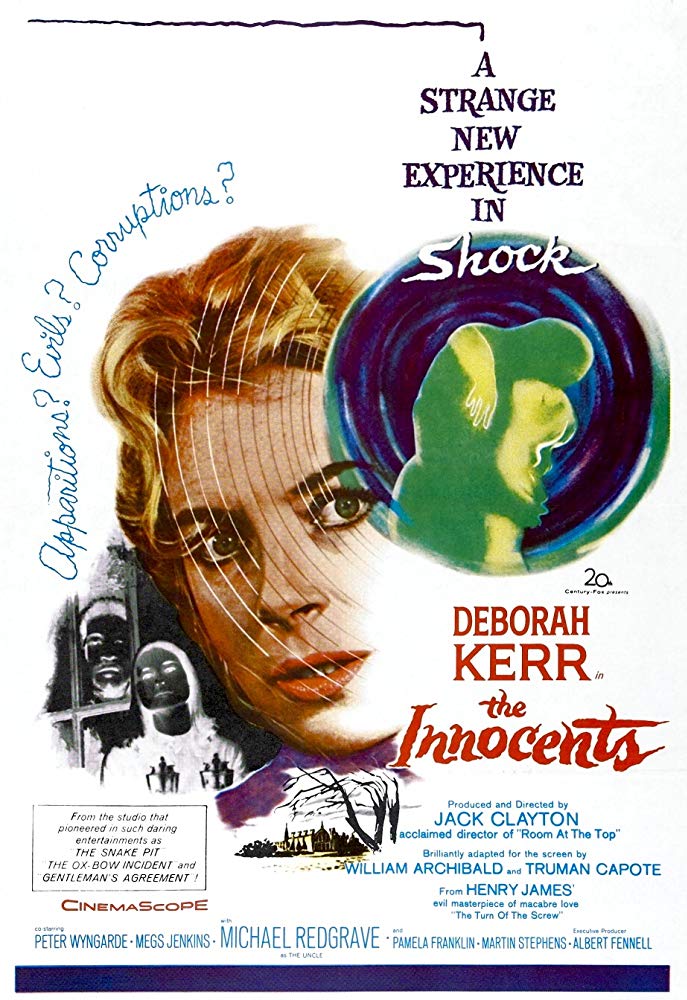 Starring

Deborah Kerr, Peter Wyngarde, Megs Jenkins

Writers

William Archibald, Truman Capote

Director

Jack Clayton

Rating

n/a

Running Time

100 minutes
Rating Summary
The Innocents is a perfect, upper-class horror story that would inspire many films that came after it. Just don't watch it alone at night.
The Innocents follows Miss Giddens (Kerr), an inexperienced Victorian governess who is interviewed and hired by a London businessman (Michael Redgrave) to take care of his two nephews on the countryside. He doesn't really care about the kids and doesn't want to be bothered by their problems. So he asks her to take charge and the entire responsibility of the children. She is shaken by his blunt request but accepts it nonetheless. And soon she moves in to the old isolated mansion.
She receives a warm welcome from Flora (Pamela Franklin), the youngest child and soon Miles (Martin Stephens) joins them coming back from board school. Initially things go great with them: Giddens falls in love with both children and they love her back. But soon things start to unravel. An apparition keeps appearing to Miss Gibbens, a man she finds out was named Peter Quint (Wyngarde), a valet in the mansion and died not long ago. Miss Giddens gets more and more troubled by the sounds and voices she hears, and a second apparition only makes things worse.  She realizes the two ghosts are somehow connected to the children and controlling their actions.
The Innocents is definitely in the upper class of horror films as it doesn't get more sophisticated than this. Clayton creates such a complex, enigmatic surrounding to the story; you feel the chills down your spine. Every part of the house is alive, and it hides secrets on its corners. The gardens are beautiful and frightening at the same time and Clayton directs it with great mastery. It's really exquisite.
Based on Henry James' The Turn of the Screw, The Innocents doesn't go for easy frights; it builds the tension slowly, creating an entire atmosphere of uncertainties around the household. When things start happening, you never really know what's about to happen. But the film is well-paced; it's not interested in making us scream or jump off our chairs. What it really wants if for us to bite our nails to the bone – and it does that brilliantly.
Although it is a ghost story at heart, The Innocents also has another layer of interpretation that re-purposes everything we are watching. Miss Giddens is the only person who actually sees the ghosts, and in time the film gives us a lot of room to wonder if she is just imagining them. Are they real or is she crazy? The film never gives us a final answer, and in a way, not doing so gives the story – and the ending – a totally different meaning. Did she manage to make the kids see the truth or was she brainwashing and manipulating them?
Kerr carries The Innocents perfectly. She gives her character so many emotions. It's a perfectly calibrated performance. The entire cast is great, but probably the standout really is Stephens; he was just a child at the time, but he gives such a frightening performance, he really creates a disturbed character, one that makes us want to get out of the way as soon as possible while also wanting to protect him from all harm.
Great cast all around, and you can clearly see how The Innocents ended up inspiring some of the films that came after it, principally The Others (2001).
*still courtesy of 20th Century Fox*
---
If you like this review, look me up on Instagram for more suggestions.
If you liked this, please read our other reviews here and don't forget to follow us on Twitter or Instagram or like us on Facebook.