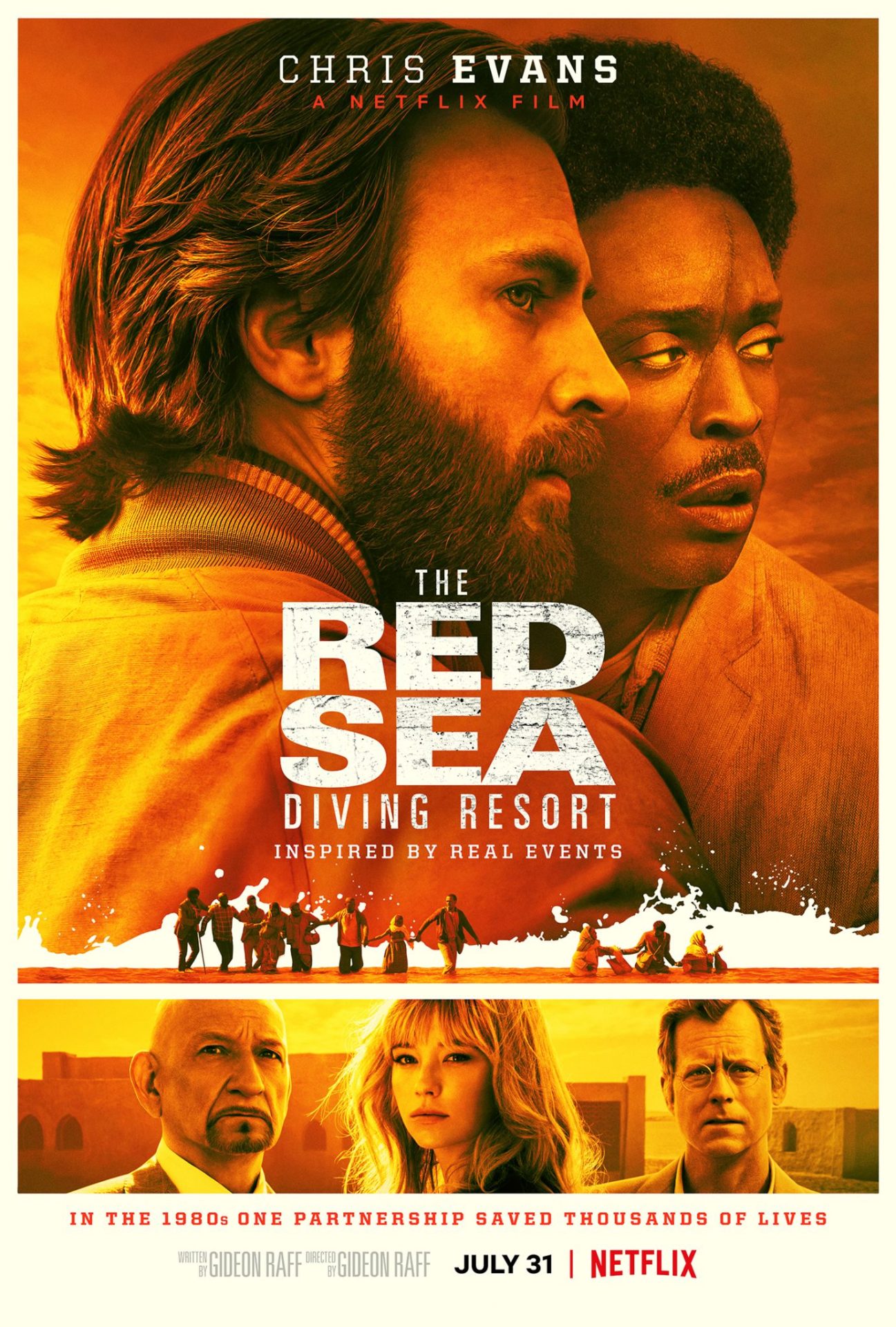 Starring

Chris Evans, Haley Bennett, Michiel Huisman

Writer

Gideon Raff

Director

Gideon Raff

Rating

TV-MA

Running Time

129 minutes

Release Date

July 31st, 2019 (Netflix)
Rating Summary
A true story of human perseverance, The Red Sea Diving Resort is an accomplished piece of storytelling with the most unlikable of bad guys.
Based on a true story, The Red Sea Diving Resort is based on a true story that needs you to feel compassion for the people at the heart of it. This is the case whether it's for the refugees that have to leave their homes and seek safety in another country or the characters who are putting their lives at risk to help them do it. But does it evoke compassion?
The Red Sea Diving Resort is Netflix's most recent movie acquisition, starring an impressive lineup of stars including Evans as Ari Levinson, Huisman as Jacob 'Jake' Wolf, and Bennett as Rachel Reiter as well as Sir Ben Kingsley and Greg Kinnear in supporting roles as Ethan Levin and Walton Bowen respectively. While the film based on real events, it's subject matter is something that not many of Netflix's core audience will probably know about. Knowing it's a true story means that there's a certain level of assumption going on but nonetheless, it is still a well put together and life-affirming.
With The Red Sea Diving Resort, Raff has created something engaging that feels important even if it isn't quite essential viewing. The script for the most part feels tight and deliberate and at times is even quite pithy and even funny. The film doesn't waste any time at the beginning getting into the set up of the fake resort and familiarizing audiences with the characters at the heart of the story who are all driven by the need to try and help this group of refugees. The film, however, does run a little long with a running time of just over two hours with unnecessary scenes and superfluous elements. 
The style of The Red Sea Diving Resort seems to transform a few times throughout but it was never quite clear if this was deliberate or something that only came in the edit. The film drifts from a kind of heist film aesthetic at the beginning to an all-out human drama in the middle before losing a bit of momentum coming into the what should be a lot more of a heart-pounding final act. 
Those small elements aside, The Red Sea Diving Resort does a great job of telling what is undoubtedly an amazing story. It subtly presents the different layers of complexity in what this group of people were trying to achieve as well as the dangers that are involved. With this film's best performance, Chris Chalk plays the deeply unlikable Colonel Abdel Ahmed with his group of militants and a menacing grin. While Chalk brilliantly embodies the Colonel, Evans' Levinson, a figure who is somehow even more selfless than that of his last role as Captain America. Of course he can act, but his two main settings (which are on full display here) seem to be a raised-eyebrow side smile or a concerned furrow of the brow. 
That being said it's unclear if The Red Sea Diving Resort's script calls for much more than this. This is a kind of film that's much more about the story rather than the characters. While this film may not encourage awards talk but is nonetheless one of Netflix's better non-episodic acquisitions. For audiences unaware of the story, this should be your next movie night selection. 
*still courtesy of Netflix*
---
Find me on Twitter and Instagram as @Martin_Izzard and at TalkAboutMovies.co.uk.
Don't forget to follow us on Twitter and Instagram and like us on Facebook.