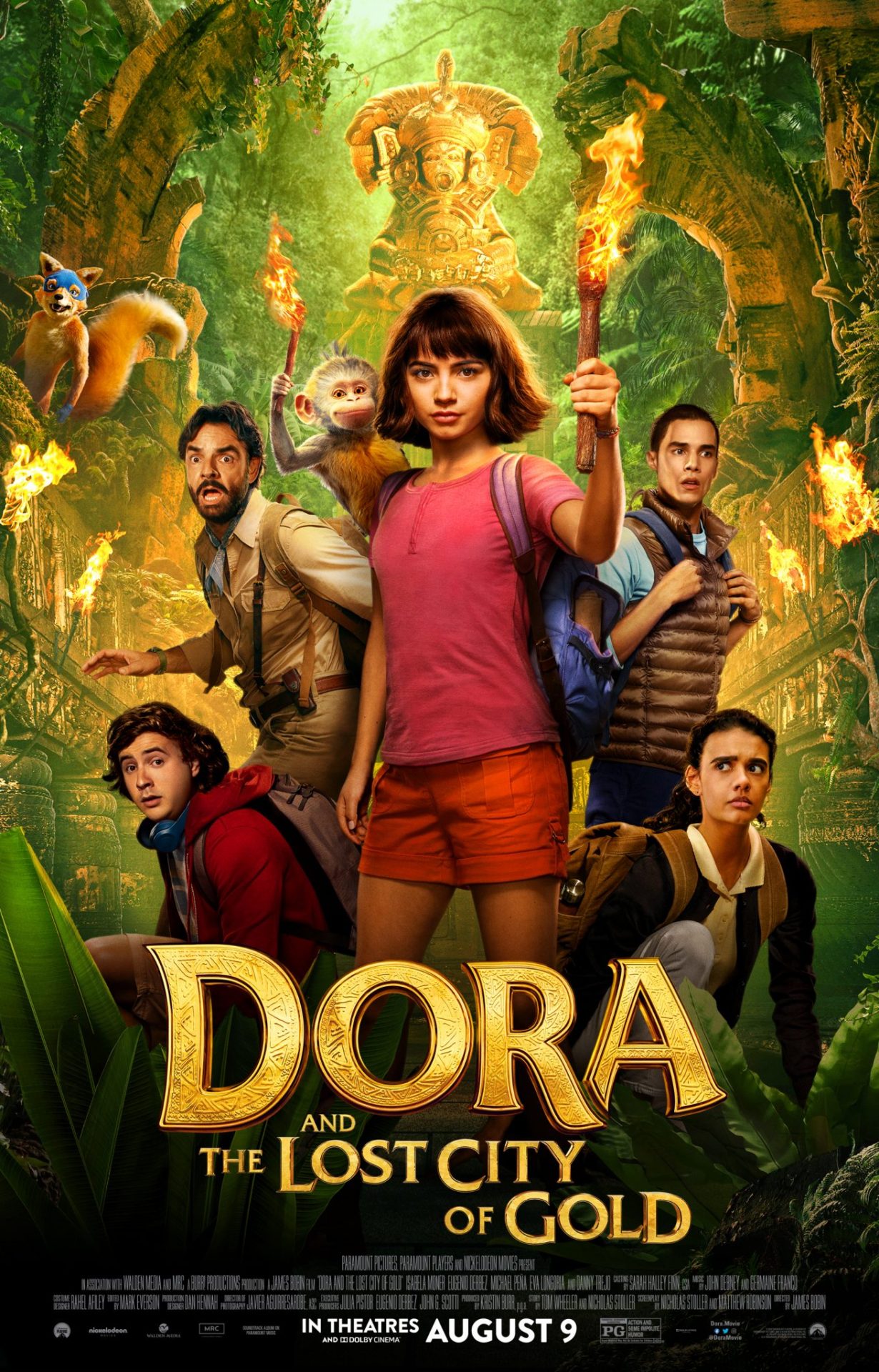 Starring

Isabela Moner, Eugenio Derbez, Jeff Wahlberg

Writers

Matthew Robinson, Nicholas Stoller

Director

James Bobin

Rating

PG (Canada, United States)

Running Time

102 minutes

Release Date

August 9th, 2019
Rating Summary
Dora and the Lost City of Gold is a self-aware kids film that will definitely appeal to kids but its cheesy material, overly derivative and predictable nature, and incredibly annoying lead performance by Isabela Moner make it a tough watch and something more fitting for a straight-to-video offering.
Kids films are a tricky thing as they must travel a fine line where they must find a way to of course entertain kids while not alienating the adults forced to take said kids to the movie theatre. The first live-action adaptation based on the famed Nickelodeon animated heroine Dora the Explorer, Dora and the Lost City of Gold, is a film that most certainly succeeds with the former but not so much with the latter. This is a film that was well-aware of what it is and definitely did not shy away from this which isn't always a great thing as it is a film that will surely appeal to kids and fans of Dora, however, makes little to no effort to appeal to anyone else. Suffice it to say, that this may be a tough watch for some.
Ultimately, Dora and the Lost City of Gold succeeds or fails based on how the film's titular character is received by audiences. Instead of being a rehash of the animated series, this film took Dora (Moner) on an adventure that would also serve as a journey of self-discovery for the upbeat, energetic, ridiculously positive, and arguably obnoxious teen while still sprinkling in some of the quirks from the series to mixed results. For the majority of her life, she has lived in the jungle with her professor parents, Elena (Eva Longoria) and Cole (Michael Peña), and her cousin Diego (Wahlberg). To her, the jungle was all she knew and was where she learned to become the explorer that we all know her for though her impulsiveness would sometimes get in the way.
Though after so much time spent in the jungle, Dora's social skills were perhaps limited and maybe she wasn't ready to work side-by-side with her parents. In order to become a more well-rounded teen, she would have to contend with a completely different environment to her which would be the city and high school. Absolutely nothing about Dora and the Lost City of Gold should come as much of a surprise to anyone as the film would beat us over the head with her obnoxiousness under the guise of charm, contrasting it with its sanitized depiction of high school for laughs. While this will most certainly work with some audiences, Dora will come off as annoying to any others.
Once Dora's parents mysteriously go missing, it is up to her, Diego, some unwitting classmates, a mysterious man named Alejandro (Derbez), and an ugly CGI mokey named Boots (Danny Trejo) to venture through the jungle to find them and in the process, solve the mystery that's been hounding her family since she was born.  Other than the film's (but especially Dora's) annoyingly eye-rolling nature, the worst part of Dora and the Lost City of Gold was how derivative and predictable it was (the best example would probably be Jumanji: Welcome to the Jungle). Granted, all kids films have some aspect of predictability but this devoid the film of any kind of fun whatsoever. Regardless of what happened over the course of the film, it was simply difficult to become invested or even care about its story or its characters.
As far as the acting was concerned, it could not seem to overcome Dora and the Lost City of Gold's overwhelmingly cheesy material (that wasn't funny) and mediocre direction. Perhaps the epitome of this was Moner's Dora. She may indeed look the part but her annoying performance made it difficult to notice anything else which was a shame. Derbez was okay and got to flex his comedic chops as Alejandro though it wasn't that much of a stretch for him, playing a type of role that he has played countless times in better films. Wahlberg was okay as Diego and had some chemistry with Moner's Dora, however, did not do all that much.  Finally, it was just painful to watch Longoria and Peña as Elena and Cole.
In the end, the material may not be for everyone but most kids and those who don't find Dora annoying may find plenty to enjoy with Dora and the Lost City of Gold.
*still courtesy of Paramount Pictures*
---
If you liked this, please read our other reviews here and don't forget to follow us on Twitter or Instagram or like us on Facebook.