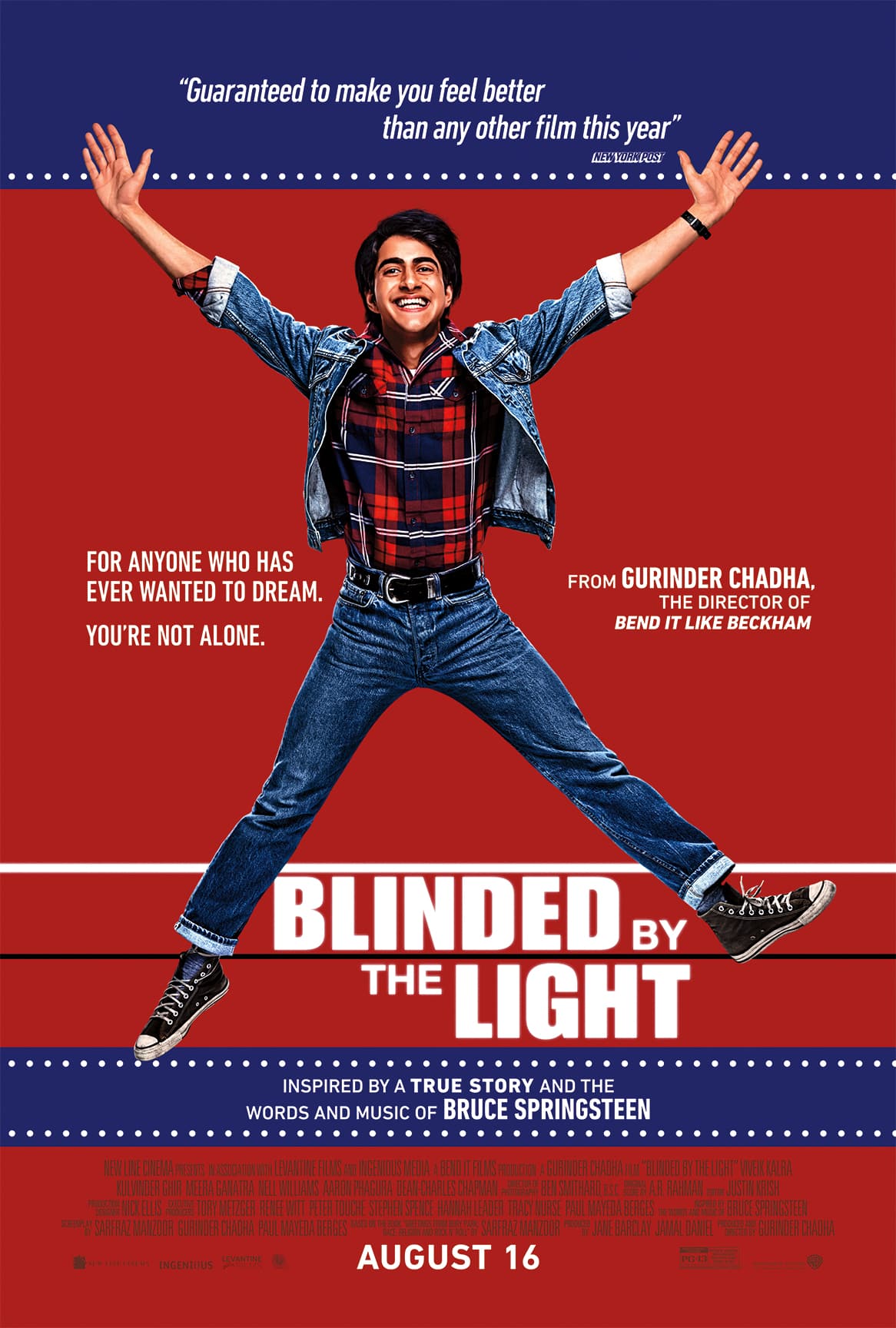 Starring

Viveik Kalra, Kulvinder Ghir, Meera Ganatra

Writers

Paul Mayeda Berges, Gurinder Chadha, Sarfraz Manzoor

Director

Gurinder Chadha

Rating

PG (Canada), PG-13 (United States)

Running Time

117 minutes

Release Date

August 14th, 2019
Rating Summary
Blinded by the Light is a fantastic musical dramedy that will surely warm your heart and make you smile and cheer. This catchy love letter to the music of Bruce Springsteen is a compelling coming-of-age story led by a breakthrough performance from Viveik Kalra.
Films that place popular music at the forefront can be a mixed bag as they must tell a compelling story without using the music in a gimmicky way. It is understandably easy to fall under the spell of our favorite singers and/or bands, the music can only go so far since many could just listen to the music on its own. Yesterday was a film with promise for Beatles fans but would ultimately fail in its execution. Blinded by the Light is another film that leans heavily on the music of the legendary Bruce Springsteen. While the merits of his music are without question, this film uses Springsteen's music in an entertaining and organic way, however, it also features a compelling story that can stand on its own without the music.
Springsteen may be the focal point of Blinded by the Light but the film was not about him as he and his music were merely a merely a plot device. In essence, the film was a coming-of-age story set during a perilous 1987 Great Britain. Javed (Kaira) was a Pakistani teenager looking for purpose and his place in the world. Things would definitely not be easy for the teen, growing up in a middle-class household with his strict family, especially his strict father Malik (Kulvinder Ghir), in a country that was not accepting of immigrants. Javed had aspirations of being a writer, however, he would have to gain some self-confidence in order to find his voice and finally leave his hometown. In the end, he was still a teen who faced the same challenges as other teens.
Though the story may not be overly new on paper, the film is just so overloaded with charm that it's easy to overlook. Blinded by the Light may be a feel-good story but there was also plenty of drama to be had as the film did not shy away from some tougher subjects such as racism and the immigrant experience during a time of economic and political uncertainty. Javed and his family would face the brunt of this as this would be the backdrop for his life. Nevertheless, he persisted. His life would take a turn for the better after coming across the music of Bruce Springsteen. Springsteen's music managed to break through in a way that nothing else had thus far. The lyrics spoke to him on a deeper level and in turn, helped him understand himself and the world around him. Suffice it to say that it was the shot in the arm that he needed.
Blinded by the Light doesn't overplay any of these other subplots while finding the right balance though ultimately let Javed's story shine as it would be the best part of the film. He and his arc were so fun to watch over the course of the film as Springsteen slowly began to take over his life and he slowly became more and more confident in himself and his abilities. Javed was a character who was easy to root for as he continued to pursue his dream of becoming a writer despite the wishes of his father. Meanwhile, not everyone would be as receptive to Springsteen as he was as he was well past the music of the time. Regardless, Springsteen's music would manifest itself throughout the film in an organic way that helped demonstrate its impact on Javed but most importantly did not distract from the rest of the story.
The acting is Blinded by the Light was great across the board with Kalra's Javed being the standout. His excellent performance makes the film as it would certainly not have worked nearly as well if not for him. What made the film work was that his energetic, likable, and relatable Javed was so easy to root for and connect with on an emotional level. Ghir was great and avoided being a cliche as Javed's father Malik. Meanwhile, Dean-Charles Chapman, Rob Brydon, and Hayley Atwell were also impressive in supporting roles.
Whether you are a Springsteen fan or not, Blinded by the Light is exactly the kind of film that we need in these troubled times.
*still courtesy of Warner Bros.*
---
If you liked this, please read our other reviews here and don't forget to follow us on Twitter or Instagram or like us on Facebook.