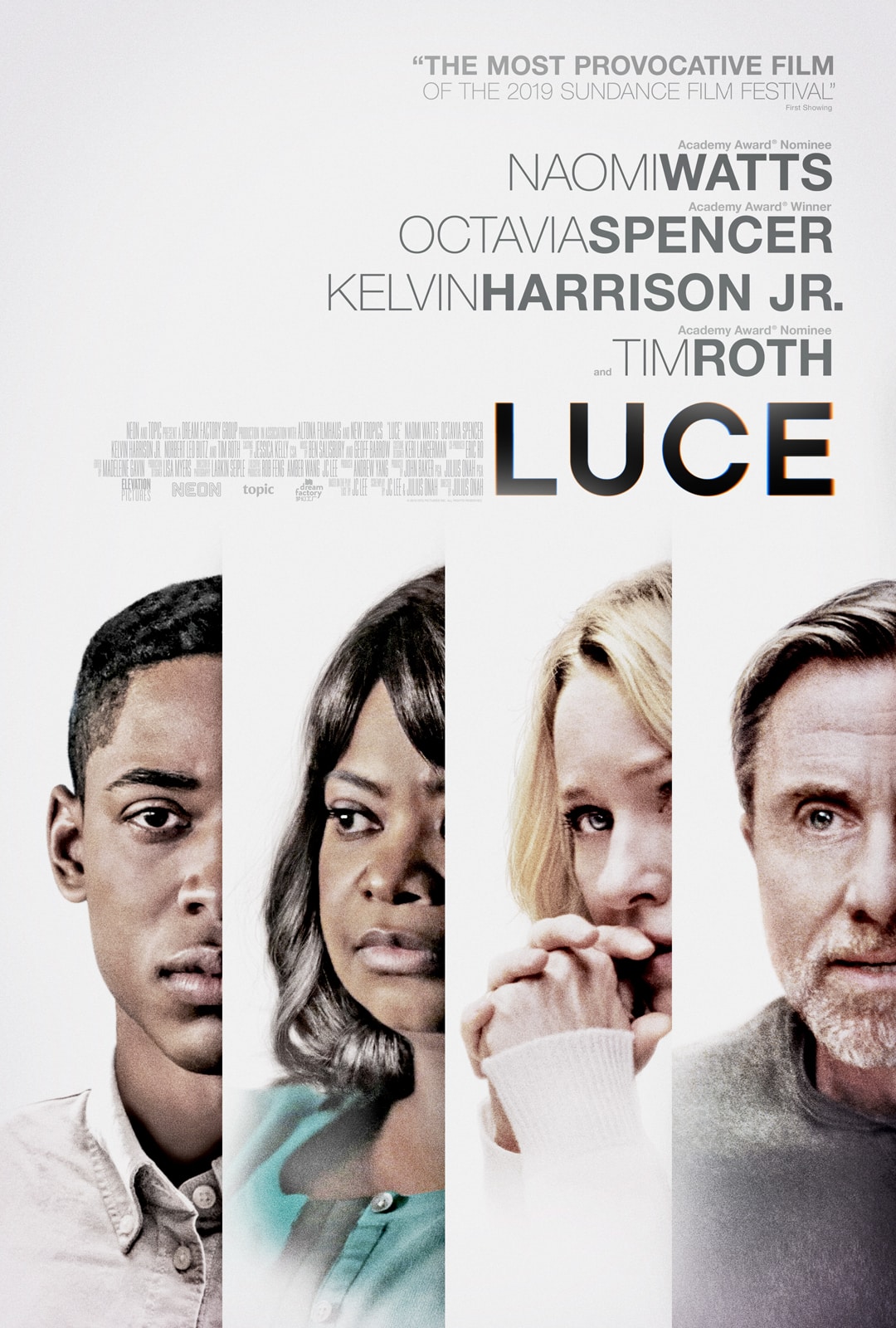 Starring

Naomi Watts, Octavia Spencer, Kelvin Harrison Jr.

Writers

J.C. Lee, Julius Onah

Director

Julius Onah

Rating

14A (Canada), R (United States)

Running Time

109 minutes

Release Date

August 2nd, 2019
Rating Summary
Luce is a slow burn intense, roller coaster character drama, that may be too slow for some, with a deeply-layered script and a foursome of exceptional performances from Watts, Spencer, Harrison Jr., and Roth.
For our earlier review of Luce, click here.
Things are not always as they seem in film and also in real life and this was none more evident than in Luce that will surely leave audiences on the edge of their collective seats. Without giving anything away, there is so much going on above and below the surface here. The story is so open to interpretation which only made it engaging to watch while also allowing for repeat viewings in order to catch every little detail. The plot and the main character arcs over the course of the film are definitely roller coasters but it only really matters as long as audiences can get behind its divisive characters (there will be some taking of sides in this one).
Luce was about a married couple named Amy (Watts) and Peter Edgar (Tim Roth) whose seemingly perfect, high-achieving, and well-spoken adoptive son Luce (Harrison Jr.) may not be exactly what he seemed once one of his high school teachers, Harriet Wilson (Spencer), had some concerns after a shocking discovery. Adopted at a young age from war-torn Eritrea, Amy and Peter had to work hard to help Luce overcome his tough upbringing and to adapt to his new life in the United States. This was definitely not easy for everyone as Luce himself also put in the work to become the highly-regarded student that he was. Fair or not, he was held to a different standard because of this and was used as an example, being compared to other students.
Perception was a major theme of Luce as the film's titular character struggled with and felt suffocated by the pressure of the many expectations on him and how others perceived him. Or was that what was really going on? It eventually became clear that there was more to this story as an increasing amount of evidence that casted doubt on Luce came to light. Meanwhile, the film portrays Wilson as a foil for Luce with apparent ulterior motives but was that truly the case? Maybe she was just being a devoted teacher? The film's layered writing (and performances) will make it tough to pick sides (audiences will keep changing their choice) as it was for the characters themselves.
The compelling drama at the center of Luce was a slow burn, perhaps too slow for some, as Amy and Peter were faced with the same doubt that we as audiences experienced, both with Luce and with themselves as parents. Nevertheless, they persisted with their quest for the truth. Meanwhile, Luce and Wilson would find themselves seemingly playing not so subtle mind games with one another, ending with much different (and kind of sad) results for either character. Scenes were flowy and definitely tense and unpredictable to watch as the truth was unearthed, all aided by an unnerving score.
Ultimately, the excellent acting was the best part of Luce as it certainly would not have worked if not for its performances across the board as everyone was at the top of their respective games here. Watts and Roth were excellent as Amy and Peter Edgar respectively, a pair of doubting (but still caring) parents at their wit's end. Spencer was superb as Wilson. She made us care for who was truly a heart-breaking character even though not all of her subplot worked. Harrison Jr. was the true standout here with an impressively deep and layered performance that many will be talking about long after the film ends. His scenes with Spencer were pure dynamite.
In the end, those who can find Luce near them will be rewarded with an intense character drama, with a surprising amount of depth, that is well-worth a watch.
*still courtesy of Elevation Pictures*
---
If you liked this, please read our other reviews here and don't forget to follow us on Twitter or Instagram or like us on Facebook.