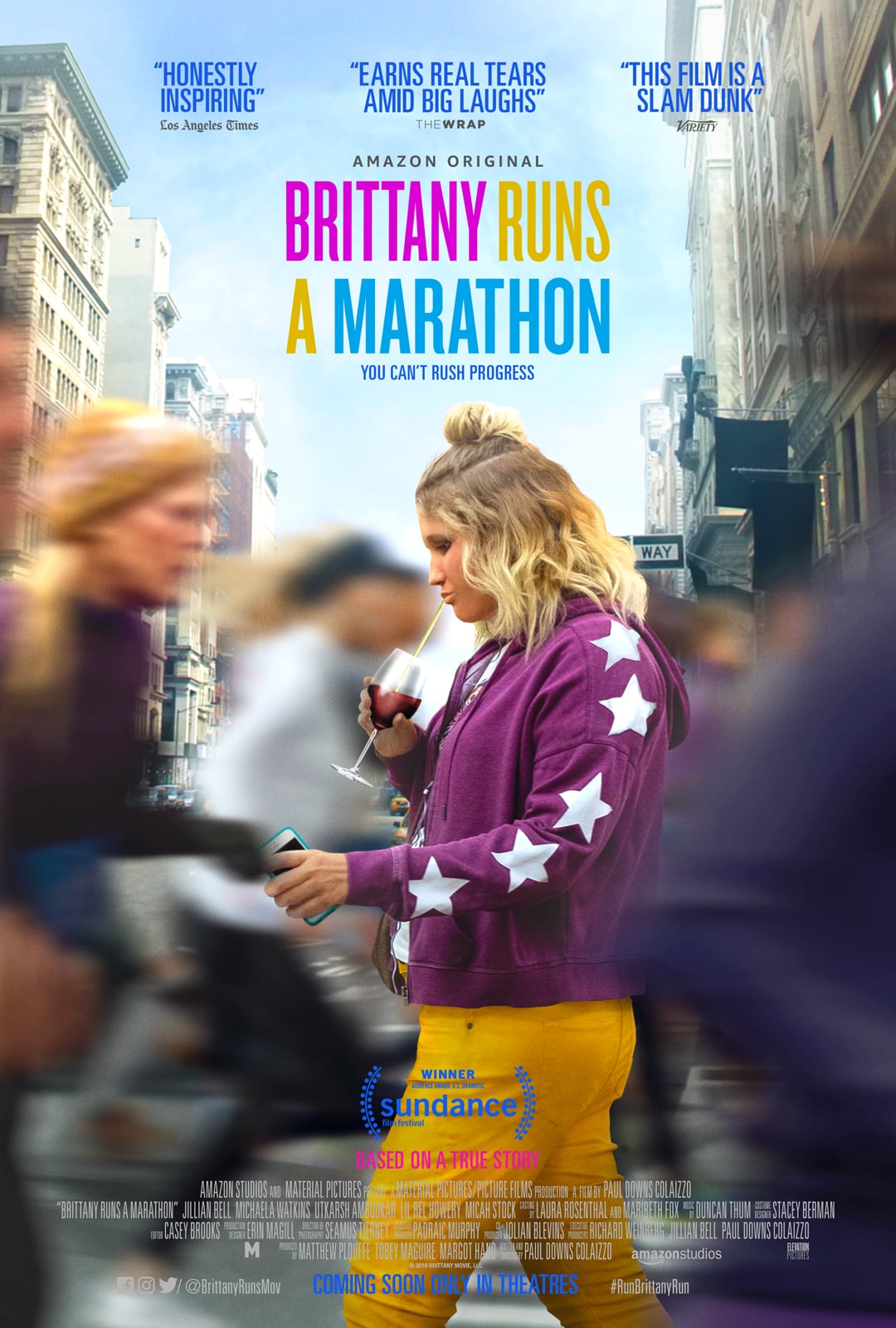 Starring

Jillian Bell, Michaela Watkins, Micah Stock

Writer

Paul Downs Colaizzo

Director

Paul Downs Colaizzo

Rating

14A (Canada), R (United States)

Running Time

104 minutes

Release Date

August 30th, 2019
Rating Summary
Brittany Runs a Marathon is a decent, grounded albeit predictable dramedy that arguably loses its way at times in the middle but is ultimately anchored by a career-best performance from Jillian Bell as a character that may be difficult to buy in for some.
Inspirational stories depicted in film aren't always that exciting to watch as they often tread the same territory. Brittany Runs a Marathon is a different type of inspiring story that wasn't as concerned about being inspiring which would only be to its benefit. This quirky dramedy may have its heart in the right place but it does not quite deliver a complete package, occasionally getting off track. This would cause the film to drag, making a near two hour film feel longer. While the film's parts may outweigh their sum, those parts are still well worth watching thanks to the compelling character at the center.
With a title like Brittany Runs a Marathon, the story is pretty self-explanatory as it is indeed about a woman named Brittany (Bell) who runs a marathon but in reality, it was about so much more than that. Brittany was a woman whose life was going in the wrong direction for arguably self-inflicted reasons. After a promising job, she would eventually became an irresponsible party girl. However, it would not be until a less than ideal doctor's visit that she came to the realization that she truly had a problem. Brittany was considered overweight and would suffer additional health problems if she did not lose weight. Suffice it to say that she did not take the news well as the drastic lifestyle change that would entail would not be easy.
As much as Brittany Runs a Marathon worked as an inspiring story, it would also be a coming of age story of sorts. Ultimately, none of it will matter if audiences can't get behind the film's titular character. Some may have a hard time getting behind Brittany as she is an arguably unlikable character but that simply further accentuates her compelling character arc over the course of the film. As Brittany focused on getting healthier, picking up running out of necessity, she would also take a deeper look at herself and all the toxic parts of her life which may or may not have led to her present state. Like her or not, Brittany's story was undoubtedly inspiring as many will surely relate to her motivations even though some may not necessarily get behind how she goes about it.
Where Brittany Runs a Marathon would falter (if not slightly) was whenever the plot would stray from too far from the central plot with extra subplots. These would cause the film to drag and be dull at times, especially in the middle, and making it feel longer than it was (104 minutes). Over the course of the film, it treads a fine line between comedy and a surprising amount of drama, working better as the former, but it would stumble finding the right balance between the two. The level would come back up for what was a predictable story for the most part (including what will already all expect to happen), however, this did not make it any less compelling to watch.
Nevertheless, a sharp script and Bell's excellent lead performance as Brittany were the best parts of Brittany Runs a Marathon. In a career-best performance, Bell shines with an equally hilarious and vulnerable nuanced turn as a wildly-insecure woman who manages to turn her life around. Though the plot may not have always been there, she was still fun to watch. While the film's supporting characters and their subplots weren't nearly as interesting as Brittany, Watkins, Stock, and Lil Rel Howery all deliver solid turns as Catherine, Seth, and Demetrius respectively.
In the end, despite having some faults, Brittany Runs a Marathon is a marathon that is still well-worth running.
*still courtesy of Elevation Pictures*
---
If you liked this, please read our other reviews here and don't forget to follow us on Twitter or Instagram or like us on Facebook.