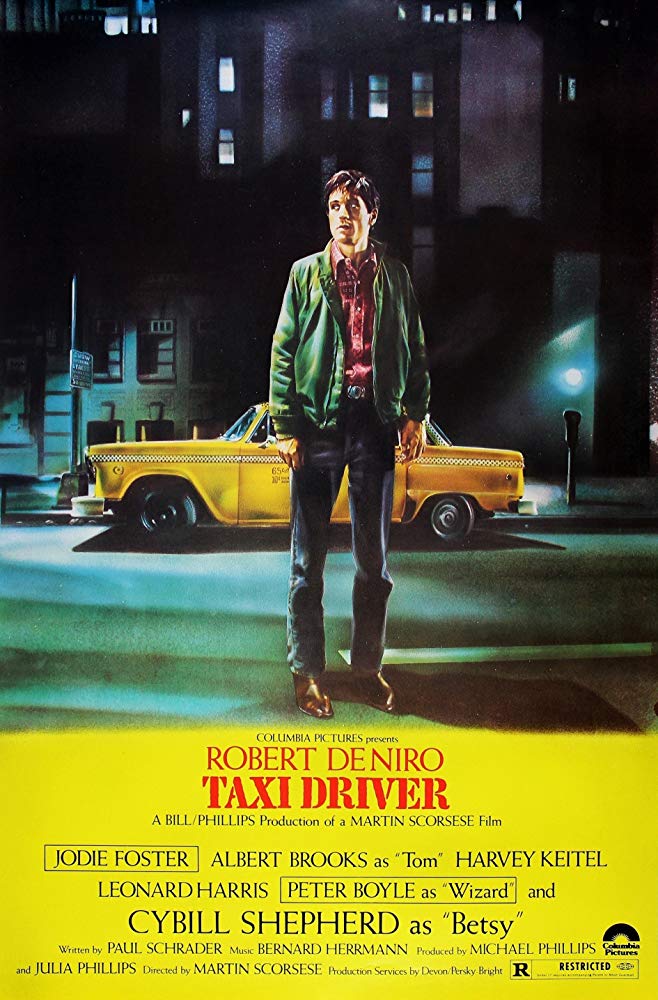 Starring

Robert De Niro, Jodie Foster, Cybill Shepherd

Writer

Paul Schrader

Director

Martin Scorsese

Rating

18A (Canada), R (United States)

Running Time

114 minutes
Rating Summary
Taxi Driver is the first masterpiece by Martin Scorsese is still as relevant as it was when it was released.
Taxi Driver follows Travis Bickle (DeNiro), a Vietnam War veteran who comes back to New York and finds it hard to fit into ordained society after experiencing ultimate chaos. He finds a job as a cab driver, a way to make use of his insomnia that actually accentuates his isolation problems. He meets Iris, a child prostitute (Foster) and falls for a political worker called Betty (Shepherd) whom he starts dating. But right in the beginning it is clear these two are not compatible; Betty is sunny, idealistic, independent; she has also been protected by the horrors of the outside world. Travis is the opposite of that; he's becoming more and more paranoid by the minute; he's dark and is badly damaged in his soul. Betty realizes Travis is a lot more complicated and she brushes him off, pushing him over the cliff he was staring. He concocts a plan to kill the politician Betty works for, and when that goes wrong, he unleashes his fury into Iris' pimp, Sport (Harvey Keitel).
Let's face it: Taxi Driver is a hard film to beat. The quality here pours from the corners of the screen in every frame. Scorcese wasn't an established director at the time; he was still feeling his ground and solidifying his mark. In a way, as it happens with Martin Scorsese it's very interesting filmography to analyze, because we see very clearly the director is learning and improving with each new film. This was his first masterpiece; coming in a decade filled with masterpieces and that changed the history of filmmaking and is one of the pinnacles of that era.
The 70's were a very prolific period for American cinema. It was a decade that embraced and stimulated the raw creativity of its new directors, giving them room to explore and challenge the medium, taking narrative form to a new degree of quality. When we look at what came from the 70's – The Godfather, Dog Day Afternoon, Nashville, Jaws, Star Wars, Annie Hall, The French Connection, Cabaret, Chinatown, Last Picture Show, All the President's Men… there are so many masterpieces in the decade, and they are not just masterpieces because they are great movies, but because they made an indelible mark in the way of approaching material and subject matter. We can see these filmmakers (whether directors, performers, DOPs, etc) experimenting and creating new, challenging ways of telling their stories, which is fascinating to watch. But Taxi Driver, like Dog Day Afternoon, felt more urgent, almost like an unbalanced life documentary.
Some of these films, brilliant as they are, they do feel a little bit remote. It doesn't take away in any way the unbelievable amount of quality they all have, but not all of us have access to a mob family of lived in a remote Texas town in the 50's. But we all might know someone who came back home wounded from war, everyone knows someone who feels isolated, especially if we live in a big city. Most of us have been to a metropolis at least once in our lives, we know how it can make us feel oppressed. One of the greatest elements that make Taxi Driver so urgent is that Travis is not living in a remote place on Earth; he's walking the streets of New York, and he might be our taxi driver. That possibility makes his story very current and our experience very real.
DeNiro and Scorcese created a landmark character with Travis. He's completely unbalanced from the start, and DeNiro is fantastic in peeling layer after layer of his soul, giving us pain, insecurity, fear, love and then… the violence. What makes Travis such s strong character is that we know he is possible to exist. He feels real. He tries very hard to fit in, and with each failure his psyche looses its north until the only thing that lasts is the primitive need for violence. Travis tries to make a difference in the world peacefully but the only time he felt he did anything was when he was in Vietnam shooting other people. Was Travis always unbalanced? Did he had a hard time fitting in when he was a kid?
What happened to him to make him the way he is? Travis, in a way, is a reflection of what happens to us when we as a society turn our eye away from those who need to be understood and embraced. In the end the only way Travis finds to be seen is to resort to violence. It's the only way he feels he's doing some good in the world, and being relevant. Travis is one of the saddest characters to ever grace the screen, and a lot of us may not notice that because DeNiro gives him such an uncontrolled fury that our first reaction is to be scared. But Travis is no Hannibal Lecter; he doesn't really feel pleasure from anything he's doing.
Taxi Driver was a very strong film when it came out in 1976. But watching it now, it very difficult not to make a parallel with the world we are living. We are creating new Travises by the minute. Technology is isolating us even further; generosity is loosing space to selfishness; and in a way, we are in war with the world, with so much intolerance happening all around. It's shocking to see that besides the costumes and hairstyle, this film could be released today. DeNiro leads a marvelous cast of misfits and unknown actors (at the time), who all perform at the top of their form. The standout is Jodie Foster, who tackles a very very tricky role with easy and a strong performance. The script by Paul Schrader is perfect as was the soundtrack by Bernard Herrmann.
In the end, Taxi Driver is one of the best films of the 70's. And of Scorcese's career. And is one of the best performances of DeNiro's career. Simply put: one of the best pictures ever made.
*still courtesy of IMDb*
---
If you like this review, look me up on Instagram for more suggestions.
If you liked this, please read our other reviews here and don't forget to follow us on Twitter or Instagram or like us on Facebook.