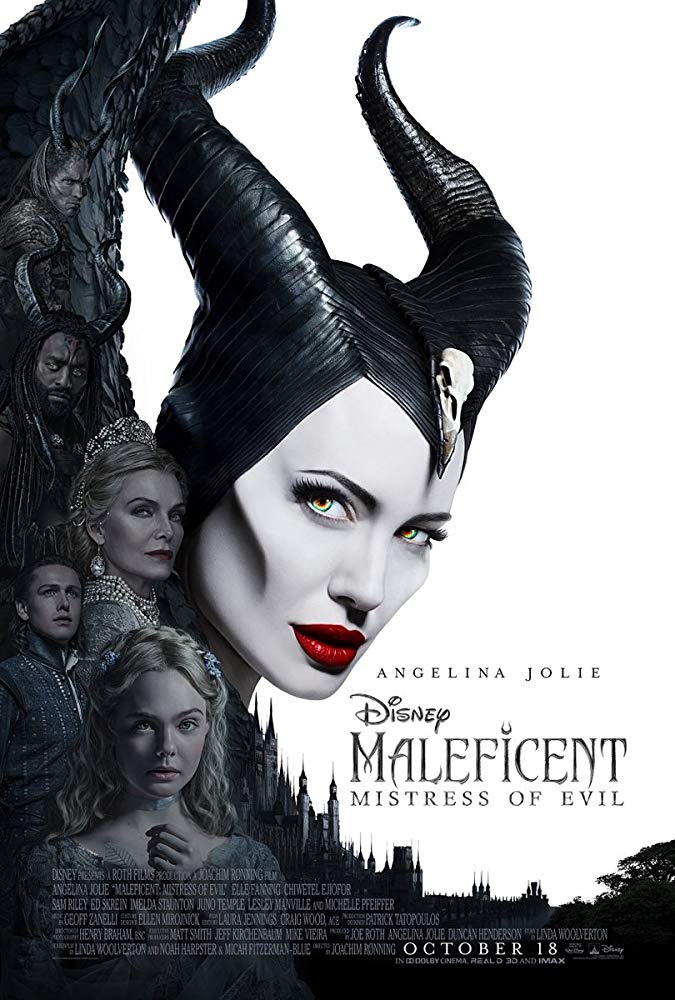 Starring

Angelina Jolie, Elle Fanning, Michelle Pfeiffer

Writers

Micah Fitzerman-Blue, Noah Harpster, Linda Woolverton

Director

Joachim Rønning

Rating

PG (Canada, United States)

Running Time

118 minutes

Release Date

October 18th, 2019
Rating Summary
Maleficent: Mistress Of Evil is decent. It may be unneeded, but it is certainly not the worse live-action film that Disney has released and there's still some redeeming value in it.
2014's Maleficent is definitely one of the most interesting (though not the best) attempts by Disney to do live-action versions of their classic animated films. The reason for this is because it's the most unlike the animated film from which it was based. It revisits the original's story to be sure, but also tosses in a huge bit of revisionism by painting its title character with a broader brush than the animated original. It shows Maleficent as a trauma victim whose justifiable grief and rage are pacified when she fashions herself as a mother figure for the eventual Sleeping Beauty herself, Aurora. Maleficent: Mistress Of Evil continues its predecessor's trend of infusing revisionism into its story to deepen Maleficent's complexity, as well as balance it with more traditional elements to create a decent enough sequel.
Maleficent: Mistress Of Evil sees Aurora (Fanning) is on the verge of marrying Prince Philip (Harris Dickinson). Unfortunately for the happy couple, Aurora's fairy godmother Maleficent (Jolie) is not so supportive. When a celebratory party thrown by Philip's parents, King John (Robert Lindsay) and Queen Ingrith (Pfeiffer), goes horribly awry, Maleficent discovers things about herself, her lineage, and her role as a mother that greatly shapes everyone involved.
Straight away, it was great to once again watch Jolie getting to play the greatest Disney villain of all time (and yes, if you disagree, you are wrong). This role is one of Jolie's best in her notable career. She is able to move seamlessly between sardonic humor, explosive anger, and sensitive vulnerability with an effortless grace. Fanning also does well as Aurora. Her character is given significantly more to do in this film than the first, which enables Fanning to show glimpses of why she's one of the best young actors working today. Mention must also go to Pfeiffer's turn as Queen Ingrith. She is clearly having a lot of fun playing a mix of surface level charm and deep malevolence, which serves as a good foil to Maleficent.
One of the more intriguing elements of the now two Maleficent films is how they update the character in personality and action. In the animated film, Maleficent is truly the mistress of all evil. Everything she does is malicious and wrong. By contrast, the live-action films posit that she's more complex than the audience has been led to believe, including the idea that the stories told about Maleficent are false or embellished so as to prejudice the audience against her. Maleficent: Mistress Of Evil leans into this notion significantly and explicitly. While the lack of subtlety on that point might be a bit disappointing, it still maintains the integrity of the idea that "a difficult woman" might only be "difficult" because the person saying so is wrong or dishonest about her.
Another way in which Maleficent: Mistress Of Evil remains thought-provoking is its return to the examination of the relationship between trauma victims and their oppressors. The story continues the idea that Maleficent and other fairies are abused by humans. However, it also continues the notion that the only way to overcome the turmoil is for fairies and humans to just realize they are alike and to get along. On the surface, this view is rather unfortunate and problematic because it is not the job of the oppressed to make nice with their oppressors. Instead, it is the oppressors who must cease their actions. Luckily, Mistress Of Evil somewhat dodges this problem in the end because Philip's character as a person, albeit in a slightly messy fashion.
Where Maleficent: Mistress Of Evil most disappoints is in the amount of time spent away from Maleficent. There are large sections where the focus is solely on Aurora and her dealings with the plot-related intrigue at the palace. For a film that should be about Maleficent, she's not in it nearly enough. Another major disappointment with Mistress Of Evil is its visuals. Thankfully, they have improved from the original as some of the effects are even well done, particularly the flying sequences. Unfortunately, there still remains too many dives into the uncanny valley when the motion capture fairies are on screen.
If you are a fan of the first Maleficent film, are curious about the sequel, or like to watch Angelina Jolie be great, Maleficent: Mistress Of Evil may be for you.
*still courtesy of Disney*
---
If you enjoy my work, feel free to follow me on Twitter @Film24Frames. I'm also on Letterboxd at Film24Frames.
Don't forget to follow us on Twitter and Instagram and like us on Facebook.