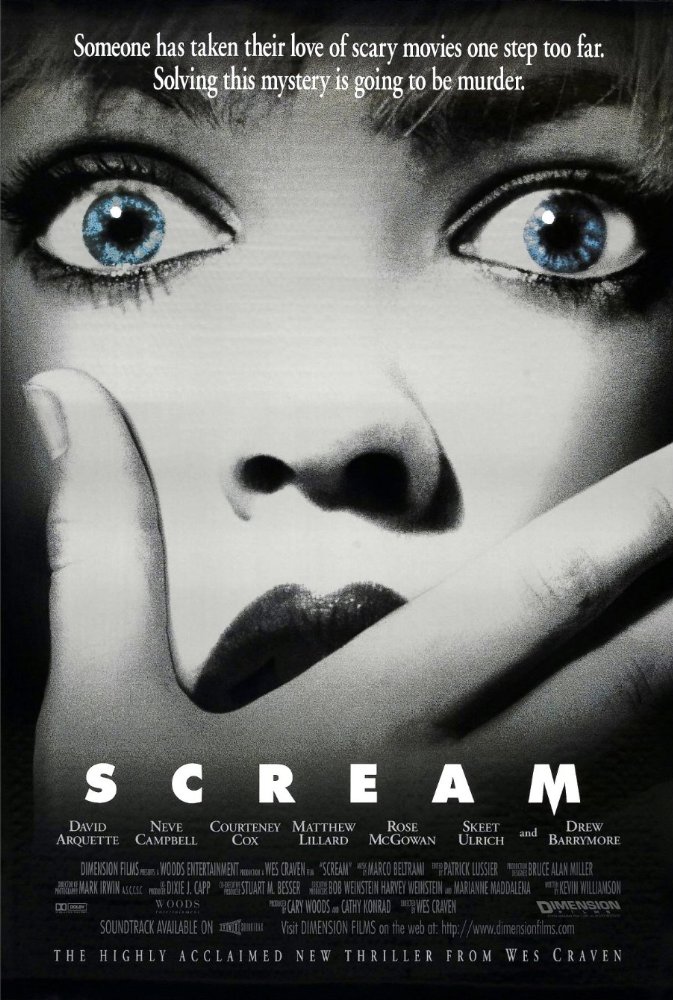 Starring

Neve Campbell, David Arquette, Courtney Cox

Writer

Kevin Williamson

Director

Wes Craven

Rating

R (United States)

Running Time

111 minutes
Rating Summary
Scream is the pop horror film that revitalized the genre over 20 years ago. It may have aged since it's original release but it's still worth the ride.
Scream sees a serial killer named Ghostface is terrorizing Woodsboro. Using horror movies quiz to psychologically torture his victims before murdering them, he (or she) is especially targeting teenagers from Woodsboro high. One of them, Sidney Prescott (Campbell) survives his attack and becomes the object of his "affection". The killer focus on getting to her. Sidney knows tragedy: one year prior her mother, Maureen, was brutally murdered, and Sidney's testimony was key to sending the suspect Cotton Weary (Liev Schreiber) to jail.
Savvy newswoman Gale Weathers (Cox) doesn't believe Cotton is guilty and wrote a meaty book about Maureen's murder. She goes to Woodsboro to cover the new story and instantly clashes with Sidney. She starts a flirty kinship with Dewey (Arquette) the clumsy policeman who's very protective of Sidney. Sidney's friends include her boyfriend Billy (Skeet Ulrich), Tatum (Rose McGowan), Stuart (Matthew Lilard) and Randy (Jamie Kennedy) who works in the video store and knows everything there is to know about horror movies. During a party at a friend's house, Ghostface strikes the group, killing a lot of Sidney's friends and finally revealing himself and his hidden motives to attack.
Scream came out in 1996 and would revitalize horror movies to younger audiences who were not around (or were waaaay too young to watch, like I was) when Michael Myers and Freddy Krueger were slashing away in the 80s. Horror movies had a great run in the early 80s with the release of Halloween, Friday the 13th and A Nightmare on Elm Street, just to name a few. But the tsunami of unnecessary sequals, each one more ridiculous than the one before ended up burning the genre to its targeted audience. Horror films like these were meant to be enjoyed by teenagers in a collective experiment. When they grew older and (probably) looked for more sophisticated narratives, the poor sequels couldn't manage to renew its targeted audience. In the almost total wasteland that followed, Scream hit theaters without much noise. And it became a phenomenon. Rightfully so. It's so much fun you can almost taste it.
What Scream did right from the get-go was totally re-configuring the nemesis figure. While the 80's had indestructible villains like Freddy Kruger, Jason Vorhees and all the others (who were totally in sync with the over-the-topness that the decade stimulated), Ghostface was a very real villain. He wasn't an out of this world monster; he was a person, who had normal strength, normal speed, normal reflexes; he could be injured, which was one of the most refreshing aspects of his persona. And not only that; he was injured because his victims reacted to his attacks, kicking, punching and throwing anything they could find at him. The decade of the screaming and running blonde bimbos were gone.
The characters in Scream, especially the women, were fighting for their lives with everything they had. Ghostface was a person; a serial killer, yes, but a person. And that sense of reality combined with the exaggeration of the death scenes and the theatricality of the villain gave the movie the perfect balance between fantasy and reality – the perfect horror movie for the 90s. Because of him, the entire genre was revitalized, generating tons of other movies like I Know What You Did Last Summer and Urban Legend. But none of them came close to the fun Scream provided.
The greatness of Scream relied in three main aspects: first, the script, which had the right amount of flavor to it. The story is totally addictive, the dialogue is spot on, filled with hilarious and very smart references to pop culture; second, the cast, which was golden. Campbell, Cox, and Arquette anchored the film perfectly well, with Arquette having the time of his life playing the clumsy Dewey.
Scream also featured quite a few special appearances as Linda Blair and Robert Englund. From the main cast the only actor who misses the mark by a long mile is Matthew Lilard as Stuart, overacting to the extreme, in a way that gets very irritating by the last third of the film; and third, that opening sequence with Drew Barrymore. It's such a perfect moment of tension and horror it almost weakens the film that comes after, since nothing would ever come being that good.
Scream may have aged a little after 23 years. But it is still captivating. Call your friends, get the popcorn done and enjoy the ride.
*still courtesy of Dimension Films*
---
If you like this review, look me up on Instagram for more suggestions.
If you liked this, please read our other reviews here and don't forget to follow us on Twitter or Instagram or like us on Facebook.