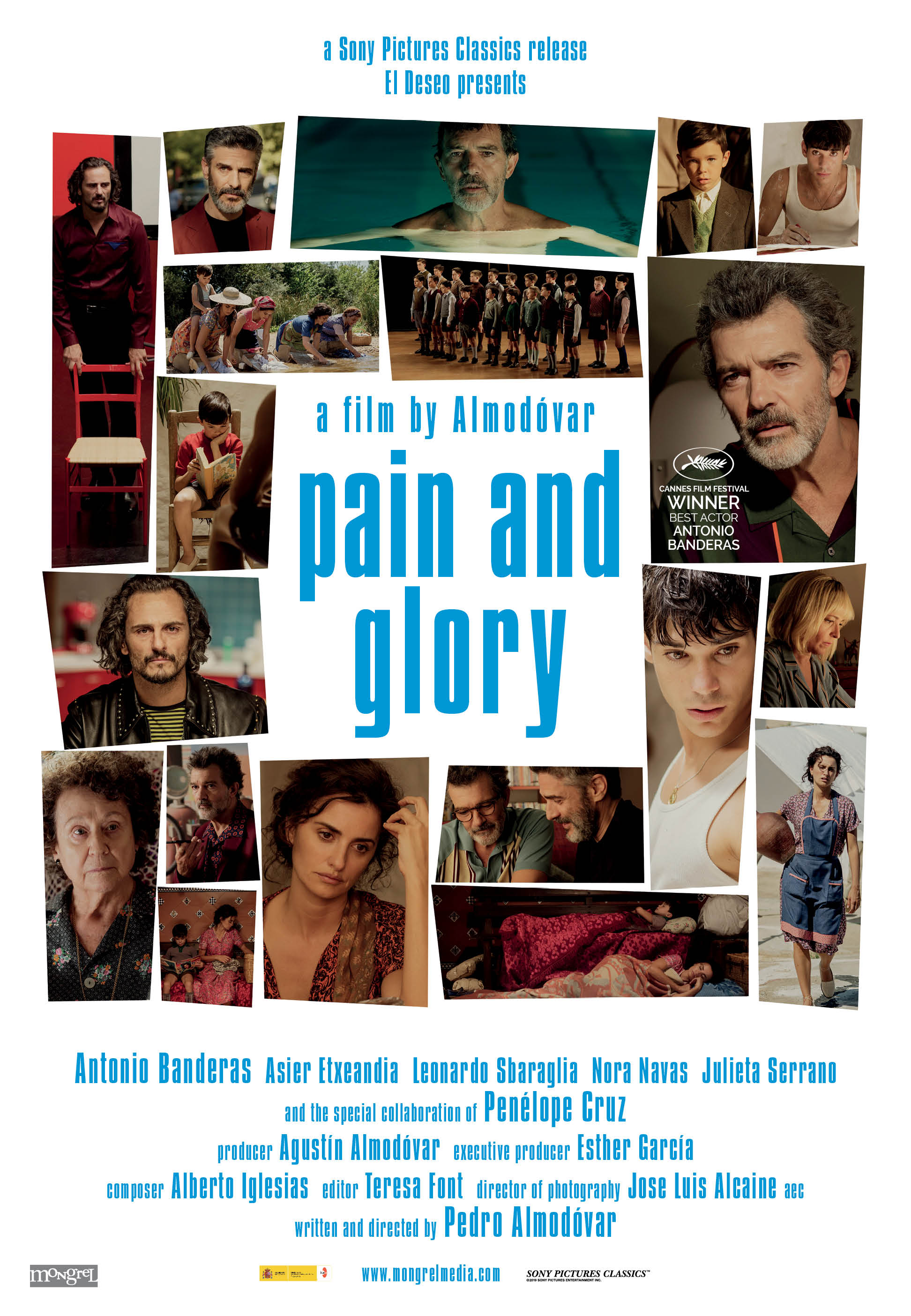 Starring

Antonio Banderas, Asier Etxeandia, Leonardo Sbaraglia

Writer

Pedro Almodóvar

Director

Pedro Almodóvar

Rating

14A (Canada), R (United States)

Running Time

113 minutes

Release Date

October 18th, 2019
Rating Summary
Pain and Glory is a brilliant film that serves both as an entertaining look at a filmmaker's work and as a confessional for Almodóvar. Meanwhile, Banderas is also better than he has been in quite a long time.
The fascination with looking into the lives and mindsets of creative people has yielded mixed results when it comes to cinematic output. At times, such films can be seen as vanity projects that do not actually dive deeper into their subjects. At other times, such films can be seen as little more than book reports regurgitating their subjects' Wikipedia pages. With Pain and Glory, Pedro Almodóvar has instead taken the approach of infusing autobiographical elements to create a fascinating tale that is one of the best films of 2019.
Aging Spanish film writer and director Salvador Mallo (Banderas) faces struggles in every aspect of his life. He suffers from various physical ailments while also dealing with mental and personal problems. But once a handful of different people from his past begin to come back into his life for one reason or another, Mallo begins to reflect on the events of his life.
There is so much going on in Pain and Glory because it weaves together two narratives – Mallo in the pat as a child growing up in rural poverty with his parents and Mallo in the present trying to cope with the various pains of his existence. As a child, Mallo's story centers on his relationship with his mother, the discovery of his sexual identity, and his developing intelligence and educational pursuits. As an older man, the story focuses on Mallo's professional and personal successes, career and relationship failures, and his current creative blockage. The screenplay magically manages to connect the two narratives together in such a way that the story never feels fractured like so many other films that rely on flashbacks can feel. And it features another one of the best final shots of 2019.
What helps elevate Almodóvar's writing for Pain and Glory is the absolutely fantastic work by Antonio Banderas who gives one of the best performances of his career. His portrayal of Salvador Mallo as both a creative genius and a broken man is completely captivating. Not a single moment feels inauthentic or false. And awards may be a totally subjective game, but Banderas winning Best Actor at the 2019 Cannes Film Festival feels thoroughly deserved. The film would not be nearly as potent without the strength of Banderas' effort.
The supporting cast of Pain and Glory deserves a lot of mention as well. Penelope Cruz makes excellent use of her limited screen time to fill the younger version of Mallo's mother Jacinta with a firm strength and a deep love that affects her son throughout his life. The older version of Mallo's mother, played by Julieta Serrano, only gets one flashback scene. But she also makes the absolute most of it to provide a big part of the motivation behind Mallo's current creative constipation. César Vicente has even less time on screen as a young laborer named Eduardo who Mallo tutors and awakens even more in Mallo's mind. Etxeandia is gleefully fun as the lead actor of a major film from earlier in Mallo's career named Alberto Crespo with whom Mallo reconnects and forms a new bond over drugs. Finally, Sbaraglia gets to show off an easy and intoxicating charm in a brief sequence playing Mallo's past lover Federico Delgado.
The technical craft in Pain and Glory must also be heavily praised. The production design of both the whitewashed cave home that Mallo lived in as a child and the beautiful and colorful modern apartment he has an adult is astounding. The contrast between the two homes makes a great juxtaposition within the two narratives in the film. So much color is infused into the film from the swirling color patterns over the opening credits to the paintings in Mallo's present day home. The cinematography is also nicely dynamic, capturing both the melancholy and the passion that possess Salvador Mallo's mind and body.
This film served as an emotional journey about life, love, sexual identity, career passions, and family. In the end, Pain and Glory is undoubtedly one of the great positive highlights of 2019.
*still courtesy of Sony Pictures Classics*
---
If you enjoy my work, feel free to follow me on Twitter @Film24Frames. I'm also on Letterboxd at Film24Frames.
Don't forget to follow us on Twitter and Instagram and like us on Facebook.