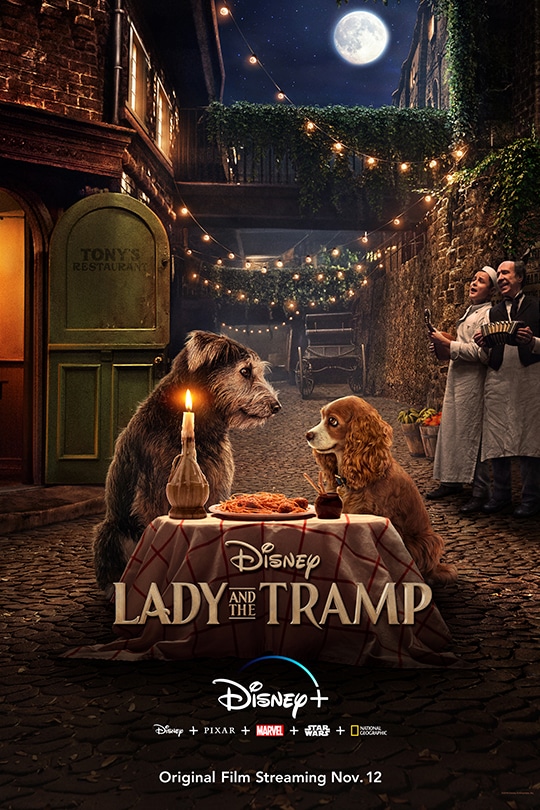 Starring

Tessa Thompson, Justin Theroux, Kiersey Clemons, Thomas Mann

Writer

Andrew Bujalski

Director

Charlie Bean

Rating

PG

Running Time

102 minutes

Release Date

November 12th, 2019 (Disney+)
Rating Summary
Lady and the Tramp is standard fare Disney and not groundbreaking by any means that is brought to life by the energetic voice acting of Tessa Thompson and Justin Theroux.
In an age of Disney making live-action + CGI adaptations of their famed animated properties, Lady and the Tramp is next in line to christen its new streaming platform Disney+. The fact that this is a streaming and not a theatrical release should not be considered a slight by any means (the platform needs content anyway) as it is one of Disney's better live-action adaptations. Perhaps its success comes from it being a streaming title (and probably a lesser budget) as it doesn't make the same kinds of big leaps like their theatrical counterparts and delivers a solid and cutesy experience that may not be groundbreaking but will surely entertain most audiences.
Just like any reboot, those familiar with the original Lady and the Tramp will know, for the most part, how this version will go or basically anyone who has ever seen any Disney film for that matter. There's necessarily wrong with that but nothing should come as much of a surprise. For those needing a refresher, this was a classic unlikely romance story that saw a sheltered cocker spaniel named Lady (Thompson) and a street-smart schnauzer named Tramp (Theroux) fall in love over time. The film plays out as Lady gets accustomed to home life and her evolving position alongside a young couple named Darling (Clemons) and Jim Dear (Mann) while learning that home life was indeed much different than the real world. Meanwhile, Tramp would have his own tragic backstory.
Little did Lady know, and to little surprise, her world would be turned upside down but she would obviously not be alone. Suffice it to say that Lady and the Tramp definitely had a lot of Lady and Tramp in it. Each were fun to watch here. Because the film was told from the perspective of dogs, the dog-based humor won't be for everyone and may get old fast, however, it was more hit than miss. Whether or not either dog wanted to admit it, there was a connection between Lady and Tramp that kept them together. Over the course of their adventures, meeting a various cast of other dogs while thwarting the many attempts of a caricaturish dog catcher named Elliott (Adrian Martinez) along the way, each would have something to teach the other about people and life.
Live-action + CGI hybrid films are a balancing act, however, the CGI work on the titular dogs was great. Lip syncing for animal characters in film can often be distracting but this wasn't the case here. Though the material may not have been the best, the voice acting across the board helped to breathe in plenty of life into the film. Meanwhile, the production values from the costumes to the set designs were also solid. In the end, the excellent vocal performances of Thompson and Theroux were the best part of Lady and the Tramp, however, Janelle Monáe, Sam Elliott, Benedict Wong, and Ashley Jensen all gave solid supporting vocal performances as other dogs. While Clemons and Mann were okay as Darling and Jim Dear in limited screen time, their believability as a couple left much to be desired and their chemistry reflected this.
At the end of the day, Lady and the Tramp won't set the world on fire but is still a solid adaptation that does its job while not tarnishing the legacy of the original. The film is definitely a worthy and cutesy addition to Disney Plus and a fun new offering to spend with the family this holiday season.
*still courtesy of Disney*
---
If you liked this, please read our other reviews here and don't forget to follow us on Twitter or Instagram or like us on Facebook.