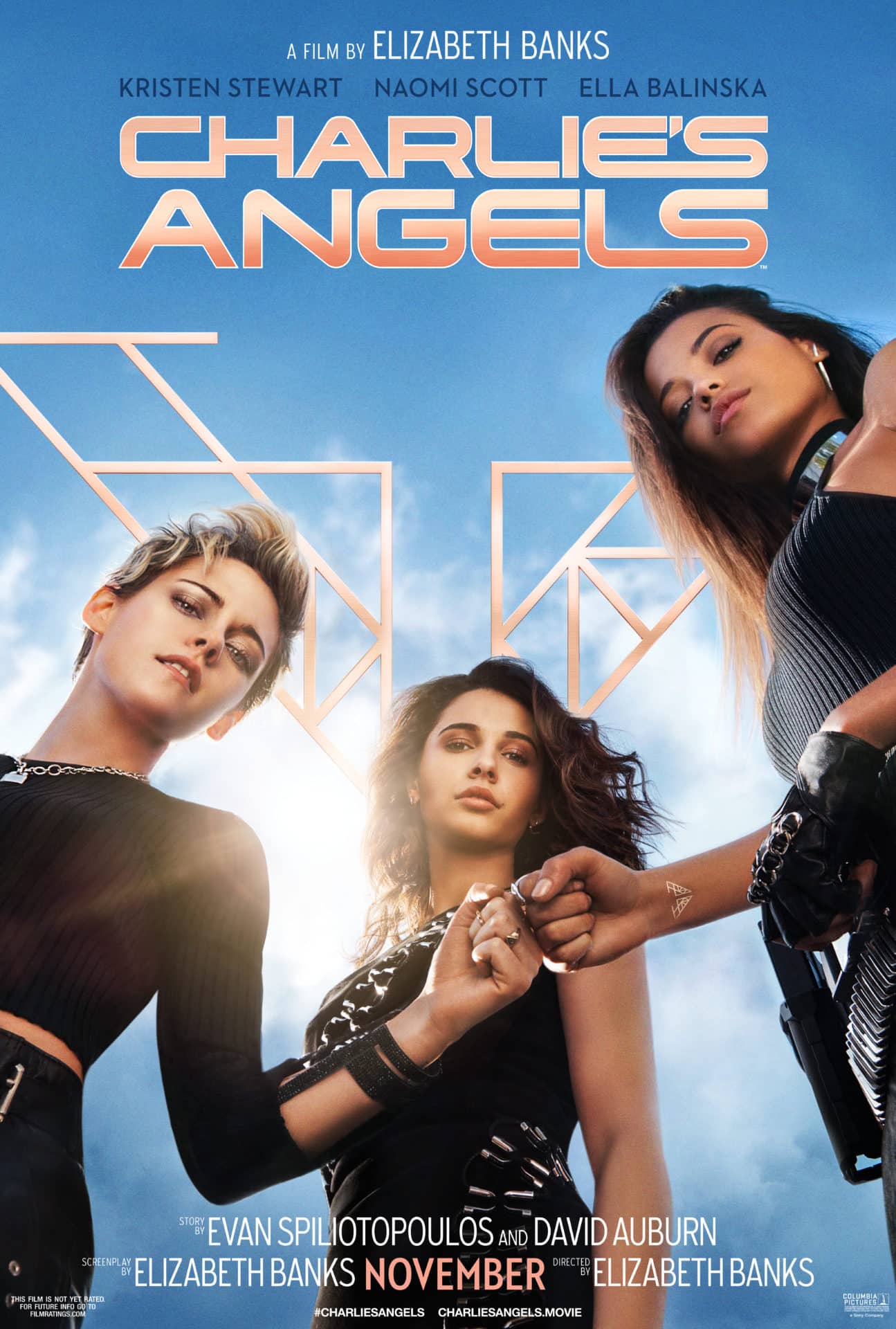 Starring

Kristen Stewart, Naomi Scott, Ella Balinska

Writer

Elizabeth Banks

Director

Elizabeth Banks

Rating

PG (Canada), PG-13 (United States)

Running Time

118 minutes

Release Date

November 15th, 2019
Rating Summary
Charlie's Angels was just more mindless fluff action film that gets away with a mediocre script thanks to some entertaining performances.
In an age of franchise reboots and retreads, here is yet another with Charlie's Angels which blows the dust off the franchise whose last film came back in 2003 (there was also a short-lived TV series back in 2011 but lets just ignore that one). It may come as a surprise to some that this film is not a reboot but a continuation that acknowledges the films that came before it in a fun way despite it merely being a ploy in order to justify its own existence. In terms of its potential impact on the franchise as a whole, it's minimal at best while adding nothing new whatsoever to the discourse. Just like the original two Charlie's Angels films, this film is just more mindless, action fluff and that's fine, however, it may leave some wanting more.
The best part of Charlie's Angels was its titular angels but it was just a shame that they didn't get enough of a chance to shine here. What screamed as a potential new franchise-starter now appears to no longer be the case (considering the film's current box office numbers). This film follows the Townsend Agency and a pair of Angels with dynamic yet polar opposite personalities named Sabina (Stewart) and Jane (Balinska). They would be forced to work together on a case after a whistleblower named Elena (Scott) came forward to them with information regarding the dangers of the technology that she had a part in creating. As the story went on, this will become easy to forget as it became increasingly bigger than it probably needed to be.
The few too many twists and turns of Charlie's Angels only added to what was a surprisingly long film, clocking in at a touch under 2 hours. The story may have been a silly throwaway but it was just a means to a predictable end as the team would come together as a result of facing plenty of hardships as they uncovered the mystery that was way over their heads. In the end, it was all about seeing the Angels come together and for that the film certainly succeeded, featuring plenty of fun moments. It was just a shame to see them get swallowed up by the film's world-building. Considering this is a Charlie's Angels film, the theme of female empowerment comes with the territory. This has been a moot point for some audiences as of late, however, these themes, while obvious, don't overpower this film. It was the mediocre script that reinforced those themes and a heavy-handed soundtrack that did.
Despite all the female empowerment, Charlie's Angels is a mindless action film. While it does take several leaps with the same standard-fare action sequences, it was still exciting to watch for the most part and well-shot. At the end of the day, the film would not have worked if not for its performances which when combined, helped to make up for the script. Stewart, Balinska, and Scott as Sabina, Jane, and Elena were fun to watch thanks to their great chemistry with Stewart in particular clearly having a blast. Elizabeth Banks was solid at delivering zingers (which she wrote for herself) as another Bosley. Meanwhile, Patrick Stewart was another scene-stealer as yet another Bosley in limited screen time.
Finally, if the early 2000s Charlie's Angels films didn't exist, Charlie's Angels would have probably fared better but as far as this film is concerned, it is more than likely destined to be one and done which is kind of a shame.
*still courtesy of Sony Pictures*
---
If you liked this, please read our other reviews here and don't forget to follow us on Twitter or Instagram or like us on Facebook.