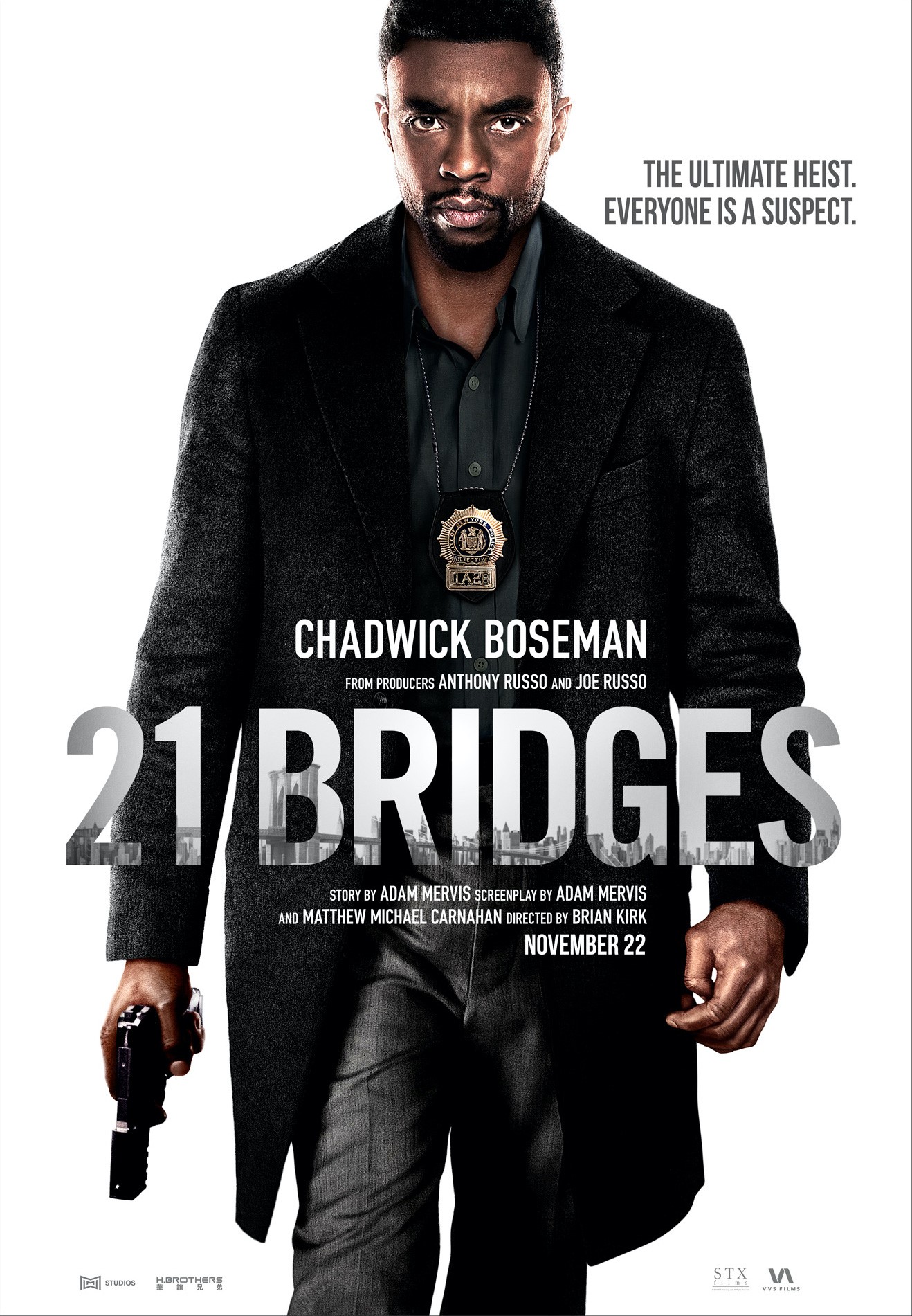 Starring

Chadwick Boseman, Sienna Miller, J.K. Simmons

Writers

Adam Mervis, Matthew Michael Carnahan

Director

Brian Kirk

Rating

14A (Canada), R (United States)

Running Time

98 minutes

Release Date

November 22nd, 2019
Rating Summary
21 Bridges is yet another disposable cop thriller with a contrived, cliched, and occasionally melodramatic story that not even a charismatic performance from Chadwick Boseman can save.
Originally titled 17 Bridges, this film was given four more bridges to no effect. At the end of the day, 21 Bridges is yet another rinse-and-repeat cop action-thriller that ads absolutely nothing new whatsoever to the table while berating us with the same tired cliches. The film may be relatively short, however, there are countless better things to do with 98 minutes. It may not be bad by any means but its sheer ordinary and borderline dull nature will surely lead some viewers to become disengaged which is a shame considering all involved, including stars Boseman, Miller, and Simmons as well as producers Joe and Anthony Russo. What ultimately saves the film was Boseman who sometimes seemed to be in a different film.
Absolutely nothing should come as much of a surprise about this film but on its surface, 21 Bridges follows an NYPD detective named Andre Davis (Boseman). Davis' apparent reputation would come in handy for his next case, leading a city-wide manhunt for a pair of cop killers (Stephan James and Taylor Kitsch) while begrudgingly working with a narcotics detective named Frankie Burns (Miller). Prepare to suspend belief as a lot of this will be necessary here. Granted, the film is a work of fiction but it expects us to go along with a few too many leaps as a means to facilitate an incredibly predictable story.
Suffice it to say that there was definitely more going on to 21 Bridges as it became something much more while also so much less. Everyone more or less knows the film's premise, purposefully creating a restrictive environments for our cop killers, but this would also restrict this subplot's potential to actually be remotely compelling. Instead of giving them a chance, they were merely a means to the film's bigger plot, featuring plenty of not so subtle nods to it before finally revealing itself to no surprise whatsoever and taking over the story. However, just like the the rushed and poorly-developed first act, the second act followed suit and by then, it was hard to care for any of it.
In terms of its action elements, 21 Bridges was okay. It may have all been some pretty standard-fare stuff with a fair share of shooting, chasing, and some light fighting but at least things were always moving though it would mostly be on the stupid side. The camerawork and editing were fine but it was tough to get excited about any of it. Though all the actors definitely handled themselves admirably, it was just a shame that they were saddled with such thin characters and lazy writing. Boseman's performance as Davis was easily the best part of the film as his charisma at least keeps it watchable. However, the disconnect between him and the rest of the film often made it feel like he was in something different altogether. On the other hand, everyone else were given next to nothing to do as Miller, Simmons, James, and Kitsch were simply wasted.
In the end, if there ever comes a time when there's nothing else to watch other than this, 21 Bridges is an acceptable option to settle for at best.
*still courtesy of STX Entertainment*
---
If you liked this, please read our other reviews here and don't forget to follow us on Twitter or Instagram or like us on Facebook.