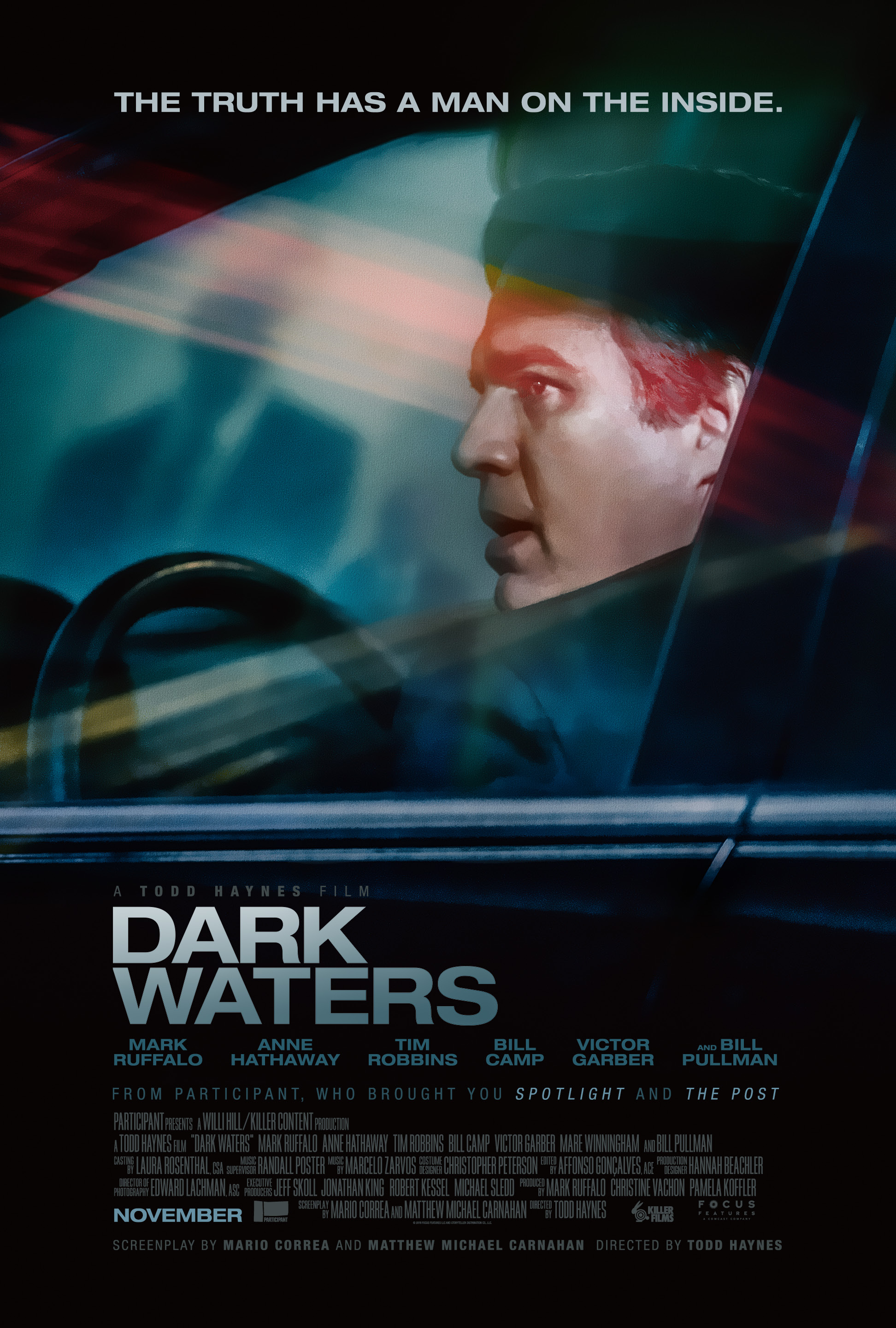 Starring

Mark Ruffalo, Anne Hathaway, Tim Robbins

Writers

Matthew Michael Carnahan, Mario Correa

Director

Todd Haynes

Rating

PG (Canada), PG-13 (United States)

Running Time

126 minutes

Release Date

November 22nd, 2019
Rating Summary
Dark Waters is a solid corporate drama that may not necessarily bring anything new to the table but survives thanks to a great lead performance from Mark Ruffalo.
Dark Waters follows a man named Robert Billott (Ruffalo), a corporate lawyer who represents chemical companies. He's well respected by his peers and has a brilliant career ahead of him. His wife Sarah (Hathaway) left the business to be a stay-at-home mom, and they just had their first child (with two more on the way). One day, Billott receives a visit from a West Virginia farmer named Wilbur Tennant (Bill Camp), who brings him possible evidence against DuPont chemicals, implicating them in the poisoning of his land and the killing of his livestock. The more Billott learns, the more he understands there is something wrong happening. Initially naive, he quickly realizes they were not only always aware of the problem but also not at all interested in doing anything about it. As a result, Billott would launch a suit against the company, putting his reputation, his marriage and even his health on the line.
Dark Waters is a strange film among Todd Haynes' filmography. The film serves as a by-the-book telling of an Erin Brockovich type of film that doesn't seem to fit next to his more modern and daring works such as Velvet Goldmine or I'm Not There. Haynes has always pushed narrative boundaries so while watching this film, it looks out of place compared to his other work. The film's script is very linear, the way in which the story unfolds is predictable as it takes the exact same route we've seen countless times before and there's nothing visually groundbreaking here.
This doesn't necessarily mean that Dark Waters was a bad film; the cinematography, especially, is quite stunning. The farm sequences during the snowy winters are quite beautiful, and the moody atmosphere of the entire film is quite interesting to watch. Being based on true events helps us to connect with the story on a deeper level. It also makes us care for Billott as time runs as we see the depths to which he is willing to go to find the truth. He is fighting a huge corporation, one that has all the resources to finish his quest. Billott was such a deep character that it was easy to relate to his struggles and see his weaknesses as we sympathize with his ever-growing pain. Of course, having an actor like Ruffalo also helps tremendously to achieve this as he's one of the best actors today who can portray the everyday man, and he's great here.
The rest of Dark Waters' cast follow his lead: Hathaway has good moments as Sarah, even if her character doesn't have all that much to do here; Robbins has few moments as Billott' boss Tom Terp, and all the other actors all have good moments of their own. However, the best performance by far was from Camp as Tennant, who creates such a tragic character is heartbreaking to watch during his scenes.
At the end of the day, Dark Waters is a nice film with a strong story of a man fighting the powers that be.
*still courtesy of Focus Features*
---
If you like this review, look me up on Instagram for more suggestions.
If you liked this, please read our other reviews here and don't forget to follow us on Twitter or Instagram or like us on Facebook.