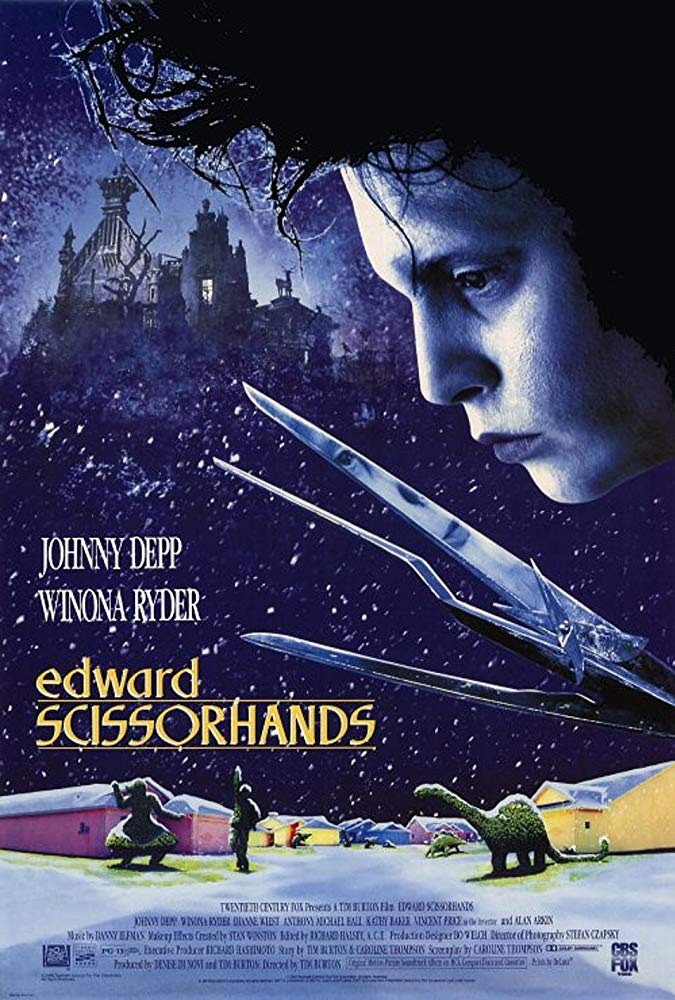 Starring

Johnny Depp, Winona Ryder, Dianne Wiest

Writer

Caroline Thompson

Director

Tim Burton

Rating

PG-13 (United States)

Running Time

105 minutes
Rating Summary
Edward Scissorhands is a modern fairy tale and one of the highlights from director Tim Burton even though it has aged a bit.
Edward Scissorhands came in the heights of the creative explosion of Tim Burton's career. Burton is one of the few filmmakers out there who has a body of work that is easily recognizable at first glance. The weirdness, the vivid colors and contrasts, the love for kitsch… his work has lost steam the last few years, but it is impossible not to praise his style and be beauty of his designs.
Edward Scissorhands follows Peg (Wiest), an Avon saleswoman who are having a rough patch lately and decides to knock at the door at the castle up in the mountain near her neighborhood, a place everyone always avoided. When she gets there, she meets Edward (Depp), an artificial man created by a scientist (Vincent Price) who died before completing him. Because of that, Edward has scissors for hands. Being so good-hearted, Peg takes Edward home and introduces him to her husband Bill (Alan Arkin) and friends, and he falls in love with Peg's daughter Kim (Ryder). Edward becomes a success in the city, but soon enough people start turning their backs to him.
Edward Scissorhands is one of Burton's highlights despite the fact that it has aged a bit – and that the film was made with a very small budget. Burton's visual choices help conceal these problems, and he film gives us such a magical mood they even become forgettable. This is one of the many fables he gave us in his career: the story of a man (even being an artificial one) that deeply longs to feel connected to others and to find a family but realizes that not everyone will accept him for who he truly is.
While there is a huge sadness to Edward, it feels a little bit concealed by the film's funny parts and the visuals, but it is there. He always feels out of place, and since he doesn't have hands, deeply incomplete. He is embraced by the community, but he never truly fits in. He loves Kim, but how can he be with her if he's not even a real man? And he obviously doesn't realize that all those doubts and feelings make him more human than most of the people around him, and that's the beauty in him. Eventually he understands that to truly be himself he has to stop pretending to be who he is no and accept who he really is. The saddest part of Edward Scissorhands is that the people who first embrace him as novelty just to turn their backs to him are completely unable to see his true beauty, to look beyond the weirdness to find out why lies behind the façade.
Doing a Tim Burton film requires a certain pizzazz not all actors have, but with Edward Scissorhands, Burton surrounded himself with an extraordinary cast who truly embraced the weirdness, the camp and all the sweets notes his story possessed. Ryder is great as Kim while Wiest and Arkin do wonders as Peg and Bill and all the neighbors are so much fun to watch. The true standout here, without a question, is Depp, shedding so much love and pain with his Edward. This was his breakout role and it is totally understandable why.
At the end of the day, Edward Scissorhands might not have aged perfectly well but still has a lot of beautiful moments in it.