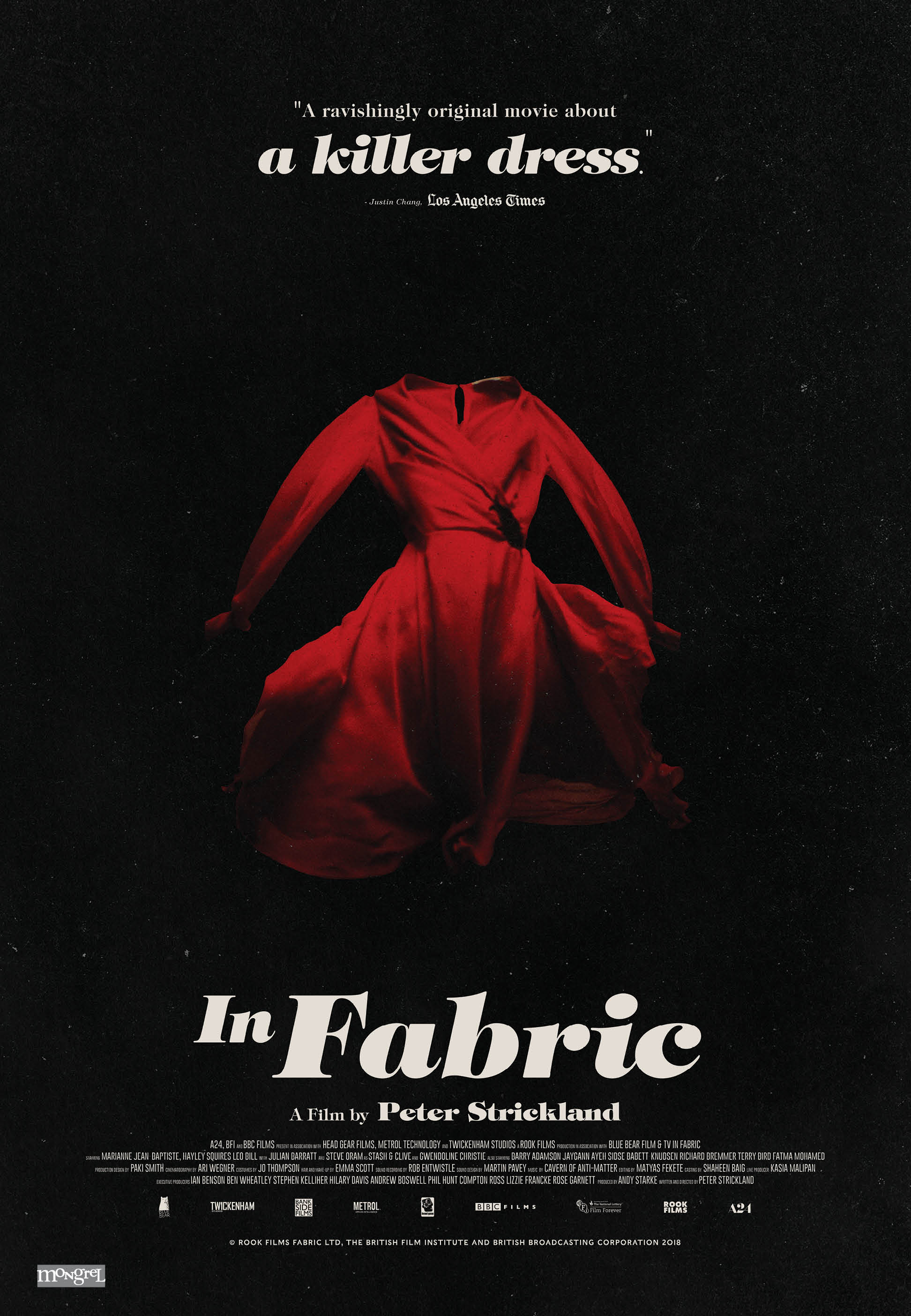 Starring

Marianne Jean-Baptiste, Sidse Babett Knudsen, Hayley Squires

Writer

Peter Strickland

Director

Peter Strickland

Rating

14A (Canada), R (United States)

Running Time

118 minutes

Release Date

December 6th, 2019
Rating Summary
In Fabric brings back a true sense of terror as it breathes back some life into today's stale horror genre.
In an era where horror comedies have invaded the box office, things have started to get a little bit stale. In Fabric sheds a new twisted light on the genre that will leave viewers in a state of shock, confusion, and a warped state of euphoria.
The plot of In Fabric, at least at first glance, may seem ridiculous or off putting. Without getting into too many specifics, perhaps the best way to describe it is a film that follows a cursed dress that somehow gets passed on from person to person, of course with devastating consequences. With a plot so simple yet so intriguing, writer/director Peter Strickland delivers one of the most twisted homages to old school horror in the past decade.
Everything about In Fabric was extremely unsettling. From its eerie sound mixes to its 60's esque style transitions and many hypersexual sequences, there is never a moment where the viewer feels at ease. Going hand in hand with the rest of the film was the amazing acting from its cast across the board. It must be said however, Fatma Mohammed is the real star of this film as Miss Luckmoore. Her presence in particular leaves a discomforting feeling for audiences.
In Fabric is not a typical jump scare box office charting horror. Instead it takes a more psychological approach as it leaves the viewers terrified yet mesmerized at the many sights on screen. Strickland also incorporates comedy along with the horror, somehow finding a perfect tonal balance despite leaving an uncertain feeling of whether or not one should be laughing or be horrified.
With a solid running time of 118 minutes, In Fabric runs at such a brisk pace that it is simply hard to look away from what is happening on screen, even if it may cross the line into disturbing territory. However, the hypersexual force that is incorporated at times throughout the film for many parts did not seem particularly necessary. Meanwhile, the cinematography is absolutely stunning. Every additional shot gives audiences yet another reason to feel scared. They were as beautiful as they were dark and as euphoric as they were petrifying. The sound mixing is incredible, featuring many sequences involving the overlapping of audio with things such as background noise, eerie noises and random screeches which would heavily contribute to the overall tone of the film.
In Fabric is definitely not for everyone. Not only due to its extreme sexual content, but due to its previously mentioned shifting plot that surely won't sit well with some audiences and an overall feeling of discomfort it creates. It's a film that is not being talked about nearly as much as it should and will very likely be one that old school horror fans should enjoy and will hopefully inspire future films in the genre.
*still courtesy of Mongrel Media*
---
Follow me on Twitter and Instagram and check out my Letterboxd.
If you liked this, please read our other reviews here and don't forget to follow us on Twitter or Instagram or like us on Facebook.