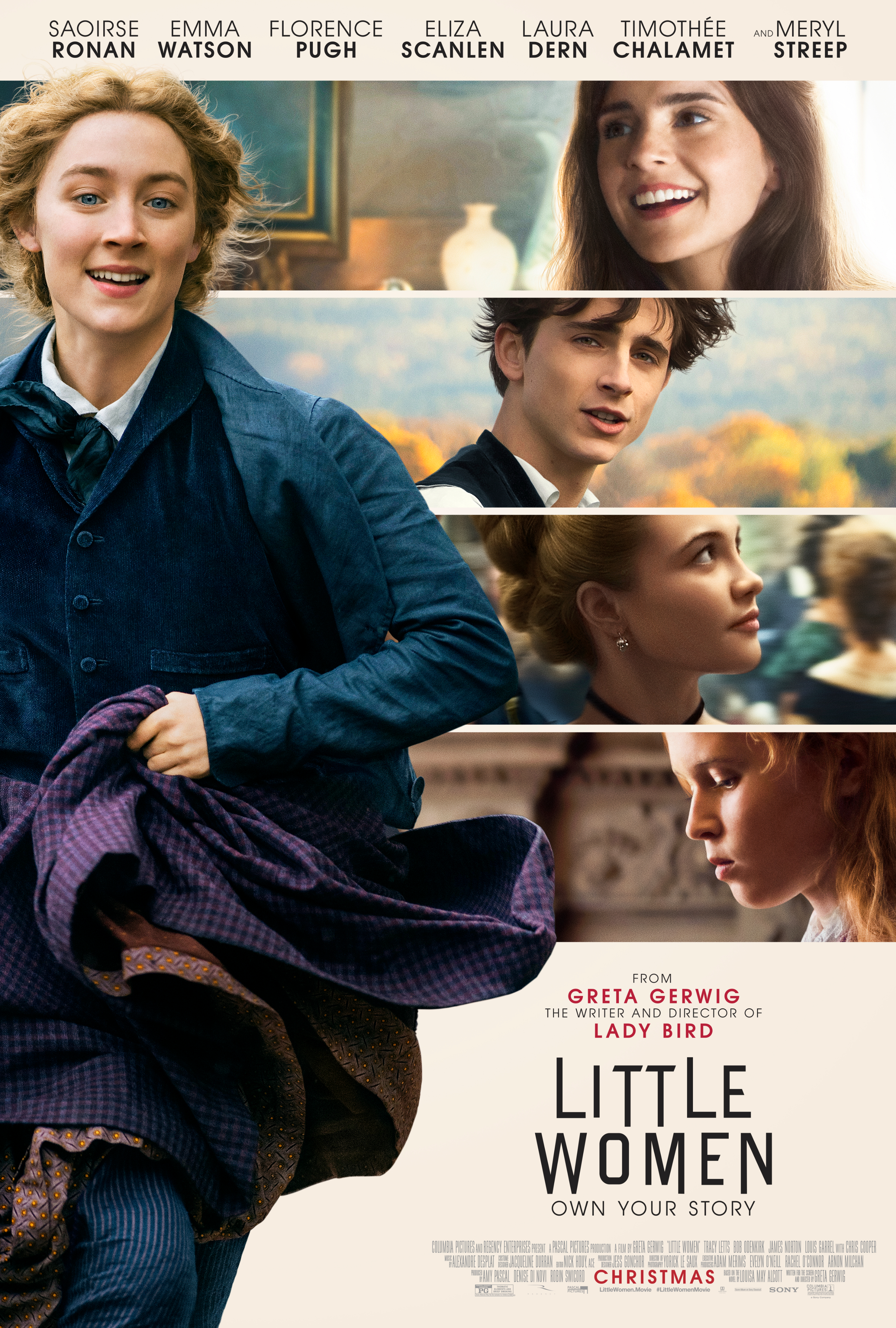 Starring

Saoirse Ronan, Emma Watson, Florence Pugh

Writer

Greta Gerwig

Director

Greta Gerwig

Rating

G (Canada), PG (United States)

Running Time

134 minutes

Release Date

December 25th, 2019
Rating Summary
Little Women is a grand film in scope, which works in its favor, but lacks the personal touch that made Gerwig's previous directorial effort, Lady Bird, so great.
No matter how this one works for people, it's undeniably euphoric to see major studio logos in front of Greta Gerwig's second directorial feat!
When you're in the position of Gerwig and coming off of a debut feature like Lady Bird, you've got a lot in your hands. Considering it's one of the most critically acclaimed films of all time, there's quite a bit of pressure on Gerwig to deliver a worthy follow up to the modern day classic. With Little Women, there's no question that she delivers something that feels much bigger, and will surely leave audiences inevitably divided. It's a little disappointing to see that her follow up is a bit too niche to be acclaimed on the level that Lady Bird was.
As mentioned, the scale and scope of this story are quite awe-inducing. It's incredibly surreal to see the Columbia Pictures logo roll before the start of the film and this version of Little Women certainly delivers on the promise of a big studio film while still possessing the independent spirit that makes Gerwig's work so great. The cinematography and production design are incredibly grand, and there's no denying that this film is a big step for Gerwig – who absolutely deserves it. The crew here does a great job at truly immersing audiences into this time period, with it's fantastic costumes and sets, which is a truly a testament to her talent.
After a film like Lady Bird is under her belt, it makes so much sense that such an all-star cast scurried to be involved this time around – and they're all great. Little Women is a true ensemble in nature, as no individual performer stands out. Rather, they blend together in a way that furthers its immersive nature. It's just great to see such classically trained & iconic actors work so well alongside up and coming actors, truly emphasizing how great they all are.
However, the thing that will turn many away from Little Women is its subject matter and source material. Sure, it may be based on an iconic novel in its own right, and it makes a ton of sense as to why it should be remade for a new generation. However, with this film, it just feels like something is missing. Perhaps this will only occur to certain audience members expecting a period version of Lady Bird but this film is very different in that many of those emotional beats and relatable feel aren't as prevalent. Perhaps it could also be because this film wasn't crafted from original material – part of why Lady Bird worked so well was how Gerwig put so much of herself into that film. Perhaps the absence of personality is what prevents this from truly excelling.
Little Women is certainly a well made film, and one that many will admire. The entire cast is fantastic and its period aspects are definitely well crafted. However, it's just too hard not to wish Gerwig had chosen her sophomore directorial feature to be more personal.
*still courtesy of Sony Pictures*
---
Follow me on twitter @daniel_azbel and on letterboxd @danthemovieman.
Don't forget to follow us on Twitter and Instagram and like us on Facebook.