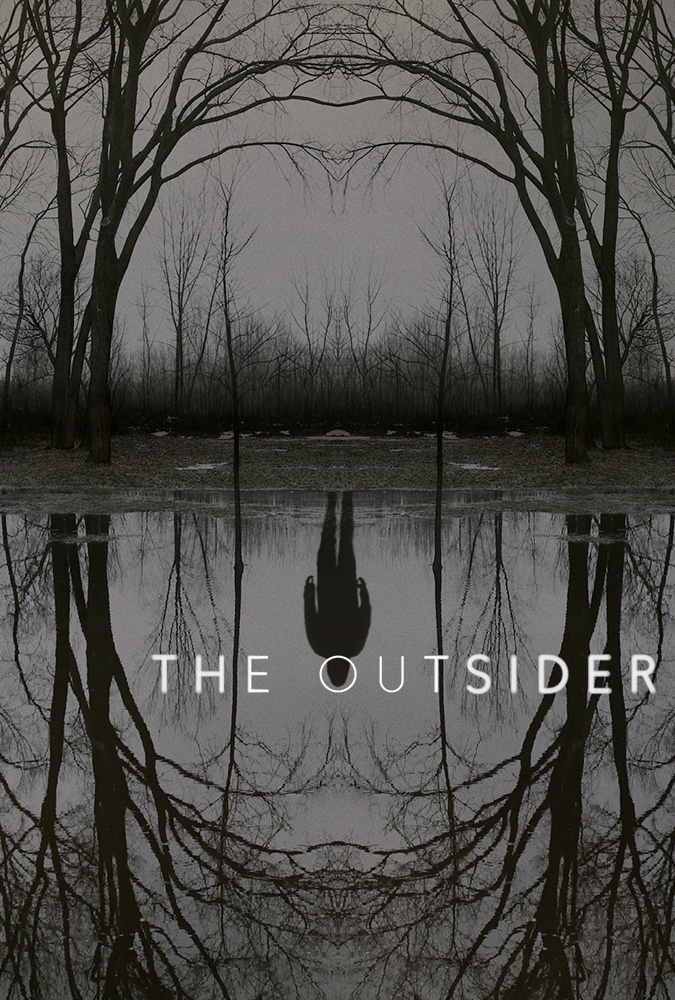 Director

Jason Bateman

Writer

Richard Price

Rating

TV-MA

Running Time

116 minutes

Airs

Sundays 9pm starting January 12th

Channel

HBO, HBO Canada
Rating Summary
The Outsider is a gripping atmospheric, supernatural thriller boasting a compelling mystery at its core alongside stellar production value, writing, and an excellent lead performance from Ben Mendelsohn.
HBO is kicking off the year with what looks to be the next big series. The works of Stephen King are ripe for the picking as of late and I could not think of a better combination.
Synopsis:
(Fish in a Barrel) When the body of an 11-year-old boy is found in the Georgia woods, detective Ralph Anderson launches an investigation into the gruesome murder. With eyewitnesses and physical evidence pointing to local teacher and baseball coach Terry Maitland, Ralph makes a very public arrest but is perplexed by Terry's seeming indifference to hiding his crime. After Terry's wife Glory calls their attorney Howie Salomon for assistance, a bewildered Terry produces an ironclad alibi during interrogation. Meanwhile, Howie calls in his PI Alec Pelley to look into Terry's side of the story. (HBO)
(Roanoke) During a surreptitious late-night visit with Terry, Ralph admits to being baffled by conflicting physical evidence. The next day, an unexpected tragedy throws the investigation into a tailspin, and ornery detective Jack Hoskins is forced to cut his hunting trip short to return to work and pick up the slack. Meanwhile, Glory tries to soothe her daughter Jessa, who says she's been visited by a strange man in her room at night. (HBO)
Part supernatural thriller and part small town drama, The Outsider is the latest Stephen King adaptation based on the book of the same name in the form of an HBO miniseries. This mystery is certainly befitting of King as the two episode premiere sets up. Of course it would be silly to expect it to show all its cards right away and perhaps those more familiar with the source material may have an advantage but so far, looks to leave audiences on the edge of their seats and hooked to this mystery that isn't as clear-cut as it may seem, offering plenty of twists and turns along the way. With a great cast featuring Ben Mendelsohn and Jason Bateman among others as well the freedom and production value from HBO make this a series that will be talked about.
For viewers unfamiliar with the source material, The Outsider revolves around a heinous crime that stuns a small Georgia town as the body of an 11-year-old boy is found in the woods. On the case was detective Ralph Anderson (Mendelsohn) who would share a personal connection with the case. Anderson's investigation would eventually lead him to a local teacher and baseball coach named Terry Maitland (Bateman). With a mountain of strong physical evidence and several witnesses pointing their fingers at Maitland, it seemed like an open and shut case. This would prompt Anderson's very public arrest of a surprised Maitland, single-handedly destroying the reputation of a man who could not be any more adamant of his innocence.
From there, Anderson and his investigation slowly began to fall apart with the equal mountain of evidence seemingly putting Maitland nearly 100 miles away at the time of the alleged murder. The evidence was becoming increasingly hard to ignore, especially for Anderson who find himself in the middle of conflicting narratives though there was clearly something more at play. However for others, the case seemed more clear-cut with a majority of the town and the district attorney convinced of Maitland's guilt regardless. While the pressure on Anderson was mounting, the veteran was determined to solve the case, but he would not be alone as the series explores the impact of the case on all the parties involved in a compelling and also heartbreaking way.
The Outsider is a very tense watch thanks to a classic plucky yet uber-creepy score and some great cinematography, keeping a gloomy tone throughout. Meanwhile, the writing was strong with multidimensional characters and the acting was excellent across the board, bringing those characters to life, with Mendelsohn and Bateman being the obvious standouts but everyone brought it here. This was Mendelsohn's show as he took the ball and ran with it as the grizzled Anderson, bringing plenty of screen presence and emotional depth to the role. Bateman was great as Maitland, showing a more vulnerable side than most of us are used to. Julianne Nicholson and Bill Camp, just to name a few, as Maitland's wife Marcy and the Maitlands' lawyer Howie Gold respectively were solid.
At the end of the day, The Outsider is a series to watch and it's just getting started. It has only just scratched the surface as far as this mystery concerned and it will certainly be exciting to see where it goes from here.
---
If you liked this, please read our other reviews here and don't forget to follow us on Twitter, follow us on Instagram, and also like us on Facebook.