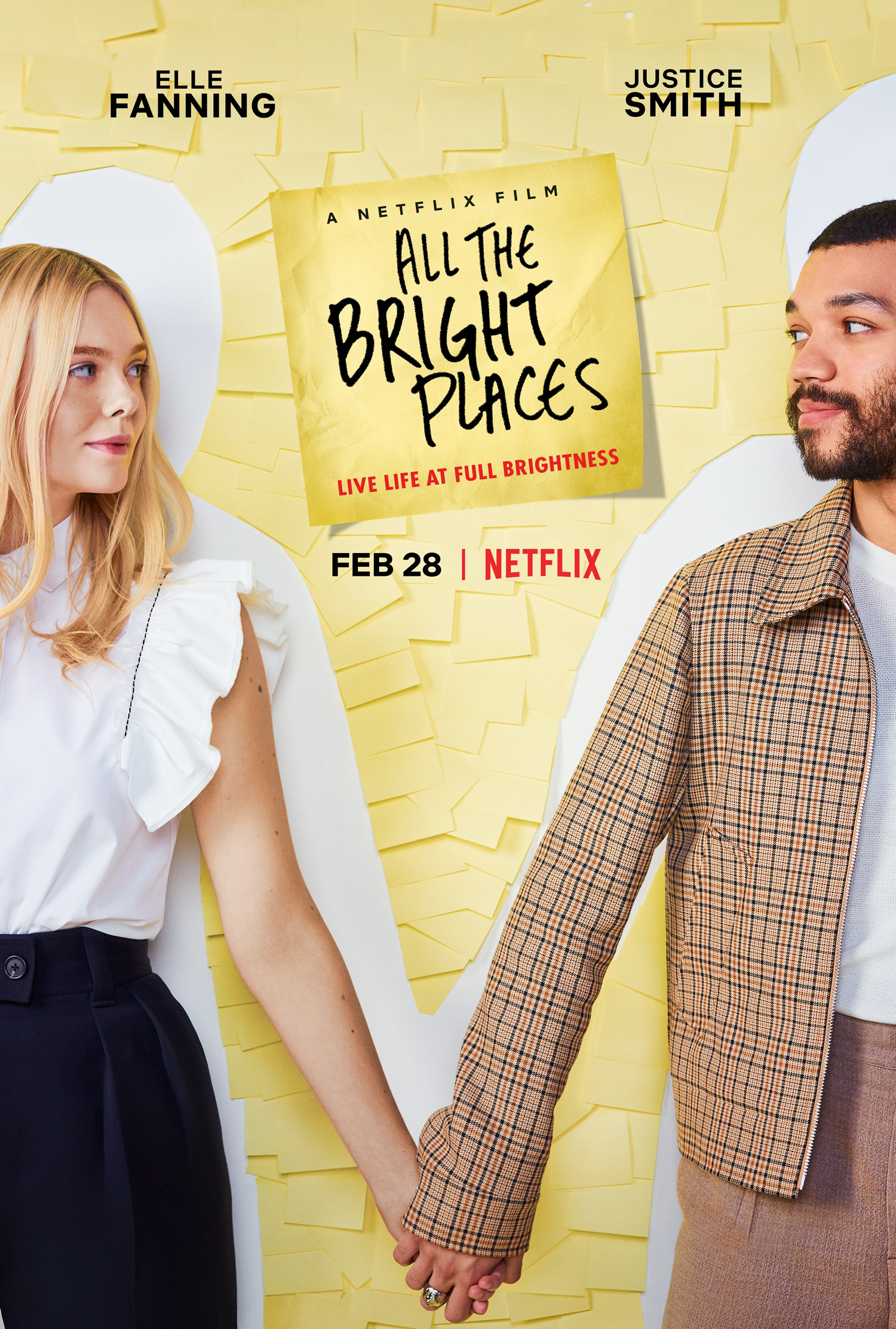 Starring

Elle Fanning, Justice Smith, Alexandra Shipp

Writers

Liz Hannah, Jennifer Niven

Director

Brett Haley

Rating

TV-MA

Running Time

107 minutes

Release Date

February 28th, 2020 (Netflix)
Rating Summary
All The Bright Places is a tragic and emotionally powerful adaptation of the acclaimed novel, lead by two standout performances from Elle Fanning and Justice Smith.
Young Adult adaptations are often a hard sell for those who aren't in the target demographic or have no attachment to the source material. They are often unapologetically melodramatic, pandering and ridiculously sappy. These characteristics describe the large majority of YA Adaptations; sometimes even those that are based upon acclaimed source material. However, on the rare occasion, some films have moved beyond the restraints of the genre to capture what made the source material so successful in the first place. While it's not quite as emotionally fulfilling as the novel, Brett Haley's adaptation of All the Bright Places is a spectacular example of a YA adaptation done right.
All the Bright Places immediately introduces audiences to Theodore Finch (Smith), a charismatic but tortured young man who comes from unstable roots and is dubbed the "freak" by his peers, due to his sometimes-erratic behavior. While out for a morning run, Finch comes across his classmate, Violet Markey (Fanning), who is standing on the edge of a bridge and seemingly contemplating suicide. Unlike Finch, Violet is considered "popular" and comes from a stable and supportive family. However, she's dealing with the aftermath of her sister's death, which she feels partly responsible for. While the two had never previously interacted, this encounter made an impression on Finch in particular, who insisted that the pair work on a school project together. Through the time spent working on the project, Finch and Violet form a deep connection. Their relationship helps Violet heal from the trauma that she's been facing, but Finch has more difficulty opening-up emotionally and overcoming his past.
On the surface, the film may appear to be treading familiar territory, but it is a much darker and more mature examination of mental health and relationships than you may expect. Within the past few years, mental health has been an ongoing conversation that has often been explored in film and television to mixed results. There's a fine line between exploiting mental health for entertainment and exploring it in a progressive and thoughtful fashion. Fortunately, All the Bright Places achieves the latter, due to Haley's careful direction and the mature and deeply personal performances from Smith and Fanning. Smith in particular is required to tread some very dark territory and he does so with ease. While his charisma is undeniable, he hasn't had the greatest track record as an actor up until this point. It's a challenging role and he certainly delivered, proving his capabilities as an actor are much greater than many expected. Fanning is perfectly cast as Violet and it would be difficult to imagine any other actress in that role. Aside from their individual performances, the pair have remarkable chemistry, making it easy to buy into their relationship.
While Haley's previous films have gained a certain amount of critical acclaim, they have been criticized for a lack of a visual presence. That criticism certainly doesn't apply here, as DP Rob Givens' sun-drenched cinematography makes small town Indiana look like a magical place, capturing a romantic, yet melancholic atmosphere that helps drive the film's emotional resonance. Additionally, the bittersweet score and extremely well curated soundtrack contributes to the atmosphere, making for some very memorable music-oriented moments.
The film is certainly not a perfect adaptation, as there are pivotal moments that feel somewhat rushed. The development of certain supporting characters is lacking, which stunts the emotional impact of a particular moment towards the end. That being said, the film's willingness to tread dark territory and tackle important issues with depth, Haley's impressive direction and the wonderful chemistry between the two leads, makes this a must watch for both fans and those unfamiliar with the source material alike.
In the end, All the Bright Places is an emotionally satisfying and thoroughly engaging film that stands well above others in its genre.
*still courtesy of Netflix*
---
Follow my blog on Instagram @moviereviews100!
If you liked this, please read our other reviews here and don't forget to follow us on Twitter or Instagram or like us on Facebook