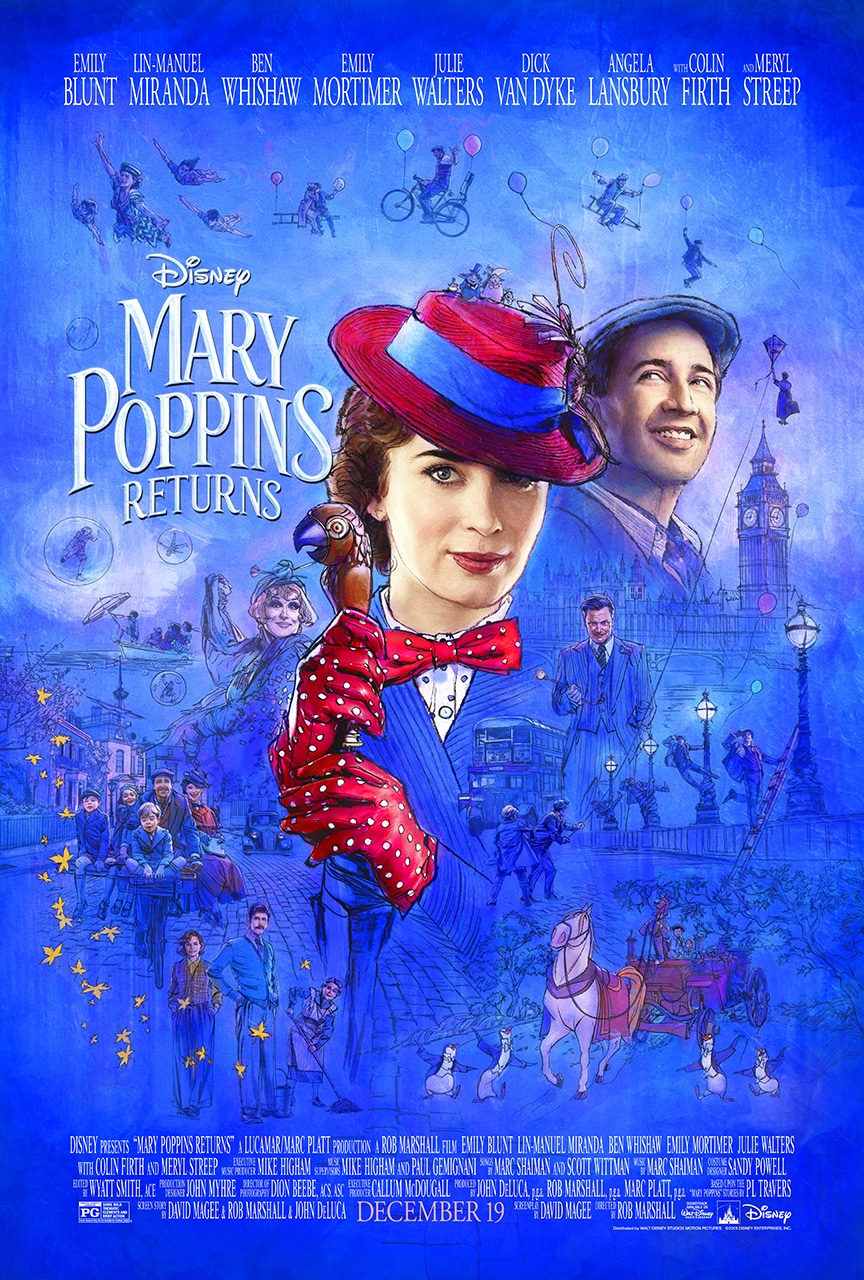 I completely forgot how insane Mary Poppins was.
Synopsis: The mysterious Mary Poppins returns to Depression-era London to visit Jane and her brother Michael, now a father of three, and helps them rediscover the joy they knew as children. (Disney)
Starring: Emily Blunt, Lin-Manuel Miranda, and Ben Whishaw
Writer: David Magee
Director: Rob Marshall
Rating: PG (United States)
Running Time: 131mins
Trailer: 
Mary Poppins Returns is a very strange movie indeed – but one that will be a guaranteed good time come this holiday season. While the film is imaginative, sweepingly beautiful and very well acted, it struggles to find a balance tonally, and suffers from a poorly written screenplay.
To start with the best aspect of the film – Emily Blunt is the perfect replacement for Julie Andrews, and does very well in her turn as Poppins. She balances the fun loving and sweet disposition of the character with her clever, shrewd and rather inscrutable exterior, all while letting the audience feel as if they're along for the ride with her and the banks children. It's a performance full of whimsy and fun with a slight note of melancholy. This side of her is touched on by the film once or twice though not enough to make it a major plot point but it was still enough to infuse her performance with a bit more emotion than you were expecting.
In addition to Blunt, Miranda shines in his role of Jack the lantern lighter. He is perfectly suited to the screen, with a bright presence that livens any scene he is found in. Miranda has a charisma that is hard to describe – making him hard not to watch whenever he's on screen, even when sharing it with such a formidable peer as Blunt. Even the more supporting cast does an excellent job. Whishaw in particular gives a real and surprisingly emotional stirring performance as Michael Banks. Whishaw plays the role of "adult who has forgotten his childhood", much like the character of Mr. Banks in the original film – but rather than presenting the audience with a broad character of adulthood, Whishaw allows the audience a glimpse into a more emotional and distracted version of the same archetype, allowing for further emotional connection and involvement, in contrast to the original Mr. Banks.
The direction of the film is beautiful, the cinematography (while occasionally a little under-lit and under-exposed for some people's taste), is still tremendously beautiful, complementing another stand out of the film – that being the mis-en-scene. The sets and props in the film are perfection, and help create a world that feels like it was made in a child's imagination – one which once you enter you won't want to leave. In addition, it would be wrong to not mention the music. The score is glorious, with a wonderful and memorable main theme, as well as some truly stand out songs, such as "Trip a Little Light Fantastic" and "The Place Where The Lost Things Go", which will be ear worms for the season and are in their own right very good pieces of the larger musical puzzle that is the film.
One major flaw in the film, which could potentially be ignored if you're just going into the film for some Mary Poppins-ey fun, is that the entire movie is rather unnecessary. Without giving anything away, the plot is set in motion in the second scene of the film, and it takes three full acts of random musical numbers and, at times, rather contrived and manufactured conflict, to arrive at the logical conclusion, which in any other movie, could have taken two scenes of dialogue. This, while fun, makes the whole film feel a little unnecessary.
The writing, in addition to being round about, is also full of cliches. Granted, it's a children's film, so a few cliches can usually be overlooked, some are rather inexcusable. The "children who act more adult than their adult counterparts" archetype is so overdone generally, yet is used here to make a very obvious point all the more obvious. Despite their best efforts, a lot of things in the film can come across as obnoxious and unneeded when they're intended to be charming or quirky.
Overall Mary Poppins Returns is a fun, rollicking, musically and emotionally engaging sequel, plagued by cliche driven dialogue as well as a story structure that makes for a wholly unnecessary series of events, and at times, character decisions which leave you wondering if you missed something or not.
Score: 7/10
*Mary Poppins Returns opens in theatres on December 19th*
Follow me on Twitter.