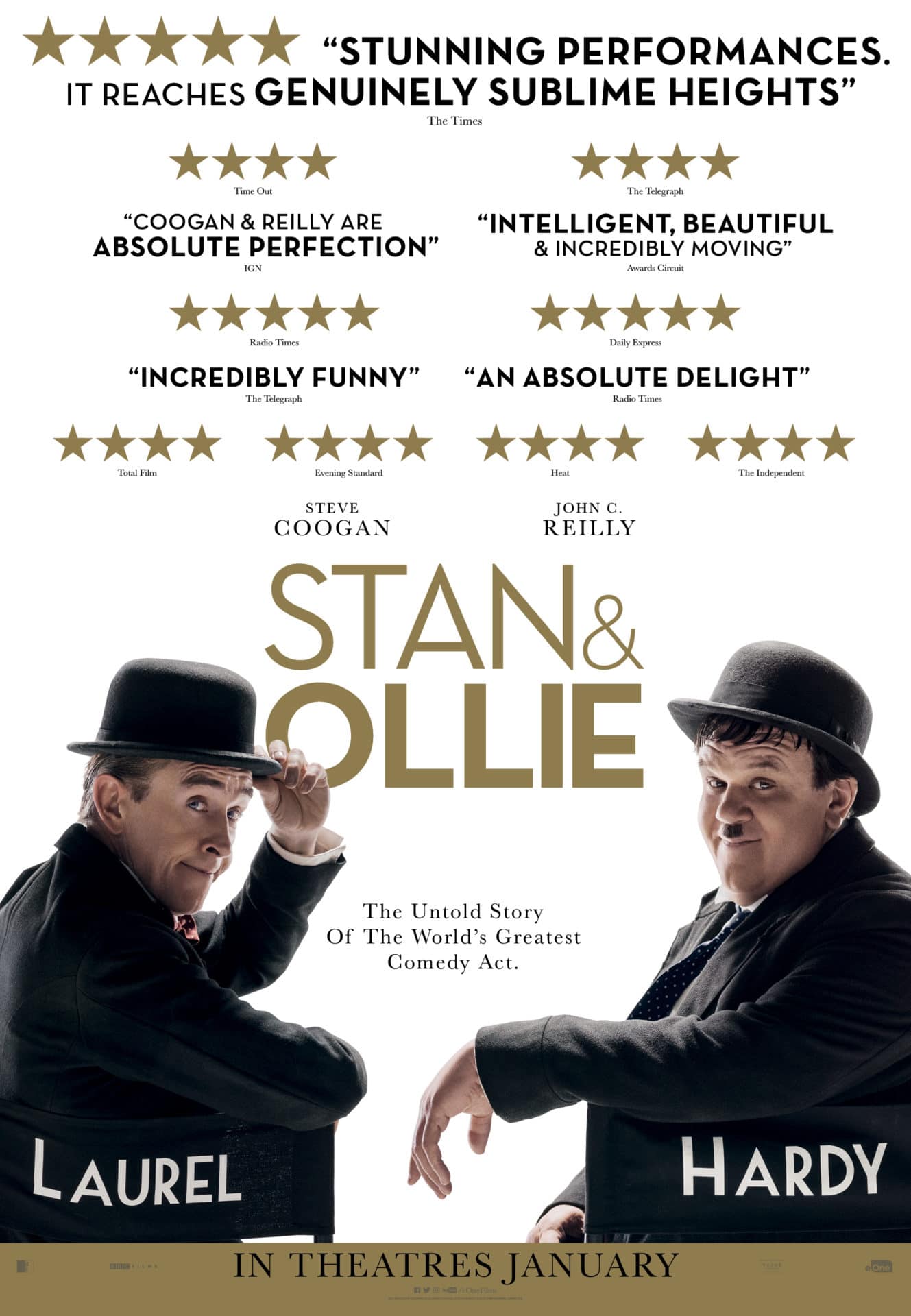 John C. Reilly was great, but a Steve Coogan and Rob Brydon version of this movie would have been a cinematic masterpiece.
Synopsis: Laurel & Hardy, the world's favorite comedy double act, set out on a variety hall tour of Britain in 1953. Diminished by age and with their golden era as the kings of Hollywood comedy now behind them, they face an uncertain future. As they set out, crisscrossing the country, attendances are disappointingly low. But they've always been able to make each other laugh and as the charm and beauty of their performances shines through their audiences laugh too, and they re-connect with legions of adoring fans, old and new. The tour becomes a hit, but Laurel & Hardy can't quite shake the spectre of Stan and Ollie's past; and long buried ghosts, coupled with Oliver's failing health, start to threaten their precious partnership. A portrait of the most tender and poignant of creative marriages begins to unfold as the duo, aware that they may be approaching their swan song, try to rediscover just how much they mean to each other. (eOne Films)
Starring: Steve Coogan, John C. Reilly, and Nina Arianda
Writer: Jeff Pope
Director: Jon S. Baird
Rating: PG (Canada)
Running Time: 97mins
Trailer: 
Stan & Ollie tells the extraordinary true story of performers, legends and most of all real life friends: Stan Laurel and Oliver Hardy. As a whole, it's a charming and fun film, well made and expertly acted, but the film seems to lack a certain spark that keeps it from being as incredible as the story it tells. While the direction stands out, so does the script. It's clever and funny when it's trying to be, but also quite chilling in its depiction of a close friendship deteriorating through stress and age. It has the ability to make you laugh and nearly move you to tears within minutes of each other, or even seconds on occasion, yet never feel tonally inconsistent or meandering.
The film's direction was interesting and quite dynamic. The opening (a one take sequence that seemed to have been captured without hidden cuts), as well as a cinematically rich closing are the highlights, but the rest of the film features a lot of other interesting cinematic ideas as well. There are moments in which depth of field and audio design are used to great effect to create atmosphere in scenes. Small details like this are what can make a film stand out direction-wise. Unfortunately, other than the aforementioned opening and closing, the cinematography was generally standard feeling. It was all competent, and some of the colors were quite pleasing, but generally the film feels as if it could have been shot by anyone.
Clearly, the best aspects of the film were the truly incredible lead performances by Steve Coogan and John C. Reilly as Laurel and Hardy respectively. Both did an expert job at capturing each of their spirits, but their performances were also layered. Not only do they have to capture Stan & Ollie, but the famous Laurel & Hardy as well. Mastering the characterization of both characters for once performance is quite a feat and both Reilly and Coogan pull it off masterfully. They both disappear into their characters, Coogan through some incredible physical characterization and Reilly through the same, with a great deal of help from his incredibly talented makeup team. The prosthetics on Reilly in particular were very convincing and felt very real and not distracting as one might expect. After a short time, Reilly simply disappears and you're left only with Stan & Ollie, with no sign of Steve & John in sight.
As mentioned earlier, the film suffers from a lack of a spark to push it over the edge. While this sounds vague, it's hard to ignore how standard this feels in amongst it's bio-pic ilk. It occasionally goes outside the box with its direction and acting, but everything from the cinematography, to the editing, to the bland score feel like they could belong in any bio-pic, and really bogged the film down. In addition to this, the pacing of the film can occasionally become very slow, and despite the film's quick running time, it can be a bit of a sit.
Overall, Stan & Ollie is a heartfelt, touching and charming film, with some excellent direction and award-deserving performances at it's heart. Despite it's poor pace and somewhat standard nature, Stan & Ollie is an entertaining romp, that will satisfy movie-goers from start to finish, pleasing fans of Laurel and Hardy, and hopefully introducing some people to the classic comedy double act, that has, and continues to stand the test of time.
Score: 8/10
Follow me on Twitter.
If you liked this, please read our other reviews here and don't forget to follow us on Twitter or Instagram or like us on Facebook.