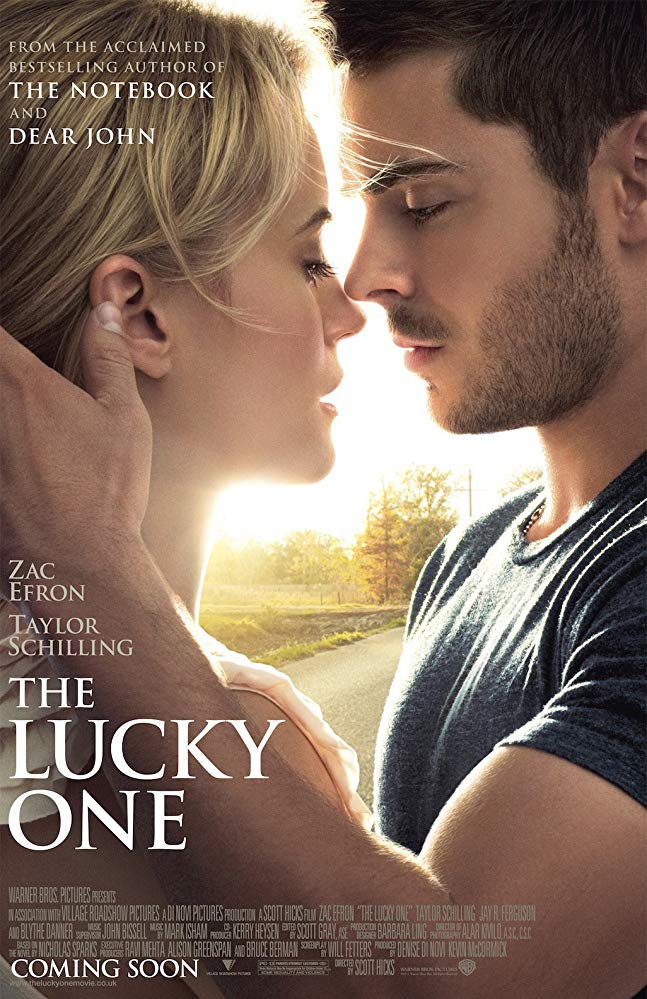 The Lucky One misses a ton of opportunities to develop actual characters.
Synopsis: A Marine travels to Louisiana after serving three tours in Iraq and searches for the unknown woman he believes was his good luck charm during the war. (IMDB)
Starring: Zac Efron, Taylor Schilling, and Blythe Danner
Writer: Will Fetters
Director: Scott Hicks
Rating: PG-13 (United States)
Running Time: 101mins
Trailer: 
If anything, The Lucky One feels more complete than prior Sparks films. The reason may just be the advances that films, as a whole, have experienced since 2010. The cinematography is improved, and so are the characters here. It seems that, compared to other Sparks films, this one is considerably less cheesy. It may be the difference in the character's ages; whereas films like The Last Song and A Walk to Remember depicted teenagers, this one is about adults. There's a lot less teenage angst at play here, and the film is definitely better off without it.
Zac Efron is a very interesting actor. He's definitely not a bad actor, but the roles he takes on don't help his case. Ever since High School Musical, the films he's chosen to appear in have been subpar to say the least. Even some of his better films, such as Neighbors and Me and Orson Welles don't really showcase how talented of an actor he seems to be. 2019 does seem like the year Efron is going to turn this around though, with The Beach Bum and Extremely Wicked, Shockingly Evil and Vile both releasing later this year. Regardless, The Lucky One falls into the same trap as the rest of his filmography thus far. There are definitely points where Efron feels perfectly cast, while other moments fall flat.
As with other Sparks films, it truly relies on how much you care about the characters. The characters in The Lucky One aren't necessarily the worst, but they're not great either. Why these films choose to forgo character development is baffling. These characters have plenty of potential and it seems that throughout the 101 minute running time, there were plenty of opportunities to engage in meaningful development of these characters. Although we do care about Logan (Zac Efron) and Beth (Taylor Schilling) here, the film could've been so much better.
The biggest problem with this film was that it's not necessarily bad as it was pretty entertaining but it seems like the writers don't budget their time properly. Many scenes could've been cut out in favor of more important things, such as actually building believable, complex characters. That's not to say that this all came as much of a surprise but with The Lucky One, the opportunity feels more wasted than any prior Sparks film.
All in all, Efron does a decent job with what he's given. The weakest point, like any other Sparks film, is the writing. There are lots of missed opportunities that the writers could have used to add some depth to the narrative and the characters. It's still an entertaining time, but if things were done slightly differently, The Lucky One could've been a truly great Nicholas Sparks film.
Score: 5/10
You can find me on Facebook, Twitter, or Letterboxd!
Don't forget to follow us on Twitter, Instagram and like us on Facebook.