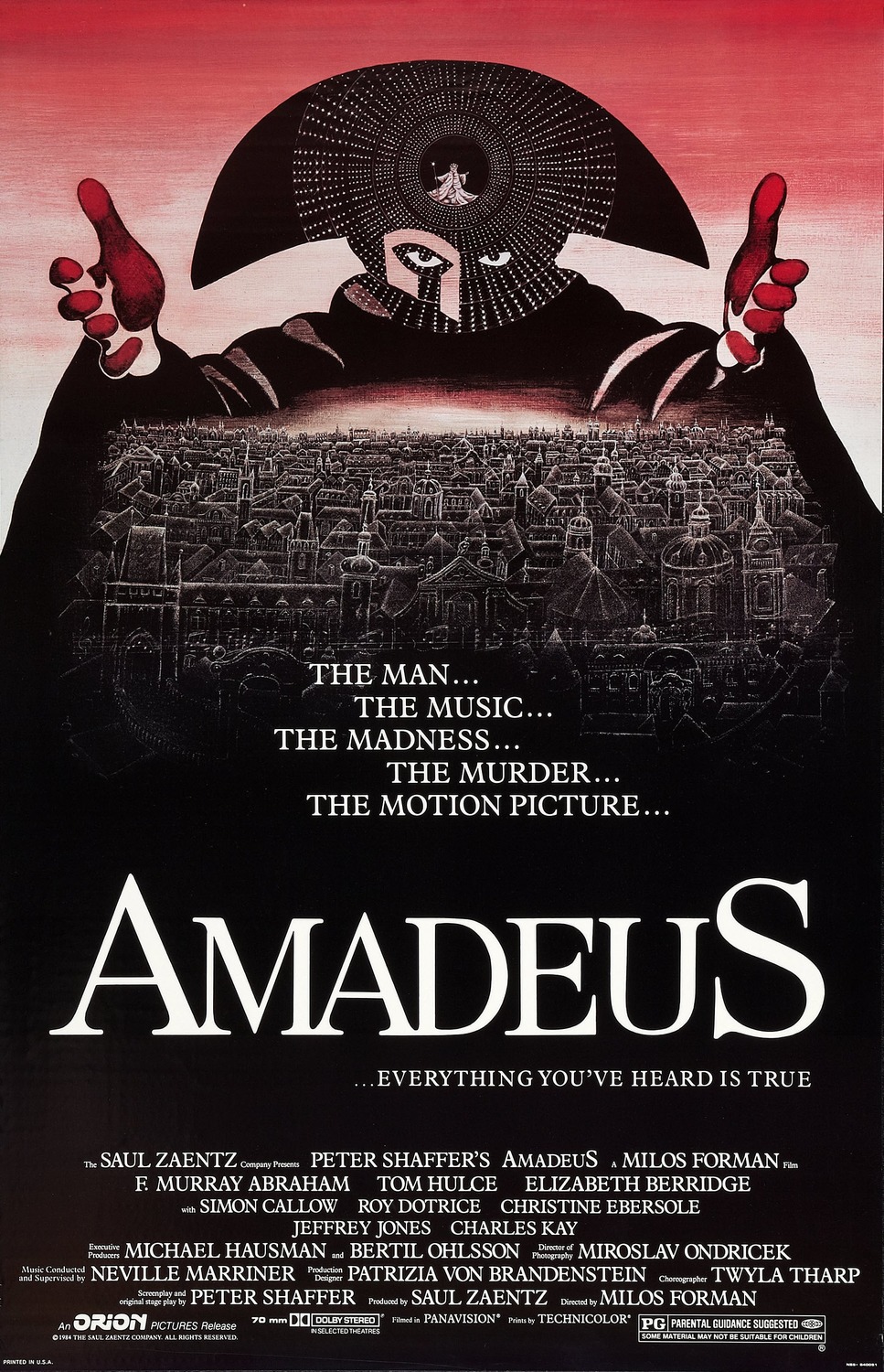 An unforgettable dive into the mind of a genius – and the jealousy it can generate.
Synopsis: The life, success and troubles of Wolfgang Amadeus Mozart, as told by Antonio Salieri, the contemporaneous composer who was insanely jealous of Mozart's talent, and claimed to have murdered him. (IMDB)
Starring: F. Murray Abraham, Tom Hulce and Elizabeth Berridge
Writer: Peter Shaffer
Director: Milos Forman
Rating: 14A (Canada)
Running Time: 160mins
Trailer:
Antonio Salieri (Abraham) is the court composer of Austrian Emperor Joseph II. He is deeply religious and believes his success and talent come as a reward from God for his devotion. He's also highly respected in court, something that feeds his vanity just fine. It all begins to fall down when Mozart (Hulce) shows up and naturally steals the spotlight. Salieri knows his own worth, and he also knows he cannot even begin to compare his work to the genius creations of Mozart. Filled with envy, he turns against God and sets himself to destroy Mozart.
Amadeus is such a superlative movie it still impresses even after multiple viewings. It is just outstanding in any way you look at it. The size of the whole production and the quality of what we see onscreen are gigantic. There are million of small details to notice; every single frame is richly constructed and put together. It's quite touching to watch the huge ball scenes, and especially, the concerts, knowing that every single person in the background  – and there are hundreds of them – is not a visual effect, but a real person, an extra with its own hair, makeup and costume. Visual effects today are amazing and very real, but as better as they might be, when we watch a scene like these ones, we know there is still a long way to go. It doesn't compare. They don't just seem real; they feel real.
At its core, Amadeus is a very small subtle story; it's a story of jealousy, and how it can rotten a person up to the point of madness. And it's also about the beauty of art and how it can turn into an obsession. The way Forman is capable of making such a grandiose film feels intimate is a master act. Shooting it in his native Czechoslovakia, the sumptuous production feels real and grounded.
Forman's is one of the best directors of the seventies and eighties, completely in control of his craftsmanship. Everyone here is at the top of his or her game, most notably Peter Shaffer, the screenwriter. The script is a pitch perfect. The film is almost 3-hours long and you never feel it pass. The story grabs us from the start and suck us in instantly.
There is something here that tops everything else: Abraham's performance. His Salieri is, without a doubt, one of the best characters to ever grace the screen. His work gives us everything – and maybe even more – than the script ask of him. Salieri is vile and treacherous – he's the villain, after all – but at the same time, he is an extremely hurt and hopeless character. He is a somewhat talented man that had the bad luck to get his work eclipsed but an absolutely genius man.
He knows he will never be on the same level as Mozart, and at the same time that he hates Mozart for that, he also loves his talent deeply, because he truly understands the beauty his rival is creating in every little detail. It is a sensational performance, an electrifying one, filled with so many layers. Every single scene is a class act of interpretation and his eyes are wide open for us to see all his hidden feelings. Heartbreaking and chilling, all at the same time. It's one of the best performances in the film history, and it is even better when you know that it is not advertised as such.
The greatness of it all is that we can understand Salieri's feelings; we can all identify with his pain, since it is almost impossible to most of us to stand alongside geniuses. And the brilliance of it all is that Mozart is not portrayed as a genius at all; he's spoiled, completely out of reality and an immature child. Mozart always feels like an outsider, a person who doesn't know – or doesn't really care – that much about fitting in.
The laugh alone shows us this is not a person that demands respect. At least, not until he shows us what he is really capable of. And then, all is forgiven. Tom Hulce, Mozart himself, can only do so much next to the mastery of F. Murray Abraham, but he is very good, very strong and lively. He is the perfect counterpart for the darkness Salieri projects, and still has a chance to show us that Mozart had his dark sides also.
Amadeus is one of the best films ever made. There is no excuse no to watch it. So, stop everything you're doing now and give it a go.
Score: 10/10
If you like this review, look me up on Instagram for more suggestions.
If you liked this, please read our other reviews here and don't forget to follow us on Twitter or Instagram or like us on Facebook.