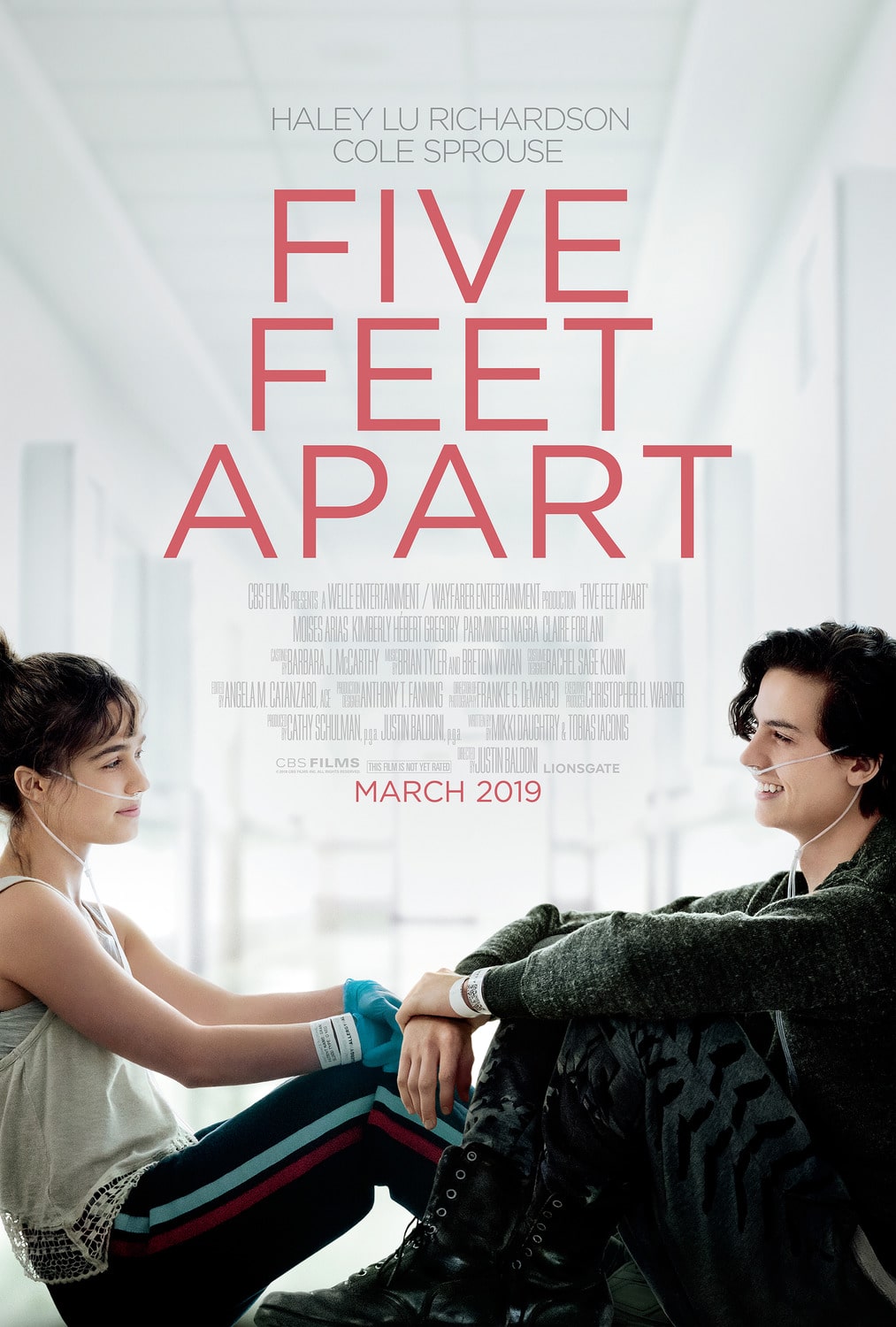 This film was very cathartic after the loss of a fellow Riverdale cast member.
Synopsis: Stella Grant (Haley Lu Richardson) is every bit a seventeen-year-old… she's attached to her laptop and loves her best friends. But unlike most teenagers, she spends much of her time living in a hospital as a Cystic Fibrosis patient. Her life is full of routines, boundaries and self-control – all of which is put to the test when she meets an impossibly charming fellow CF patient named Will Newman (Cole Sprouse). There's an instant flirtation, though restrictions dictate that they must maintain a safe distance between them. As their connection intensifies, so does the temptation to throw the rules out the window and embrace that attraction. Further complicating matters is Will's potentially dangerous rebellion against his ongoing medical treatment. Stella gradually inspires Will to live life to the fullest, but can she ultimately save the person she loves when even a single touch is off limits? (eOne Films)
Starring: Haley Lu Richardson, Cole Sprouse and Moises Arias
Director: Justin Baldoni
Writers: Mikki Daughtry and Tobias Iaconis
Rating: PG (Canada)/PG-13 (United States)
Running Time: 116mins
Trailer: 
Directed by Justin Baldoni, Five Feet Apart follows the story of Stella Grant (Richardson), a seventeen-year-old Cystic Fibrosis patient. She lives her life in and out of hospitals on routines and self-control. That is until she meets a rebellious fellow CF patient named Will Newman (Sprouse). As they find themselves stuck together, they slowly grow closer. The only issue is that they have to maintain a safe distance between them to avoid potentially fatal consequences. Can these two love birds resist their feelings to keep each other safe?
Films like this play out in the same manner. Two sick kids find themselves on opposite sides of the spectrum when it comes to their illness. One is living for the sake of survival while the other has given up on living entirely. It is through their fateful meeting that they both change for the better. Much like The Fault in Our Stars, Five Feet Apart excels at setting itself apart from the others in this genre.
Firstly, the cast is very charismatic filling the shoes of some extremely likable characters. Haley Lu Richardson and Cole Sprouse play their hospital-bound Romeo and Juliet's beautifully with some touching and reserved performances. Their chemistry is evident, despite having the restriction of being unable to ever touch each other. However, the scene-stealer of the movie is Moises Arias as Stella's gay best friend. His witty one-liners and deeply moving character arc make for a strong supporting subplot.
The film excels in a number of other areas including cinematography, direction and some story elements. The cinematography was breathtakingly atmospheric which was essential for this film's success. It mixes the use of handheld, immersive shots with well-framed wider ones. This showed the distance between these characters, despite their close proximity.
The direction was another highlight as first-time feature director Justin Baldoni (Jane the Virgin) showed his take on a terminal romance. His stylistic choices for cinematography, editing and score mixed with the direction of the actors proved to create the perfect tone for this teary-eyed story.
And finally the story, which while being a generic format, did manage to hit its emotional mark. The exploration of themes like living to live, the fear of dying and overcoming this fear were all center stage. The cast and crew managed to make great commentary on these themes and did not shy away from the seriousness of them. Despite this, the film managed to have a surprisingly amount of comedy throughout. It was a good blend of morbid, cynical and optimistic humor.
However, one area that the film seemed to falter was in its final third act. It brings a melodramatic twist that changes the tone and feel. While this brings some closure to one character's story, it still has a slightly ambiguous ending which felt a little off-putting with the rest of the film.
Overall, Five Feet Apart is a heartfelt and bittersweet romantic drama that brings hope to its forbidden love story. While the film itself plays out in a generic fashion with some overtly melodramatic twists, the charisma of the cast, bold themes, well-framed cinematography and surprising amount of cynical comedy make this hospital story one worth getting a little closer to. It is powerful, emotional and above all, real.
Score: 7.5/10
*Five Feet Apart will be released on March 15th.*
On top of writing content for this site, I also post videos on my YouTube channel The Film Fanatic where we discuss movie and TV reviews, movie recommendations, countdown lists and more! Head on over and join the Fanatic family!
If you liked this, check out my other reviews here and my website! Don't forget to follow me on Twitter and like me on Facebook.
Don't forget to follow us on Twitter and Instagram and like us on Facebook.