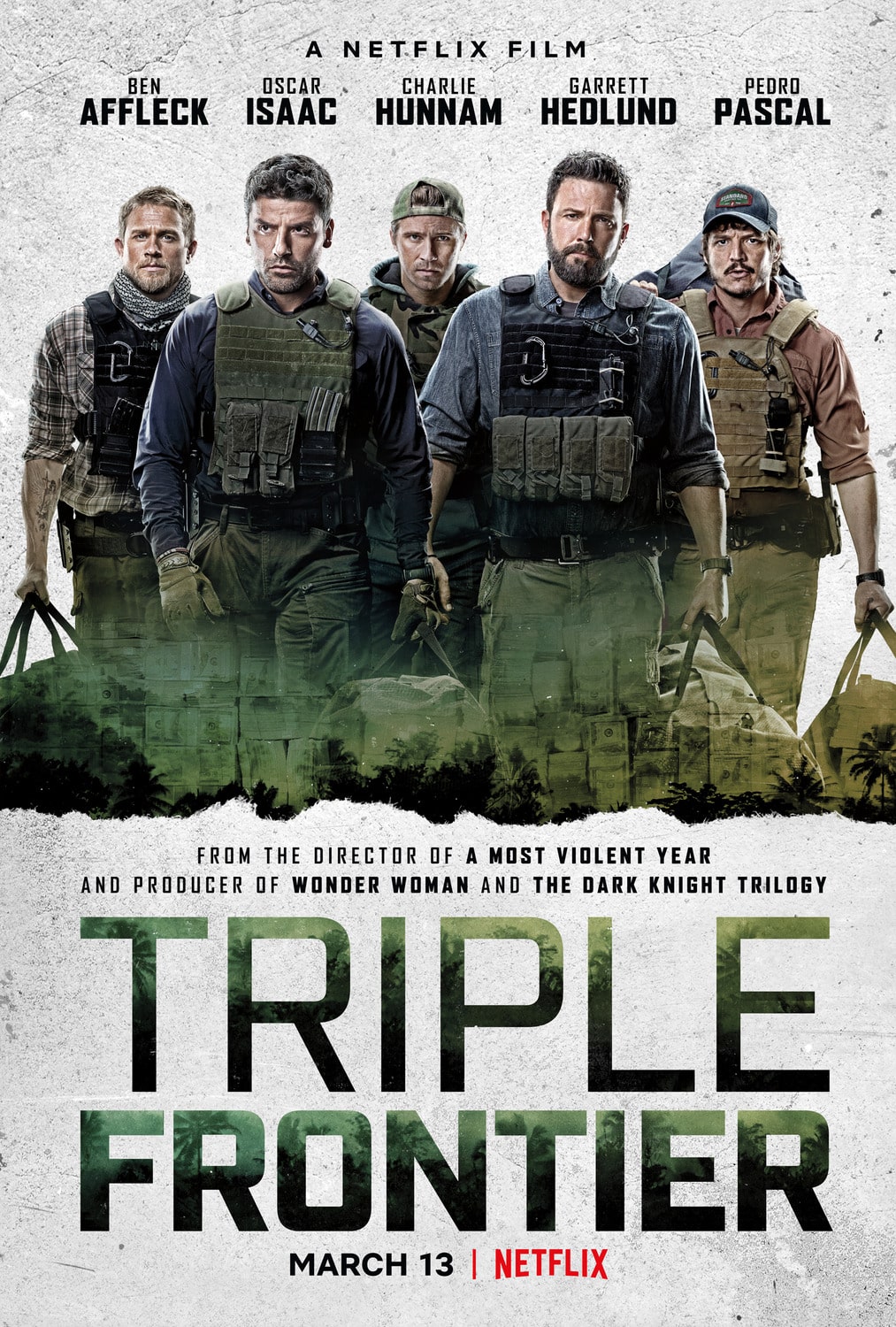 With so many big names in front of and behind the camera, can Netflix break its curse of average action films?
Synopsis: Five former Special Forces operatives reunite to plan a heist in a sparsely populated multi-border zone of South America. For the first time in their prestigious careers these unsung heroes undertake this dangerous mission for self instead of country. But when events take an unexpected turn and threaten to spiral out of control, their skills, their loyalties and their morals are pushed to a breaking point in an epic battle for survival. (Netflix)
Starring: Oscar Isaac, Ben Affleck and Charlie Hunnam
Writers: J.C. Chandor and Mark Boal
Director: J.C. Chandor
Rating: R
Running Time: 125 mins
Trailer: 
Directed by J.C. Chandor, Triple Frontier follows the story of Santiago 'Pope' Garcia (Oscar Isaac), a private military advisor battling the drug trade in South America. When he gets the opportunity to capture and rob the house of a drug lord, he decides to call in reinforcements. With the help of Redfly (Ben Affleck), Ironhead (Charlie Hunnam), Catfish (Pedro Pascal) and Benny (Garrett Hedlund), this team of ex-special forces hope to take down this part of the drug trade while making some cash in the process.
Triple Frontier had certainly gone through production hell. It started in 2010 as a Bigelow-Boal collaboration that was tapped to star Tom Hanks and Johnny Depp. Five years later, Bigelow dropped out in favour of Detroit leaving J.C. Chandor in the director's chair. The revolving door of actors continued with Will Smith, Tom Hardy, Channing Tatum, Mahershala Ali, the Afflecks and Mark Wahlberg. Finally, it landed on its final cast, eight years after initial casting began. That is quite the journey.
The success of this film hinges on its cast, direction, themes and story. This is an all-star ensemble who deliver some fun, strong and grounded performances. Each of them brings a unique personality to their characters making for a great group of soldiers to follow on this mission. Of the bunch, Affleck and Isaac were the biggest standouts. Affleck delivers one of his most layered and conflicted performances in years while Isaac proves himself to be a strong lead to centre a story around.
The characters are further enhanced by the themes depicted throughout the film. They not only deal with greed and the drug trade, but the inability to reconnect with society and the PTSD associated with serving. These subtle themes sprinkled throughout the story make for some intriguing depth to the characters. Unfortunately, these themes while present were severely underused. The characters receive little to no backstory. This makes it hard to really invest in the person beyond the actor playing them.
It must be assumed that these themes of PTSD and disconnection were in the original Boal script. He is a strong writer of this genre with 'The Hurt Locker' and 'Zero Dark Thirty' to name a few. At some point when the production changed hands, the script must have lost some of its layered PTSD themes and backstory to focus more on the action and doomed heist aspects.
Beyond the acting and themes, the story and direction are also hit-or-miss throughout the film's run-time. Chandor is able to create a gritty and immersive atmosphere that feels reminiscent of Sicario. The story starts off strong with some amazing action sequences, character moments and a layered, cohesive story.
However, as time goes on the story gets increasingly slower. Characters start to make brash decisions that cause unrealistic complications. While it is a doomed heist story, the illogical choices of some of these characters don't fit with their behaviour towards the beginning of the film. Thankfully the predictable and cliche-filled story still manages an edge-of-your-seat narrative.
Overall, Triple Frontier is an action-packed thriller that brings the best of both of its genres. While the story is predictable, illogical and underdeveloped at times, it manages to bring cohesive and tension to its narrative with great action, strong, subtle themes and fantastic performances that bring this story from development hell finally over the finish line. It leaves us with a lot of what ifs in terms of its original cast and crew, but it manages to still be a formidable doomed heist thriller.
Score: 7.5/10
On top of writing content for this site, I also post videos on my YouTube channel The Film Fanatic where we discuss movie and TV reviews, movie recommendations, countdown lists and more! Head on over and join the Fanatic family!
If you liked this, check out my other reviews here and my website! Don't forget to follow me on Twitter and like me on Facebook.
Don't forget to follow us on Twitter and Instagram and like us on Facebook.