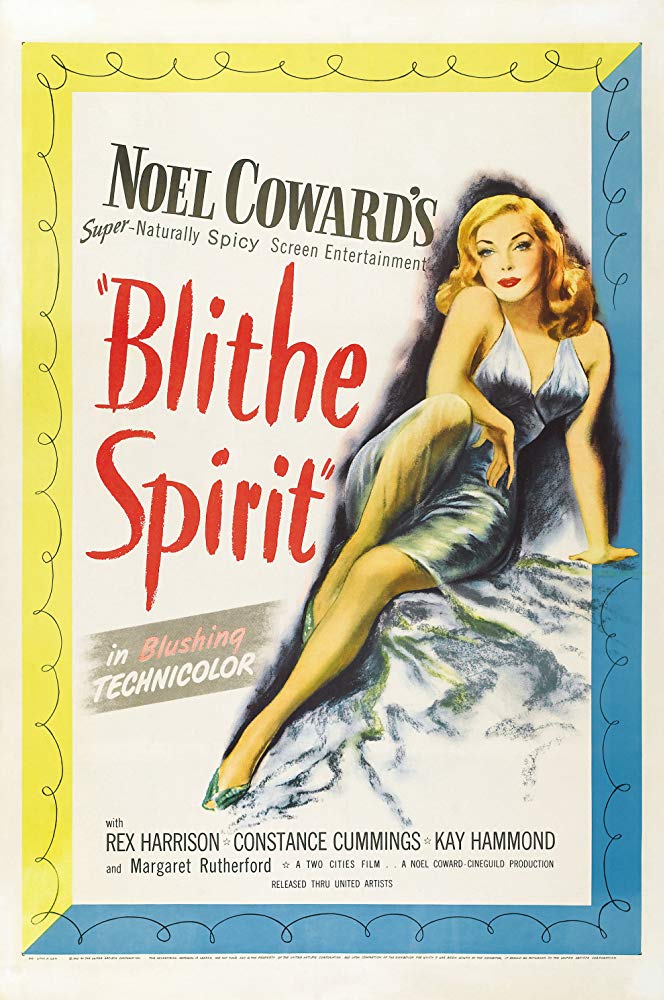 A delicious sophisticated comedy by the masters Noel Coward and David Lean.
Synopsis: Charlie and his second wife, Ruth, are haunted by the spirit of his first wife, Elvira. Medium Madame Arcati tries to help things out by contacting the ghost. (IMDB)
Starring: Rex Harrison, Constance Cummings, and Kay Hammond
Writers: David Lean, Ronald Neame, and Anthony Havelock-Allan
Director: David Lean
Rating: n/a
Running Time: 96mins
Trailer:
Charles (Harrison) is a book writer who is preparing his next book. In order to research a bit more into the subject of the after life, e and his second wife Ruth (Cummings) arrange for a local medium, Madame Arcati (Margaret Rutherford) to do a séance at their house. Apparently Madame Arcati is not able to properly contact the dead, but as soon as she leaves the house, the ghost of Elvira (Hammond), Charlie's first wife, appears, to make his life a bit more misery. Charles is the only one who sees her, and his confrontations with the ghost makes Ruth increasingly irritated – and concerned about Charles' mental sanity. They bring Madame Arcati back to try and solve the problem once and for all, but they end up getting into even more troubles.
Blithe Spirit was adapted from the popular Noel Coward play. The theatricality of the film is very noticeable during the run: few actors in scene, almost one single set during the entire film, the entrance and exit moments all very market. Especially problematic is the repetitions of some acts. For example, Ruth never notices when Charles is not talking to her, and it shouldn't be that difficult, since he doesn't look at her when he's talking to his deceased wife. Sometimes he is looking at a completely different direction, and even so, she still feels offended by some remarks.
This should not be taken the wrong way; it still gets plenty of laughs though it is done beyond exhaustion and the jokes end up being somewhat tedious. But the thing is: the story is just so entertaining, the actors inhabit their characters with such delight and the whole film is so fun that once can easily look away from those problems. And most notably, there are some twists that are totally unexpected – which only makes it more watchable.
There is always a special connection to the audience when we see the actors are enjoying themselves and can deliver great performances. That happens here; Harrison is very entertaining as Charles Condomine, Cummings and Hammond are both very dynamic as Ruth and Elvira Condomine respectively but the main credit must go to Rutherford as Madame Arcati. She creates such a delicious character, so full of new tricks and curious moments, it's impossible not to laugh when she's on screen. And the fact that director David Lean was able to makes us invest in such a farcical storyline makes it even more hopeful.
Blithe Spirit an absolutely delicious film. Give it a try. You'll love it too.
Score: 9/10
If you like this review, look me up on Instagram for more suggestions.
If you liked this, please read our other reviews here and don't forget to follow us on Twitter or Instagram or like us on Facebook.