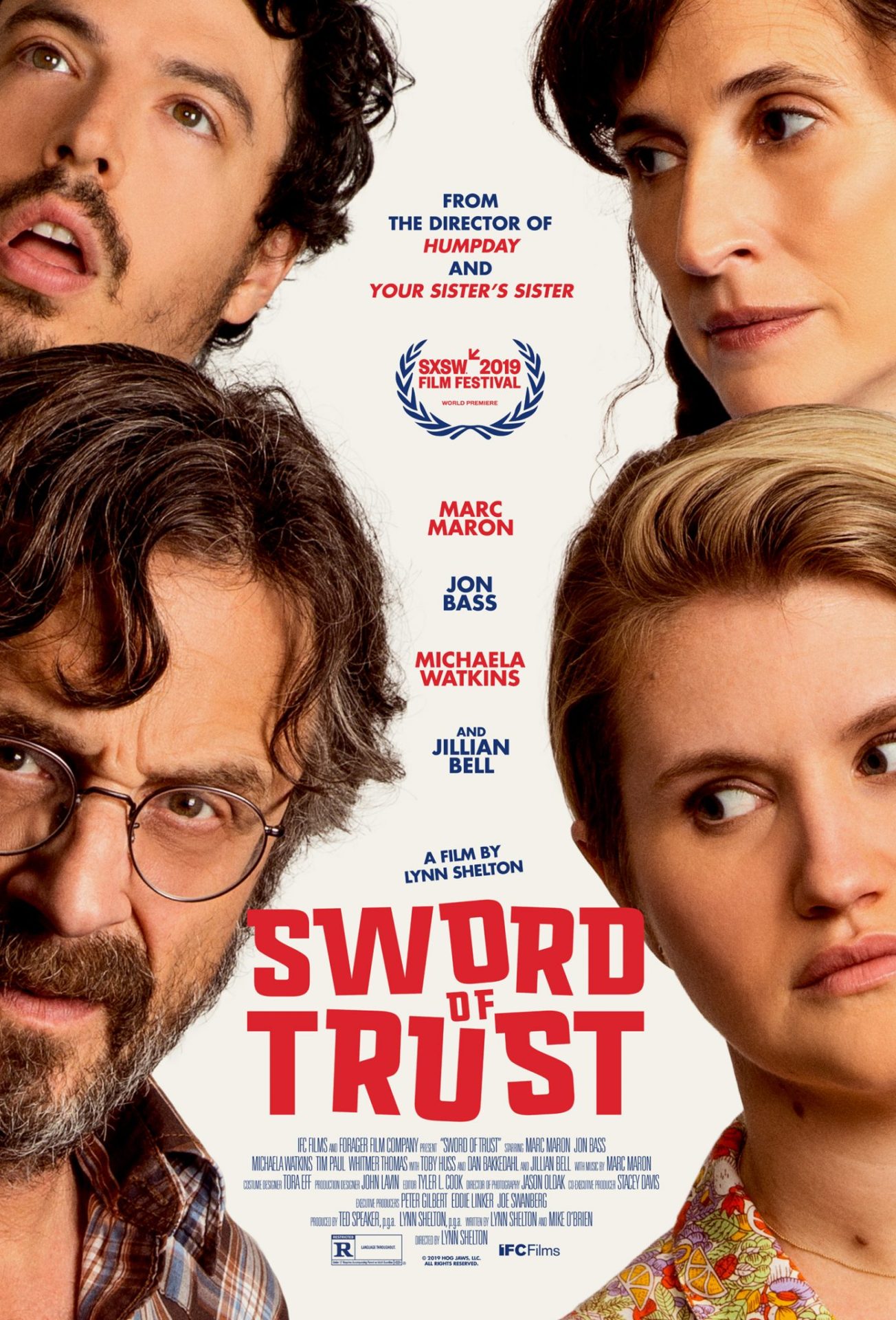 Starring

Marc Maron, Jon Bass, Michaela Watkins

Writers

Lynn Shelton, Michael Patrick O'Brien

Director

Lynn Shelton

Rating

R (United States)

Running Time

88 minutes

Release Date

July 12th, 2019
Rating Summary
Besides some faults with a plot that's kind of forced, Sword of Trust is an extremely tightly knit film.
This will be one of many reviews during this year's SXSW Film Festival, to keep up with our latest coverage, click here.
Lynn Shelton is a bit of an indie film savior herself. A filmmaker who was innovating at the dawn of the mumblecore movement, she takes a quirky spin on the way she makes her films – and this one in particular. Writing a very brief but elaborate script detailing the motions of the plot, she gives the actors free range to improvise all the dialogue. Considering the caliber of the cast here, this is for the best, making for what'll stick around as one of the funniest movies of 2019.
First off, it's really exciting to see such a high-caliber ensemble cast brought together in Sword of Trust, as they are essential in making the movie as good as it is. All four of the leads here (Maron, Bass, Watkins, and Jillian Bell as Mel, Nathaniel, Mary, and Cynthia respectively) are excellent, and it makes complete sense why Shelton would trust them to make this the laugh-out-loud funny film it ends up being. They have a true dynamic, and it's often quite difficult to tell that it's all improvised. In fact, the conversation feels so real here to the point that this feels like real life – and not a movie. This is not only props to the ensemble, but to Shelton as a director for making everything come together like it does.
If there's one problem to point out with Sword of Trust, it has to be that the plot itself isn't all that intriguing. These supposed 40 or-so pages of elaborate story detail kinda feel forced, and it's almost like the actors are having trouble fitting the story elements into their conversations awkwardly.
Lynn Shelton's quirky indie voice that has worked in drama's like Your Sister's Sister translates really well to a full on comedy with Sword of Trust. In addition, these 4 true comedic geniuses do an excellent job at engaging us through fully improvised dialogue that's admirable with it's authentic and genuine nature.
*still courtesy of IFC Films*
---
Follow me on twitter @daniel_azbel and on letterboxd @danthemovieman.
Don't forget to follow us on Twitter and Instagram and like us on Facebook.