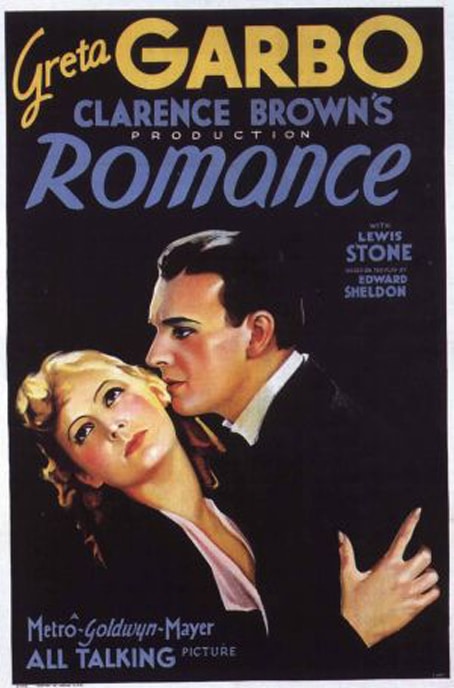 Starring

Greta Garbo, Lewis Stone, Gavin Gordon

Writer

Edward Sheldon

Director

Clarence Brown

Rating

N/A

Running Time

76 minutes
Rating Summary
Romance is a totally passable movie that you should look for only if you are a fan of Greta Garbo or if you are overtly curious about the period. Clarence Brown was a good director, but he wasn't able to make more of the material. It's not a bad film; it's just totally uninspired. Watchable and forgettable as soon as you finish it.
The second talkie of one of the great female presences of the 30's
Young Harry (Nugent) is in love and wants to marry an actress, much to the displeasure of his family. Harry thinks that Bishop Armstrong (Gordon) knows nothing about love so Armstrong tells him the story of Rita and himself.
Rita (Garbo) was an Opera Star singing in New York who was at a party given by Cornelius (Stone). Armstrong was a 28-year-old rector. He fell for Rita when he saw her and after six weeks he wanted to marry her. Naïve as he was, he thought that all of Rita's relationships were in the distant past, but Rita lives for the moment and knows that she can never marry Armstrong.
This movie has melodrama written to its core. The story is built to make the most of the melodramatic elements: the man, once deeply in love with an incredible woman, remembers their doomed passion years before, when he was heartbroken by this woman, in such a shattering way that he ended up marked forever.
This is a perfect example of the films made in the 30's focusing women. Romance, broken hearts, tears, love. The story is not particularly inspired, and the staging makes it all feel too contrived and theatrical. The scenes are very long, almost everything happens behind closed doors. The film feels very heavy most of the time. What saves it, but not entirely, is Greta Garbo's performance.
This is Garbo's second talkie. She was a huge star and it is pretty clear why: she was very charismatic; we are drawn to her anytime she is on screen. But during the transitional period from silent to talkies, some actors struggled to fit in, and it's noticeable that she struggled too. Her accent is very tricky to understand sometimes, and she is very exaggerated in some of her movements and expressions. Her charisma helps smooth things up, but it is still there.
Garbo and Gordon are the romantic couple, but unfortunately, there is not a lot of connection between the two actors. They have some good moments in the film, but the pair is not particularly swoon worthy. At best, they are just okay together.
---
If you like this review, look me up on Instagram for more suggestions.
If you liked this, please read our other reviews here and don't forget to follow us on Twitter or Instagram or like us on Facebook.