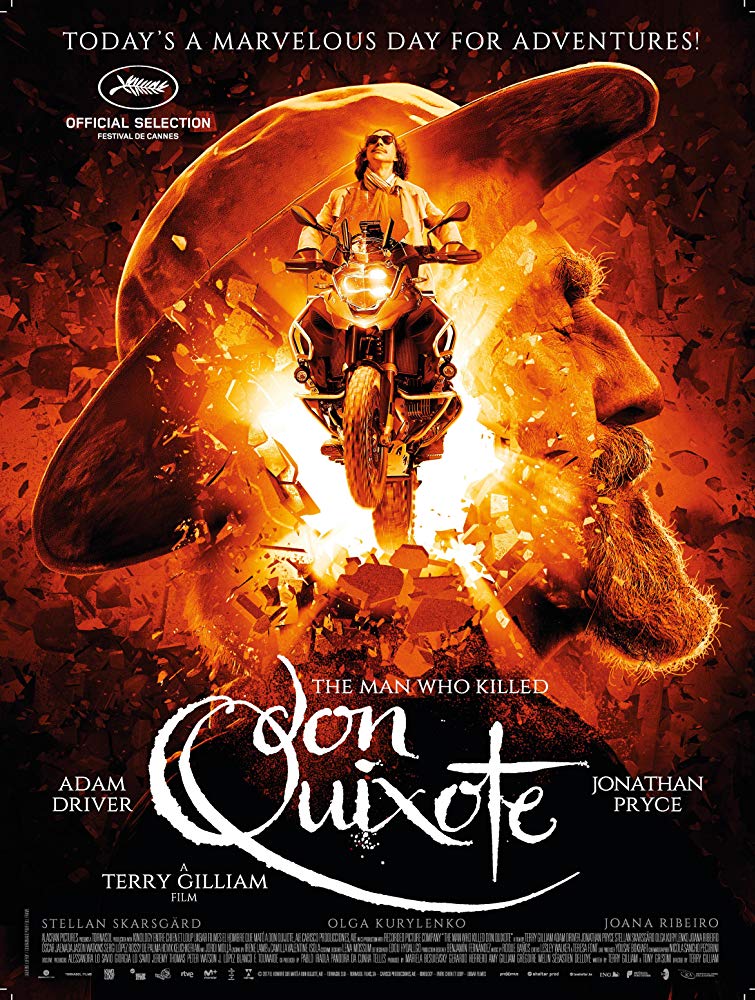 Starring

Adam Driver, Jonathan Pryce, Joana Ribeiro

Writers

Terry Gilliam, Tony Grisoni

Director

Terry Gilliam

Rating

14A (Canada)

Running Time

132 minutes

Release Date

April 10th, 2019
Rating Summary
The Man Who Killed Don Quixote was a great adventure comedy with plenty of thrills and laughs. The sharp script, imaginative directing, and the great performances by Adam Driver and a scene-stealing Jonathan Pryce make it a delight to watch and one of the best movies of the year.
Conceived nearly 30 years ago by writer/director Terry Gilliam, The Man Who Killed Don Quixote has faced quite a troubled production history, ending production in 2017 and appearing on the festival scene before being released as a one-night special event screening across North America. Of course some Gilliam fans have developed a connection to the film. For those who have waited so long for its release, this film should be worth it but as with most Gilliam films, it won't be for everyone. Not being the most familiar with his past works, this may or may not be the best place to start, however for what it is, is a fun adventure comedy.
The story here finds a burnout film director named Toby (Driver) who when reminiscing about his former work, a student film about the famed Spanish literary character Don Quixote, found himself reunited with his former star, a Spanish cobbler named Javier (Pryce) who believed he was the real Don Quixote. From there, Toby would unwillingly find himself a part of a Quixote-esque adventure. Over the course of the film, the story would weave back and forth between the present and back during the production of Toby's film. From there, we see how Toby evolved from his humble beginnings as an aspiring filmmaker, to a self-centered and arguably unlikable artistic type. Meanwhile, the present and the past would also share many similarities.
The contrast between Toby, a man who clearly did not want to be part of this adventure, compared to Javier, a man who was clearly oblivious to that face, was fun to watch despite its arguably uneven nature. While Toby would get his comeuppance of sorts, he could never seem to get away as their adventure would become increasingly ridiculous as Toby's grip on reality became more and more tenuous. Partly due to his need of self-preservation and a certain connection to Javier because of their past, Toby would slowly begin to embrace his situation and the two would form quite the team and was thrilling to watch. A twist may derail all of this slightly for some.
There may have been a few hiccups but the script as a whole was great with plenty of moments aided by sharp dialog all around. Technically speaking, everything worked to set the scene nicely. From the beautiful cinematography, costumes, and set designs, the film displayed a considerable sense of authenticity. Being a Gilliam film, it also had its fair share of zanier moments which won't be for everyone, however, the fit within all the ridiculousness. With a running time of just over 2 hours, it could have been shorter though this wasn't a big deal.
The best part of the film, without a doubt, was its two excellent lead performances from Driver and Pryce as Toby and Javier respectively and their equally excellent chemistry. In perhaps Driver's best work, he commits fully to the role and all the slapstick it entailed while delivering an entertaining, unlikable, over-his-head sleazebag. In some of Pryce's best work, he simply stole the show as a larger-than-life character with plenty of monologues and other grand gestures in what will be a memorable performance. Meanwhile, Ribeiro would hold her own as Angelica.
Ultimately, if you can handle the characters and the weirdness, then you'll have some fun with this one.
*still courtesy of Star Media Films*
---
If you liked this, please read our other reviews here and don't forget to follow us on Twitter or Instagram or like us on Facebook.