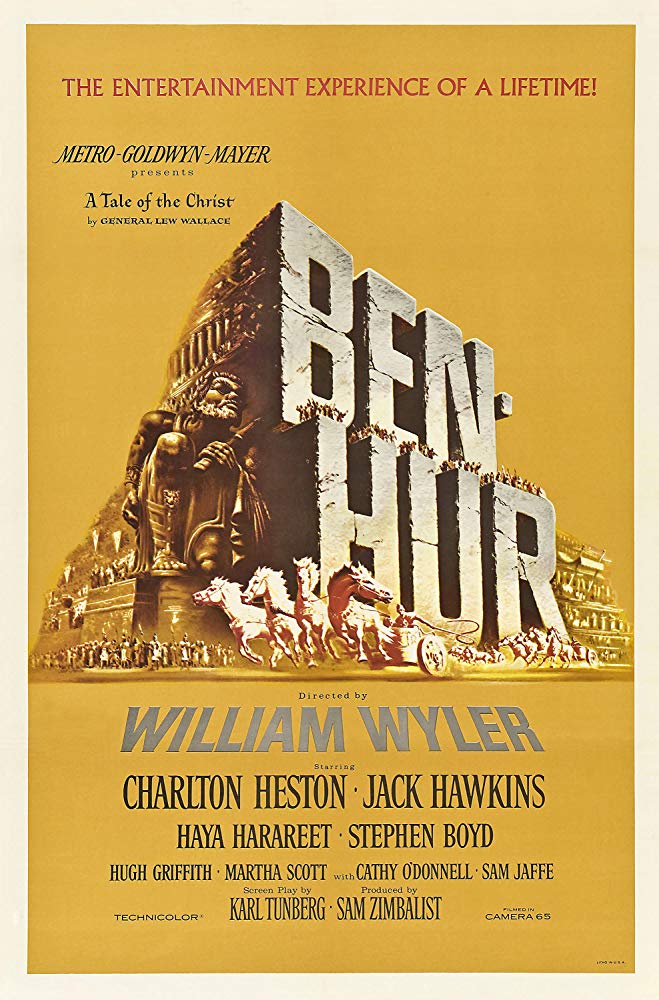 Starring

Charlton Heston, Stephen Boyd, Hugh Griffith

Writer

Karl Tunberg

Director

William Wyler

Rating

PG (Canada), G (United States)

Running Time

202 minutes
Rating Summary
Ben-Hur (1959) is a very entertaining epic with one of the most iconic sequences in film history.
Judah Ben-Hur (Heston) is a rich Jewish prince and merchant in Jerusalem at the beginning of the first century. His old friend Messala (Boyd) arrives with the new governor, assuming the position of commanding officer of the Roman legions. They are happy to see each other again but soon their political differences put them in different sides of the ongoing war between their people. During a parade, a roof tile falls from Judah's home, injuring the governor. Messala knows he is not guilty but sends him to the galleys as a slave anyway and imprison his mother and sister. Judah regains his freedom after his galley sinks and he saves the life of Quintus Arrius (Hawkins). He becomes a chariot race rider to Sheik Ilderim (Hugh Griffith) until he finally has a chance to face Messala again and claim his revenge.
Biblical movies aren't that interesting and are all pretty cheeky at best. However, Ben-Hur is the exception to the rule. This is a spectacular movie from star to finish. Just the size of everything alone is exciting enough and is spectacle for the eyes that was very well directed by Wyler. It's not easy to create a 202 minute epic like this one, but Wyler held everything together and the story, for the most part, flows smoothly. This is not an ease feat when you are directing such a long movie. After the main story is over, there's still around 40 minutes of Ben-Hur saving his mother and sister and meeting Jesus, which drags the story a little bit and it is, in a way, unnecessary. But, strangely, it also feels very real to Judah's journey. It's a curious aspect of this part: it feels like it could have been cut out but it also makes sense with the whole of the movie.
There are a lot of talk about the homoerotic subtext present here, which, of course, could not be addressed openly in 1959 (especially with Charlton Heston as the lead); but watching the movie now, it is impossible not to notice certain aspects that totally confirm these stories, principally with Boyd's performance. The ways he looks at Judah in all the initial scenes are filled with lust and desire, like he almost could not keep it together and throw himself into Judah's arms. Boyd creates a great villain, but this subtext adds a lot of depth to his character.
Heston carries this huge movie on his shoulders and gives everything he has to character of Ben-Hur. In a way, it's a very exciting and charismatic performance, and Heston hit all the right marks; he does everything he's asked for. He ended up winning Best Actor at the Academy Awards, one of the film's 11 wins. His win is understandable; Ben-Hur was the biggest movie of the year. But in retrospect, it's not the best performance of the year, not by far. Heston wasn't really that versatile and layered and 1959 had very strong contenders in the category.
That also happened in the best picture category: Ben-Hur was against Diary of Anne Frank, Room at the Top, The Nun's Story and Anatomy of a Murder, a very strong set of contenders. But besides not being the strongest more dramatic movie of the bunch, Ben-Hur was entertaining beyond belief. If that wasn't enough, it also had one of the most exciting and complex sequences in history of cinema, one that lives up to this day to all the hype.
The chariot chase sequence, with ten chariots being pulled by four horses each, is such a humongous achievement is just brushes everything under the table in comparison. It's difficult to even write about it, because it is such a feat, such an unbelievable piece of storytelling, of direction, of production, of… everything, any superlative fades when tried to categorize it. This is a sequence that needs to be watched to be fully understood and appreciated in all its ambition. The size of it all, the amount of extras, the work of the stunts – and the actors! – the precise work of the camera, the unbelievable quality of the editing. It's just one of those moments in film history that is just magical in itself.
For all the excitement – and for that chariot sequence – Ben-Hur is a must watch!
*still courtesy of Warner Home Entertainment*
---
If you like this review, look me up on Instagram for more suggestions.
If you liked this, please read our other reviews here and don't forget to follow us on Twitter or Instagram or like us on Facebook.