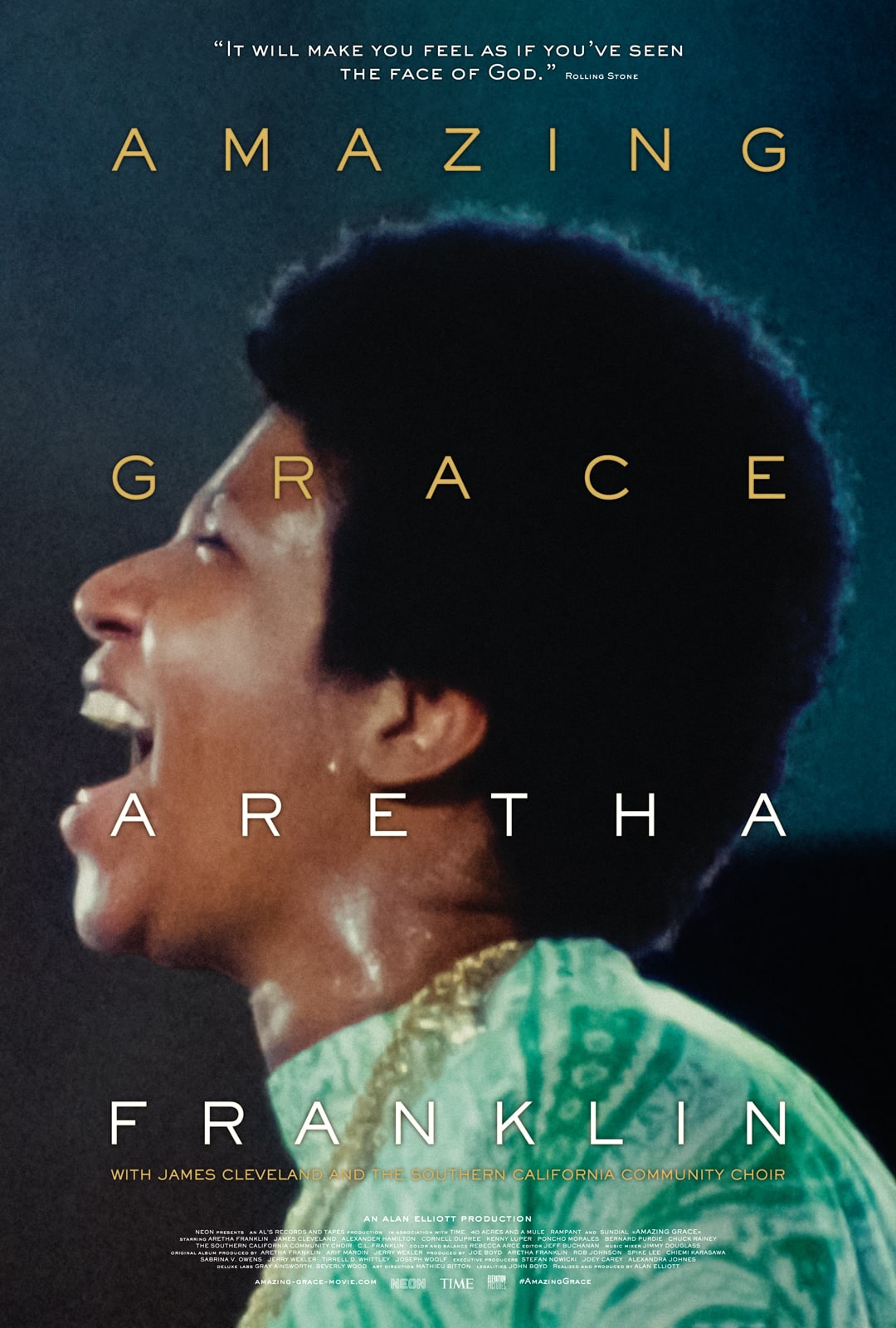 Featuring

Aretha Franklin, Reverand James Cleveland, Southern California Community Choir

Directors

Alan Elliott, Sydney Pollack

Rating

G (Canada, United States)

Running Time

89 minutes

Release Date

April 12th, 2019
Rating Summary
Amazing Grace is the next best thing to being in that fateful Los Angeles church in 1972. We are not worthy of Aretha Franklin.
In 1972, director Sydney Pollack recorded a performance by Aretha Franklin at the New Bethel Baptist Church in Watt, Los Angeles. The album that came out of that recording, "Amazing Grace" sold millions. The documentary, however, took decades to be released.
Pollack was inexperienced with music documentary when he shot Amazing Grace. He needed to record clapperboards snapping shut at the beginning of each take, and because he hadn't, the sound and picture could not be synchronized in post-production. It was such a colossal hardship to get this mistake right, Warner Bros. decide to leave the movie behind after months of extensive work trying to sync everything together.
Pollock never gave up on Amazing Grace, and went back to it every chance he had. In 2007, 35 years after the original shooting, the director was battling cancer and gave the project to Alan Elliott, who finally finished it in 2018, hitting the film festivals circuit right after.
What we see is musical heaven for 89 minutes. Aretha Franklin was clearly an amazing singer, and her performance here was a thing of beauty. The strength of her vocals seemed powered up by the surrounding, by the support she received from the small crowd, like she was even more energized by the collective will. People in the audience are in awe of her chops, both at the church and us, of course. It's amazing to watch, and one of the biggest strengths of the documentary is to let us wonder how truly remarkable it would have been to watch this performance live. It makes us want to have been there. It captures all her qualities and makes us want more, which is, frankly, quite an amazing feat.
With Amazing Grace, Pollock, as a director, made the perfect choice here: he doesn't intervene; he just lets the camera capture Aretha doing her thing. As a film, it is quite simple, it's just her, singing, giving everything she has for the performance, for her audience and also, being in a church, thanking whomever gave her the gift of singing so beautifully.
Let's be honest: it's plenty enough.
*still courtesy of Elevation Pictures*
---
If you like this review, look me up on Instagram for more suggestions.
If you liked this, please read our other reviews here and don't forget to follow us on Twitter or Instagram or like us on Facebook.