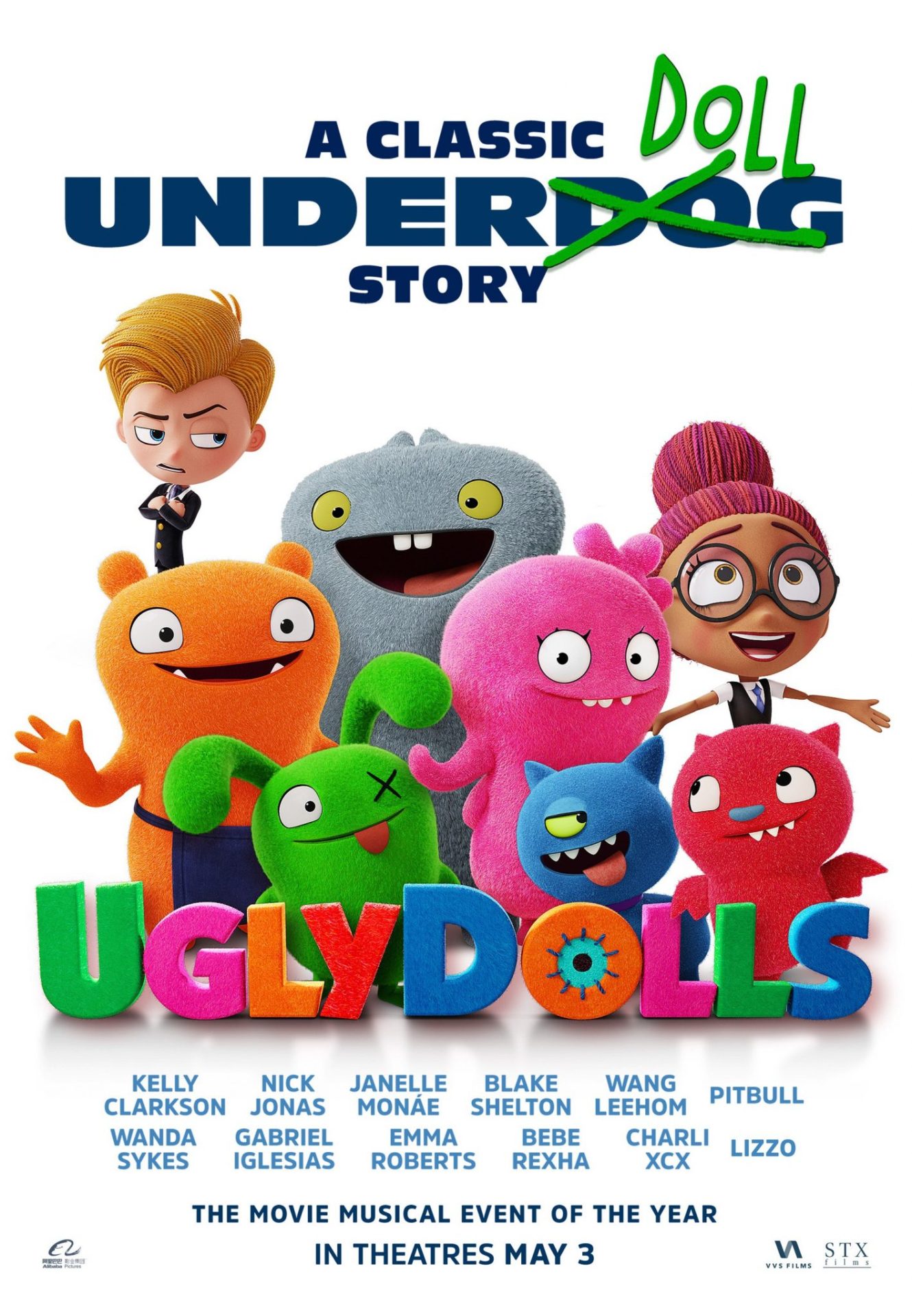 Starring

Kelly Clarkson, Nick Jonas, Janelle Monáe

Writer

Alison Peck

Director

Kelly Asbury

Rating

G (Canada), PG (United States)

Running Time

87 minutes

Release Date

May 3rd, 2019
Rating Summary
The themes in UglyDolls may be seen from a mile away but at the end of the day is a decently entertaining animated children's film offering enough color and a catchy soundtrack to satisfy most children and adults.
With UglyDolls we are once again treated with the start of another hope-to-be animated children's film franchise. Before we dismiss is as yet another animated film, this entry has plenty enough to justify its own existence. Of course its also a merchandising play and the underlying themes can be seen from a mile away but at the end of the day still manages to entertain thanks to plenty of cutesy characters and a catchy soundtrack that most children and many adults will both surely enjoy. On the other side, the film's target audience was children so some elements obviously won't be for everyone.
UglyDolls was about a group of defectively manufactured dolls known as ugly dolls. These dolls lived together in a little town called Uglyville, working together and helping each other. Most residents have come to terms with their lives, aspiring nothing more while some held on to the hope to a dream that they would one day get to see the Big World and get to fulfill their purpose to be cared for by a child. Many believed that this dream was impossible because of their looks and that the Big World didn't exist but this did not deter Moxy (Clarkson) who believed that she would one day get to experience the love of a child. Roping in her friends Ugly Dog (Pitbull), Lucky Bat (Leehom Wang), Wage (Wanda Sykes), and Babo (Gabriel Iglesias), ventured out to find the Big World.
Suffice it to say that the dolls found the Big World but it would be much more than they ever could imagine. Run by a superficial doll named Lou (Jonas), they learned the elaborate system and the ridiculous and nearly-impossible standards, devised by Lou, to join the children in the Big World. In essence, a doll would pretty much need to be perfect. While it may have seemed especially impossible for the ugly dolls, the other dolls of the Institute of Perfection were saddled by those same standards. In order to meet those standards, the dolls were faced with a steep learning curve but despite this, Moxie remained determined.
To reach the Big World, a doll would need to survive The Gauntlet, a series of tests to deem their worthiness to be with a child. Since the presence of the ugly dolls threatened Lou's rules and standards, he clearly did not want them to succeed and would do all he can to ensure this. The ugly dolls may have been down but they were never out as regardless of what obstacle was thrown at Moxie, she would inevitably overcome. While the ultimate outcome was never in question, it was easy to feel inspired right along with Moxie as she would inspire the other dolls thus redefining the true meaning of beauty.
Despite the fact that none of the big animation studios were behind this film, the level of animation here was surprisingly solid, giving us a colorful world full of distinct, detailed characters. Not only was the film nice to look at, it would also be catchy at times thanks to a great soundtrack. Having actual singers as part of the cast didn't exactly hurt its case in that regard. Besides the singing, the voice acting was great across the board. The best part of UglyDolls was its characters who were fun to watch, however, Clarkson was the standout as Moxie. Her energetic performance carries the film and makes Moxie easy to root for.
Whether or not this film won't be forgotten remains to be seen but for those looking for something to take their kids to see, UglyDolls isn't the worst choice.
*still courtesy of VVS Films*
---
If you liked this, please read our other reviews here and don't forget to follow us on Twitter or Instagram or like us on Facebook.