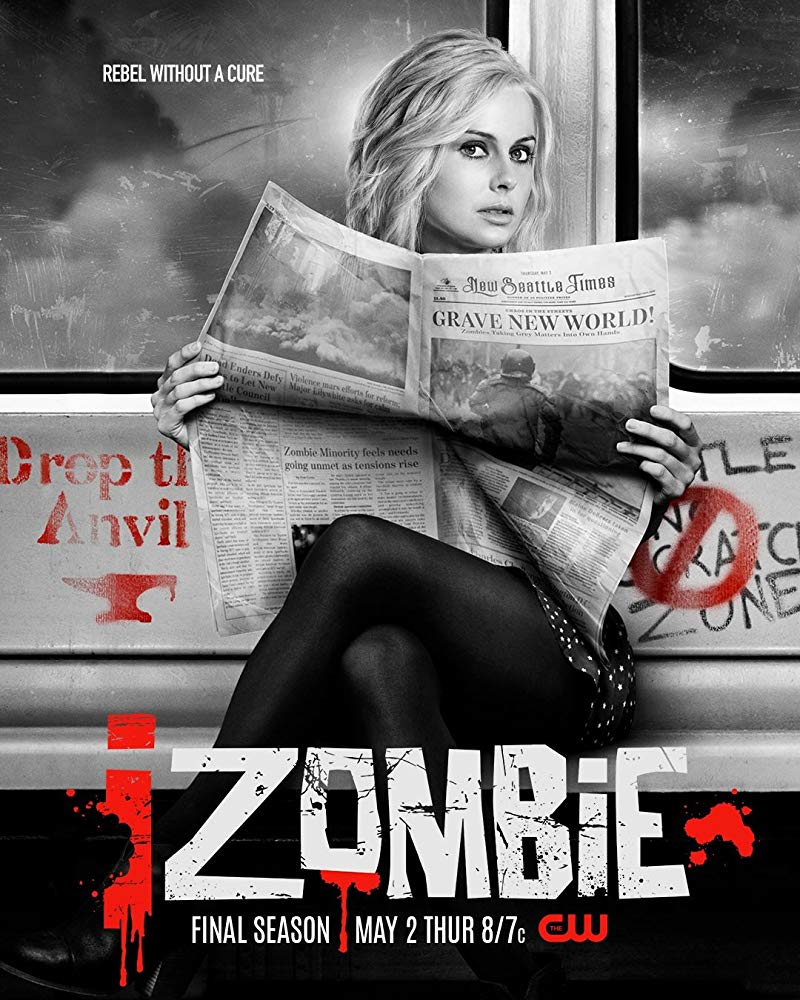 Director

Michael Fields

Writers

Philip Hoover, Jacob Farmer

Rating

TV-14

Running Time

42 minutes

Airs

Thursdays 8pm

Channel

The CW
Rating Summary
In Dead Lift, the city of Seattle is overwhelmed by fake news as human/zombie relations worsen--but will this storyline get repetitive as the final season continues? Maybe, just maybe.
If you would like to read our review of the last episode of iZombie, click here.
Synopsis: Liv, on fitness guru brains, and Clive continue investigating a murder that has body or evidence associated with it; Peyton approaches councilman Zed with a request; Liv surprises Major with a thoughtful gesture just when he needs it the most. (TVGuide)
Human and zombie relations are getting worse in Seattle with each passing day. Instead of finding common ground, anti-zombie groups are wreaking havoc on innocent bystanders making it difficult for everyone to get through the day. While it's unclear which direction the series will go in the final season but unfortunately the story is already getting repetitive just two episodes in.
Maybe this episode pales in comparison to the season five premiere because there was just too much going on. We lost two characters–Jordan (I know, my heart broke over this) and Baron. Both went out in glory, but it was difficult to lose two characters that have been trying to help in their own individual ways.
Remember the murder that went down in front of the convenience store? Well, it turns out that it was fake, yes, that's right–fake, simply for the purposes of inciting hate between zombies and humans. So, how does team iZombie tackle this issue? Well, during the episode, Major has to deal with some of his unruly soldiers who aren't thrilled to help humans and are less than pleased with Major's understanding ways. In a plot twist we didn't exactly see coming (or maybe we did), Major leaks a video of him executing two soldiers to show Seattle that whether you're human or zombie, you will have repercussions for your consequences.
He didn't actually execute the soldiers but instead iced them. The "execution" is simply to incite fear, which seems hypocritical given what anti-zombie groups are trying to do, but we'll roll with it. In other news, Liv and Major have a date, sort of, which revives the Liv/Major shippers in all of us. Can they get together before the series ends, please?
While this episode may have had way too much going on, it did try to tie in social issues, but may not have done a wonderful job doing so. The idea is to compare the anti-zombie rhetoric to discrimination in the world today, and while they don't do it in a coherent way, it is commendable of them to bring it up. But at the end of the day, the zombies do seem to have most of the control so it's hard to make a direct comparison.
The group ultimately decides to dabble in fake news with the fake execution, and asking two people to pretend that they were involved in the convenience store murder. In exchange, these two individuals got to leave Seattle safely. Unfortunately for the group, the real culprits are hoping to make some noise with the truth, which isn't going to bode well for everyone else.
By the way, who else enjoyed Kareem Abdul-Jabbar in this week's episode?
---
Check out my TV blog to read reviews, recaps, and much more! Be sure to follow me on Twitter, Instagram, and like my Facebook page! @watchwithreebs
If you liked this, please read our other reviews here and don't forget to follow us on Twitter, follow us on Instagram, and also like us on Facebook.