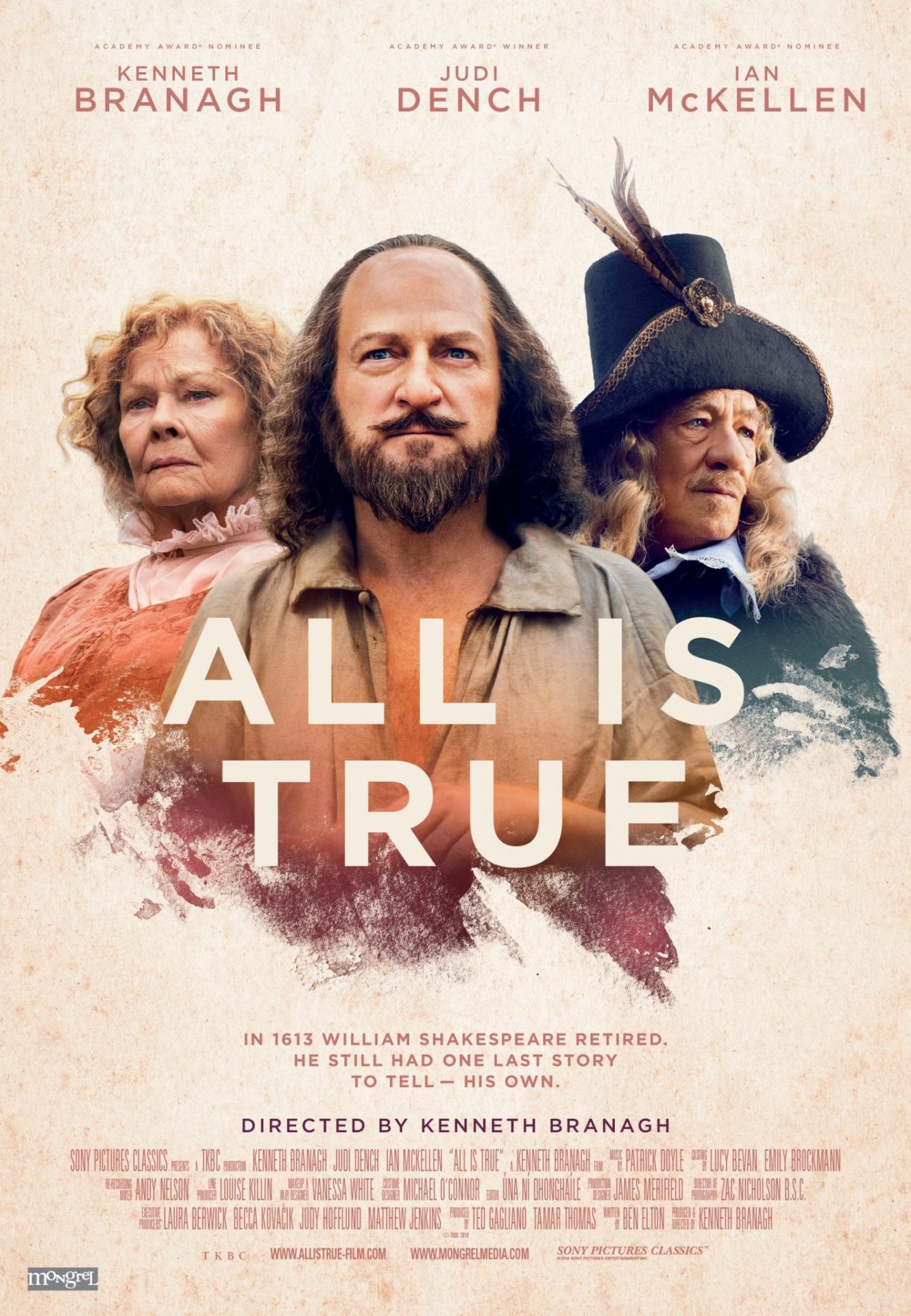 Starring

Kenneth Branagh, Judi Dench, Ian McKellen

Writer

Ben Elton

Director

Kenneth Branagh

Rating

PG (Canada), PG-13 (United States)

Running Time

101 minutes

Release Date

May 24th, 2019
Rating Summary
All Is True will surely be a treat for Shakespeare fans, but the story lacks the focus and emotional resonance needed to reach further than its niche target audience.
All Is True depicts the last days of William Shakespeare (Branagh), as he returns to his hometown of Stratford in the early 17th century. The film catches up with him right after his esteemed Globe Theatre burnt to the ground after an accident during a performance of Henry VIII (also the event that marked the end of the playwright's career). Following the fire, the Bard returns home to his estranged wife, Anne Hathaway (Dench), and his two daughters, Susanna (Lydia Wilson) and Judith (Kathryn Wilder).
Shakespeare trades in his pen for a shovel, and decides to create a garden to memorialize his late son, who died years prior. He spends a considerable amount of time tending to his garden while grieving for his lost boy, believing him to have been the next great poet and the true heir to the Shakespeare name. Naturally, this idolization causes a rift between William and his daughters, and a strain on his relationship with his wife.
There are many subplots in the film that are far more interesting than the main plot. Shakespeare's oldest is brought to court over potential adultery, his youngest is witty, hot-tempered, and desperate to escape the shadow cast by her dead brother, and his wife, the wife of a poet, feels ashamed she cannot read or write. Any of these stories would have made an interesting film, but more often than not they are put on the back burner in exchange for the Bard moping around a garden having a midlife crisis.
We know enough about Shakespeare. We've all learned about him before. Where the true novelty here lies was with his family, and sadly we don't get enough of them. The film ebbs and flows through each of their stories, but it never settles on any to focus on, instead drifting back to William's existential crisis. If you're a fan of the Bard, his work, and his life, you will surely find plenty to adore about this story. It's a sweet swan song for a beloved icon. But for the unengaged, there's not too much here to enjoy.
From a technical standpoint, the film is fantastic. The cinematography is awe-inducing. The framing and blocking of each scene is thoughtful and satisfying, reminiscent of how The Favourite was shot, but a bit less creative. The film's visuals are stellar, and Branagh and his team should be credited for that alone. The sets and costuming are also well done, save for one thing: Branagh's wig. It looks so unbelievably hokey, and may take some out of the film. Aside from that, however, the artistic design of the film is wonderful, depicting a realistic portrait of 17th century England.
Another big plus for All Is True is, naturally, the performances. While Branagh may seem a tad self-indulgent for giving himself the role of Shakespeare, he is undeniably fantastic in the film. Ian McKellen unfortunately only appears as Henry Wriothesley for one scene. It only lasts about five minutes, but he and Branagh performing together is nothing but excellence. Dench is underused as Anne Hathaway (not that Anne Hathaway), but her solemn, sweet performance is touching and sincere. The biggest and most surprising highlight, though, was Wilder as Judith. She plays by far the most interesting and exciting character in the film where around 80% of that comes from her performance alone.
The performances and technical aspects are strengths of All Is True, however, they are not quite enough to warrant a general recommendation as most of its appeal will be with true Shakespeare fans.
*still courtesy of Sony Pictures Classics*
---
If you liked this review, you can follow me on Letterboxd to see more. And my Twitter is a lot of fun too.
Read our other reviews here and don't forget to follow us on Twitter or Instagram or like us on Facebook.