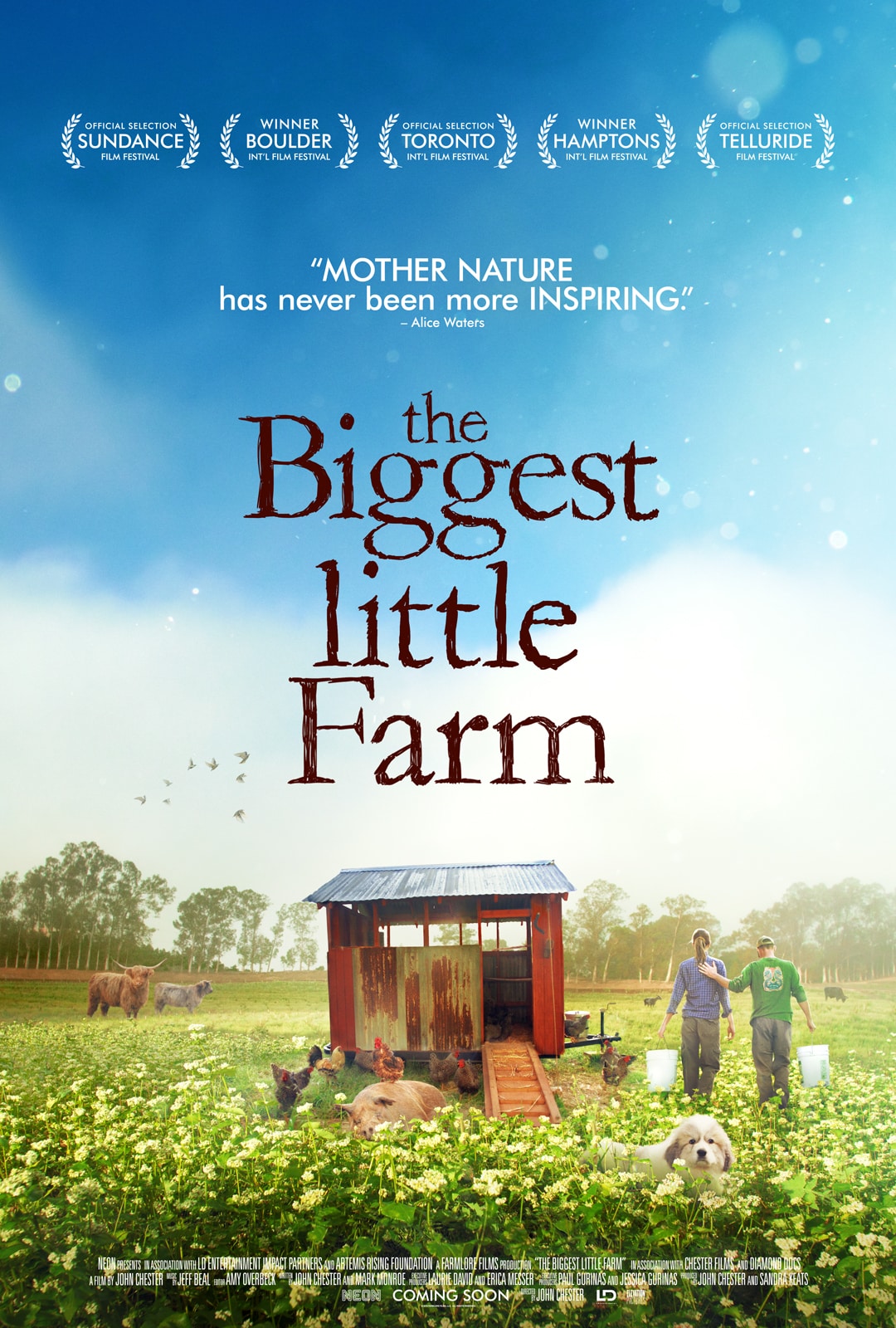 Starring

John Chester, Molly Chester

Writers

John Chester, Mark Monroe

Director

John Chester

Rating

G (Canada), PG (United States)

Running Time

100 minutes

Release Date

May 17th, 2019
Rating Summary
The Biggest Little Farm is an uplifting documentary about the power of the human spirit with a hopeful message about how things used to and can still be, featuring some truly beautiful cinematography and plenty of breathtaking nature moments.
When it looked like all hope was lost, there are still people in this world that try to do the right thing. The general food landscape today is definitely not where it used to be thanks to changing consumer behavior and global warming. As many farms have fallen the wayside, farming methods in general have changed, favoring automation while arguably losing sight of what is truly important which is the beauty of nature. The Biggest Little Farm is a documentary that follows John and Molly Chester, a married couple with an ambitious plan to take farming back to its roots by building their own truly self-sustainable farm, relying on the power of nature to fulfill their needs.
Suffice it to say that things were not easy for John and Molly as they had no farming experience whatsoever. This inexperience clearly showed but they weren't alone in their endeavor as their dream inspired other like-minded individuals to help them along the way. The Chesters' journey was so inspiring to watch through their many ups and downs. Their life's mission was definitely a worthwhile one for which they genuinely clearly cared about and were willing to invest themselves both physically and emotionally in order to accomplish it.
Learning the inner-workings of a farm over the course of the film was interesting to watch. As the local ecosystem kept changing, it forced the Chesters to adapt. Through this process, we and the Chesters would learn how everything worked together in order to sustain itself. Each passing year would present its own set of challenges that would test them their resolve. At the end of the day, they were running a business (Apricot Lane Farms which still exists to this day), so they would have no choice but to constantly redefine themselves as a result.
The Biggest Little Farm was a love letter to nature and it was its depiction of nature that was the best part of the film. The cinematography was simply breathtaking to behold. Shot by John Chester, the film had a very intimate feel, not only between us and the Chesters but also between us and nature. How the film managed to capture the beauty (and sometimes the ugliness) of nature in its most intimate moments was truly beautiful. Meanwhile, the score would only emphasize that beauty and uplift.
Whether or not this film will inspire others to follow the Chesters' undertaking remains to be seen but it certainly wouldn't hurt us as a planet and a people if we just took a moment to appreciate mother nature in any way we can while we still can.
*still courtesy of Elevation Pictures*
---
If you liked this, please read our other reviews here and don't forget to follow us on Twitter or Instagram or like us on Facebook.