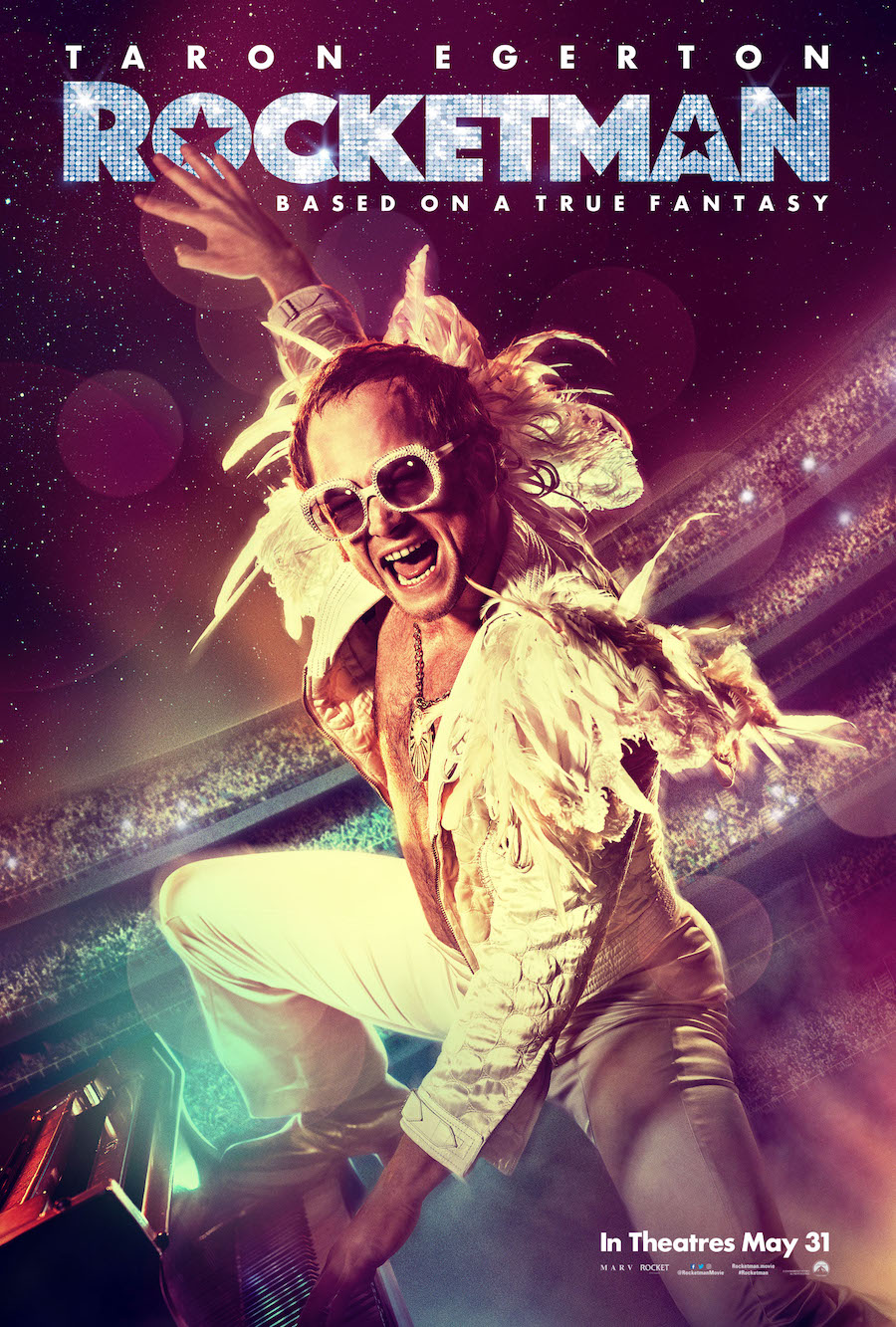 Starring

Taron Egerton, Jamie Bell, Richard Madden

Writer

Lee Hall

Director

Dexter Fletcher

Rating

14A (Canada), PG-13 (United States)

Running Time

121 minutes

Release Date

May 31st, 2019
Rating Summary
Rocketman is an excellent, larger-than-life biopic fitting of its matter. It's an impressionistic and emotional musical journey with plenty of style and substance while featuring a career-best performance from Taron Egerton.
Elton John may still be alive but there's no reason why he can't have his own biopic. Just like Elton John is unlike many rock stars, Rocketman isn't like most biopics and this would prove to be for the best. While the film more or less follows the standard biopic structure (including some jumping around while focusing on the music), it respects its subject by infusing a sense of style and larger-than-life personality that we've all gotten accustomed to with plenty of substance. Of course those who are more familiar with John won't be too surprised by what they will find here though even for those with intimate knowledge of John, what sets this film apart and makes it well worth the watch are these many stylistic touches that almost give it a dream-like feel.
From his humble beginnings as a talented young child named Reginald Dwight to who we now know as Elton John (Egerton), we see him overcoming his tumultuous family, including his mother Sheila (Bryce Dallas Howard), to find his passion which was clearly the piano. However, he would find his true calling after being introduced to rock and roll. The problem for John was that while he could definitely play the piano, he would struggle with putting words to his music. From there, a relationship that still lasts to this day was born between him and songwriter Bernie Taupin (Bell). The two men would become inseparable friends who shared a strong bond and were fun to watch together.
He may have been big in the UK but John didn't really take off (for better or worse) until he got to the U.S.. Surrounded by the many vices and excesses of the period, John would eventually succumb to them (as most rock stars did). Meanwhile, he would also attract the attention of a manager named John Reid (Madden) whose motives for the rock star were perhaps not the most honorable. At this point, John was still looking for his unique voice to help him stand out. He would have to do the same on an internal level, learning to be the personality that was Elton John while not forgetting about the level-headed Reginald Dwight. This balancing act was not easy but was compelling to watch.
One of the biggest things that Elton John is known for is his flamboyant costumes and Rocketman definitely nails all the costumes. On a technical level, the many performances, both big and small, were the best part of the film. Woven throughout the story, the performances fit were both epic and intimate in scale thanks to some inventive set designs, visual effects, and camerawork. The greatness of the film's soundtrack is without question but the fact that Egerton sings all the songs in the film adds another touch of authenticity to the proceedings as he can definitely sing.
Even with the sense of style on display, Rocketman would not have worked if not for the excellent performances across the board with Egerton standing head and shoulders above the rest as John. He definitely looked like John and could sing and play the piano like John but his performance was so much more than that. Egerton was Elton John, showing considerable range in capturing his larger-than-life personality and also his pain in powerful fashion. His arc over the course of the film was unlike anything he had ever done before and is definitely award-worthy. While the other characters were arguably non-existent, Bell was great as John's friend Bernie Taupin and Madden was effective as the slimy John Reid.
Hopefully Bohemian Rhapsody doesn't steal Rocketman's thunder as this should be the more award-worthy musical biopic.
*still courtesy of Paramount Pictures*
---
If you liked this, please read our other reviews here and don't forget to follow us on Twitter or Instagram or like us on Facebook.