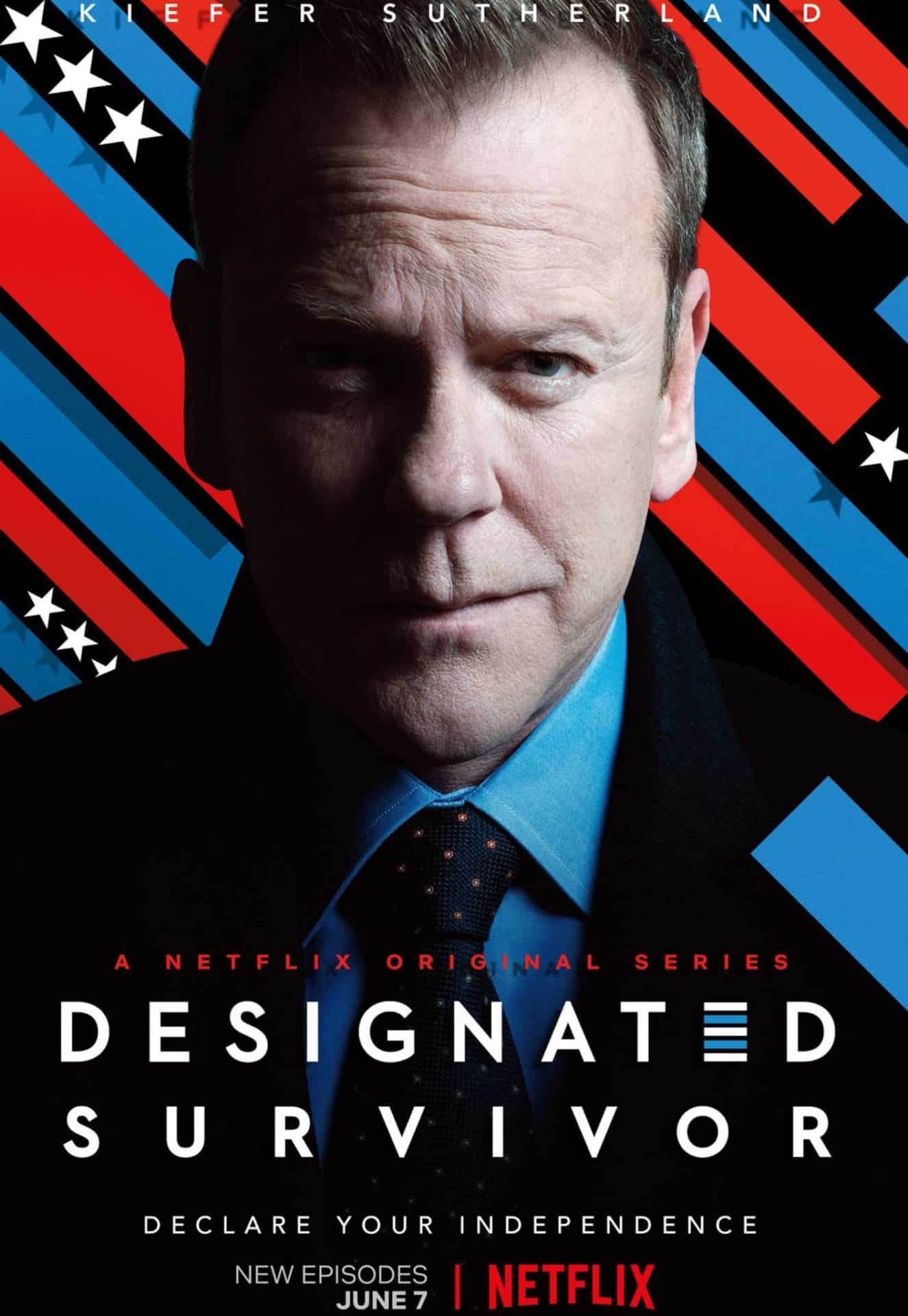 Creator

David Guggenheim

Rating

TV-MA

Episodes

10

Running Time

500 minutes

Channel

Netflix
Rating Summary
The switch to Netflix may mean a much different Designated Survivor than what many are used to but a shorter and tighter serialized season make for a more compelling story reminiscent of season one. Regardless Sutherland continues to be the best part of the series and makes it well worth the watch for any looking to start the series.
For our review of the last episode of Designated Survivor, click here.
In an age where our favorite series are saved from cancellation by streaming services, Designated Survivor joins that list after being cancelled by ABC despite moderate success internationally. The Kiefer Sutherland led drama about an everyman assuming the most powerful position on the planet boasted a compelling first season thanks to Sutherland's performance but as the second season came, it was unclear how far the series could stretch that initial premise. As a result, that second season faltered once the series moved beyond it though despite that, it still had Sutherland and the rest of the cast.
Perhaps the biggest difference between its initial network TV run and its new streaming home is the reduced episode count. Most network TV seasons are 20+ episodes which means plenty of filler that only stretches the plot and ruins the flow of a season. Season three of Designated Survivor runs for a trimmer 10 episodes. However, that's not the only difference as its new home means a different rating, opting for TV-MA instead of TV-14. This may take some getting used to for viewers of its network run as this new season features more colorful language while exploring issues that it previously could not.
For those wondering if watching any of the first two seasons are necessary before going into this new season, a few story threads do carry over from those first two seasons but for the most part, it is pretty safe to start here (for those are worried, check out this recap here). A few story threads carried over, however, the one big story thread from the end of its network run that carries over here was how the second season ended with Kirkman running for re-election as an Independent. This election would loom large this season as the series shifts to a more serialized style of storytelling that is more fitting for the bingeable-ness of Netflix.
As far as the cast is concerned, not all of the regulars (Paulo Costanzo, LaMonica Garrett, and Zoe McLellan) have made the move to Netflix. New cast members for this season included Kirkman's Chief of Staff Mars Harper (Anthony Edwards), Harper's wife Lynn (Lauren Holly), White House Director of Social Innovation Isabel Pardo (Elena Tovar), and White House Digital Officer Dontae Evans (Benjamin Charles Watson).
Running as a third-party candidate without any campaigning experience whatsoever was going to be tough for Kirkman, especially against his nemesis Moss who was the Republican candidate. Having to prove himself once again, he would turn his relatable charm back on. At least he had something to tap into the public's frustration as the two-party system was clearly broken and by not behind beholden to either, he was the best option. Regardless, Kirkman would have to find a way to navigate the country through a fair share of issues that are all very prevalent in today's society with a few usual Designated Survivor crises sprinkled in. Though in terms of the issues, it could be argued that the writing is heavy-handed but it all somehow comes together by the end.
As a whole, with a narrower focus and more time per episode, there was definitely a lot going on now than its network run, giving each of the characters something to do, but it never felt too much as it all felt important to the overall plot as they tackled all of those aforementioned issues which would find a way to converge over the course of the season. The reduced season length allowed for a better paced season that never let up. However, it was the re-election subplot that would be the most compelling. Hoping to guide the Kirkman campaign to victory was the ruthless Lorraine Zimmer (Julie White), who also happened to be Moss' former campaign manager and who took the notion of guiding an independent candidate to the presidency for the first time ever as a challenge.
It was here where Kirkman had to tow the line as he learned the truth about campaigning and all the dirty tactics that came with it. Kirkman was adamant about conducting his campaign the right way but despite his good intentions, this would be a test for him and the others in his inner circle, similar to how his presidency tested them back in season one. Not being affiliated with one of the two political parties would present its own set of challenges which meant that his campaign would need to employ unconventional methods in order to compete. However, he would not be the only character who was tested this season as Aaron would be faced with some pressure of his own with a progression that shouldn't come as that much of a surprise to any long-time fans of the series.
The best part of the series' network run was of course Sutherland and his performance as Kirkman and that was still the case now, benefiting from his charm and likability. The inner and outer conflict he had to face perhaps wasn't as deep as the first two seasons but he was still very compelling to watch. Because of the transition, the series has taken more of an ensemble approach which benefited Canto, Ricci, and Penn as they all excelled with the increased roles of as Aaron, Emily, and Seth. Edwards was also a great addition as Harper. While it's not all her fault, the use of Maggie Q as Wells was a little disappointing compared to everybody else though there was already quite a lot going on besides her.
At the end of the day, the season's ultimate trajectory may have been a predictable one but it wouldn't be a season of Designated Survivor without some sort of controversy so expect more of the same here. Either way, if the series continues, season four will definitely be exciting.
*still courtesy of Netflix*
---
If you liked this, please read our other reviews here and don't forget to follow us on Twitter, follow us on Instagram, and also like us on Facebook.