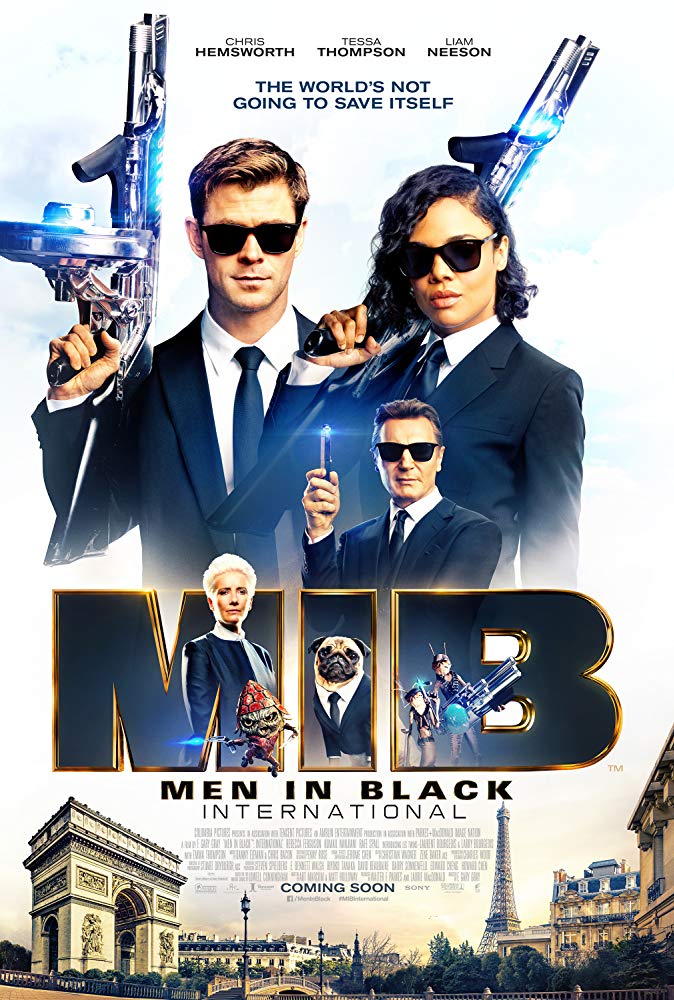 Starring

Chris Hemsworth, Tessa Thompson, Kumail Nanjiani

Writers

Matt Holloway, Art Marcum

Director

F. Gary Gray

Rating

PG (Canada), PG-13 (United States)

Running Time

114 minutes

Release Date

June 14th, 2019
Rating Summary
Men in Black: International was a forgettable installment with little substance that may feature the pre-established chemistry of Hemsworth and Thompson but they are ultimately wasted by a nonsensical story, inconsistent humor, and a mediocre script.
In an age of reboots and retreads, here is yet another with Men in Black: International, a unnecessary and lazily-made installment in the Men in Black series that adds absolutely nothing to the franchise while offering little to no cinematic value whatsoever. While yes, that is the familiar and successful pairing of Chris Hemsworth and Tessa Thompson on screen but the film can only be described as unremarkably average and forgettable thus no neuralyzer is needed. Most viewers should find themselves tuning out the story rather quickly as nothing noteworthy happens over its nearly 2 hour running time.
The film never seemed to care about its story so why should we? At the end of the day, it's not really worth explaining as its a nonsensical mess though ultimately, most will be unable to see beyond Hemsworth and Thompson on screen who play Agents H and M respectively. Coasting on the pre-established chemistry of the two actors, the story would never seem to try overly hard. H and M would travel across many exotic locales in order to save the world and find a mole within Men in Black. This would the main plot of the film and while the two agents would find plenty of unique characters, such as a tiny talking alien named Pawny (Nanjiani), and get into plenty of hijinks along the way but it would be difficult to care about any of it.
What was surely the big draw of the film was the pairing of the good-looking and highly-arrogant H and the highly-intelligent and highly-resourceful M but it unfortunately didn't quite work. Between both characters, H was off-putting while M was somewhat compelling to watch as tried to put up with him. Of course the eventual outcome of their relationship was predictable and what was supposed to be playful banter, alongside Pawny, was unfunny more often than not because of the film's mediocre script. The material may not have been the greatest but it would be their lackluster relationship that would be Men in Black: International's downfall.
The film had some okay action sequences and the special effects used to bring a decent variety of aliens to life but again, they only work if you are still paying attention and haven't tuned the film out. As the far as the acting was concerned, it was okay with the majority of its great cast phoning it in but that was more due to the material and direction than anything else. Hemsworth and Thompson definitely still have chemistry as H and M, however, the film failed to tap into that enough. Though some will find Hemsworth charming and charismatic, H was far too off-putting of a character with him overplaying his arrogance. Thompson was the best part of the film as M was far more relatable and she would bring the right amount of energy. Pawny was a great addition who only stood out because of Nanjiani's performanc
At the end of the day, Men in Black: International was disappointing not because it's a subpar Men In Black film but rather because of how it fails to fully utilize the many talents of Chris Hemsworth and Tessa Thompson.
*still courtesy of Sony Pictures*
---
If you liked this, please read our other reviews here and don't forget to follow us on Twitter or Instagram or like us on Facebook.