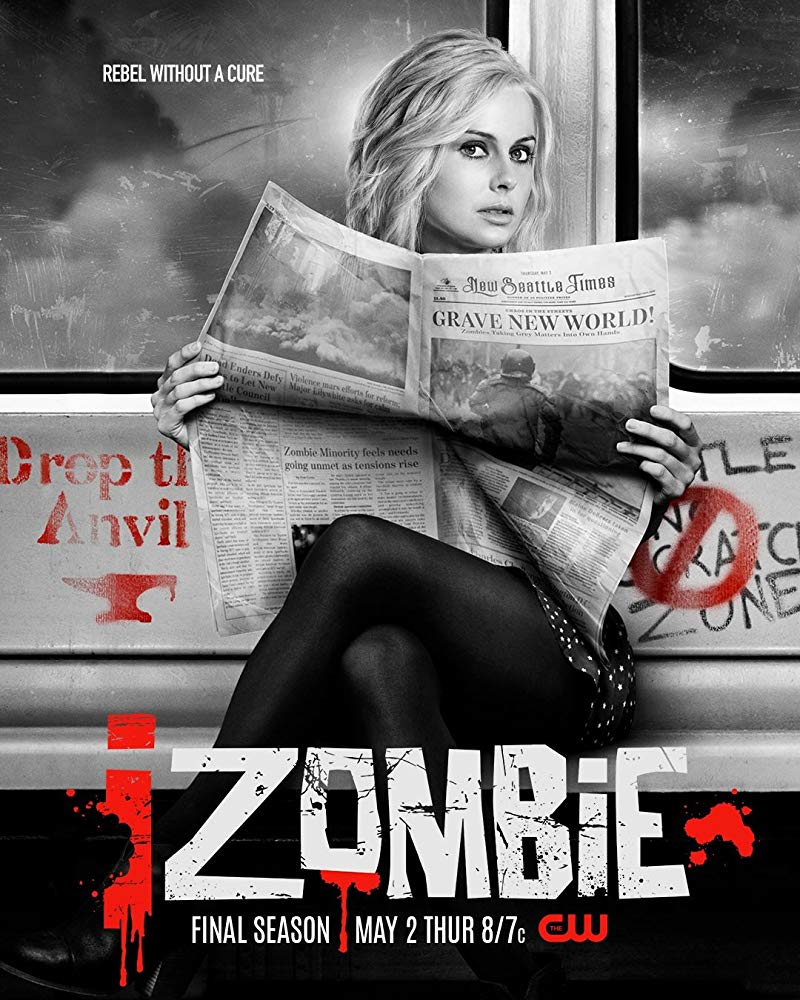 Director

Michael Fields

Writer

Chelsea Catalanotto

Rating

TV-14

Running Time

42 minutes

Airs

Thursdays 8pm

Channel

The CW
Rating Summary
With Filleted to Rest, iZombie gives us yet another exciting, unexpected episode as Liv learns a startling truth about the identity of her real father while on the brains of a murdered female chef.
If you would like to read our review of the last episode of iZombie, click here.
Synopsis: While investigating the murder of a chef at a high-end restaurant, Liv consumes her brain and becomes an unrelenting perfectionist; Major works to find out who is betraying the commander. (TVGuide)
And just like that, we're at the halfway point of iZombie's fifth and final season–and this could not be stated enough, but this reviewer is not ready! Seriously, this series is so incredibly underrated and more people should watch it for its sheer amazingness.
This week's episode brings the murder of a head chef at an upscale Seattle restaurant. Of course, Liv is all set to eat her brain, but what she doesn't know is that this chef wasn't the nice woman around, and it shows once her brain's effects take over Liz.
On a side note: Rose McIver is so incredibly talented. How she pulls off a different character week after week is beyond my understanding. The best part is she never fails at it, it's always on point and entertaining.
As the investigation continues, Clive and Liv learn that the brain supply from the restaurant was stolen, making the case a bit more complicated. It is a bit hilarious but it turns out that a pork loin is one of the things that would help Liv and Clive out with the case. It's labeled as a potential murder weapon since the victim had a concussion before she was suffocated to death.
While Dale is out, Clive has been taking over her Lieutenant duties which get interesting when Michelle is brought in to help. And as fate would have it, Michelle winds up getting hurt while out investigating and Clive is called as he is her emergency contact. So, wait, is HE the father? Nah, Michelle just knows he's more trustworthy and reliable. How sweet, but sort of sad. Poor Michelle.
Considering its the final season, it wasn't going to be long before Liv's mother strolled back into the story, and that happens this week. The relationship between mother and daughter is not the best, and it doesn't show any signs of improving. However, Liv learns the name of her real father, which is a plot twist in itself.
During a vision, Liv sees the victim arguing with one of her employees and catching him stealing brains. But, you see, it's not this employee that's guilty of murdering the victim. Instead, it turns out that the dishwasher was being blackmailed by the victim and threatening to out him to his family so he ended up murdering her.
The pace of this episode was enjoyable to watch because as we approach the end of it, a few major things go down. First off, Fillmore-Graves soldiers are ambushed and a handful of them die. When Major learns who is at fault, he shoots him on the spot. And then, remember how Liv learned her father's name? It turns out he is the leader of the zombie resistance group–uh oh.
iZombie continues to be riveting, fun, and lighthearted while tackling some major relevant issues. We can't exactly relate to the human/zombie tensions but when compared to current events, it's not all that different. Kudos to the series for tying in issues we can identify and connect with.
---
Check out my TV blog to read reviews, recaps, and much more! Be sure to follow me on Twitter, Instagram, and like my Facebook page! @watchwithreebs
If you liked this, please read our other reviews here and don't forget to follow us on Twitter, follow us on Instagram, and also like us on Facebook.