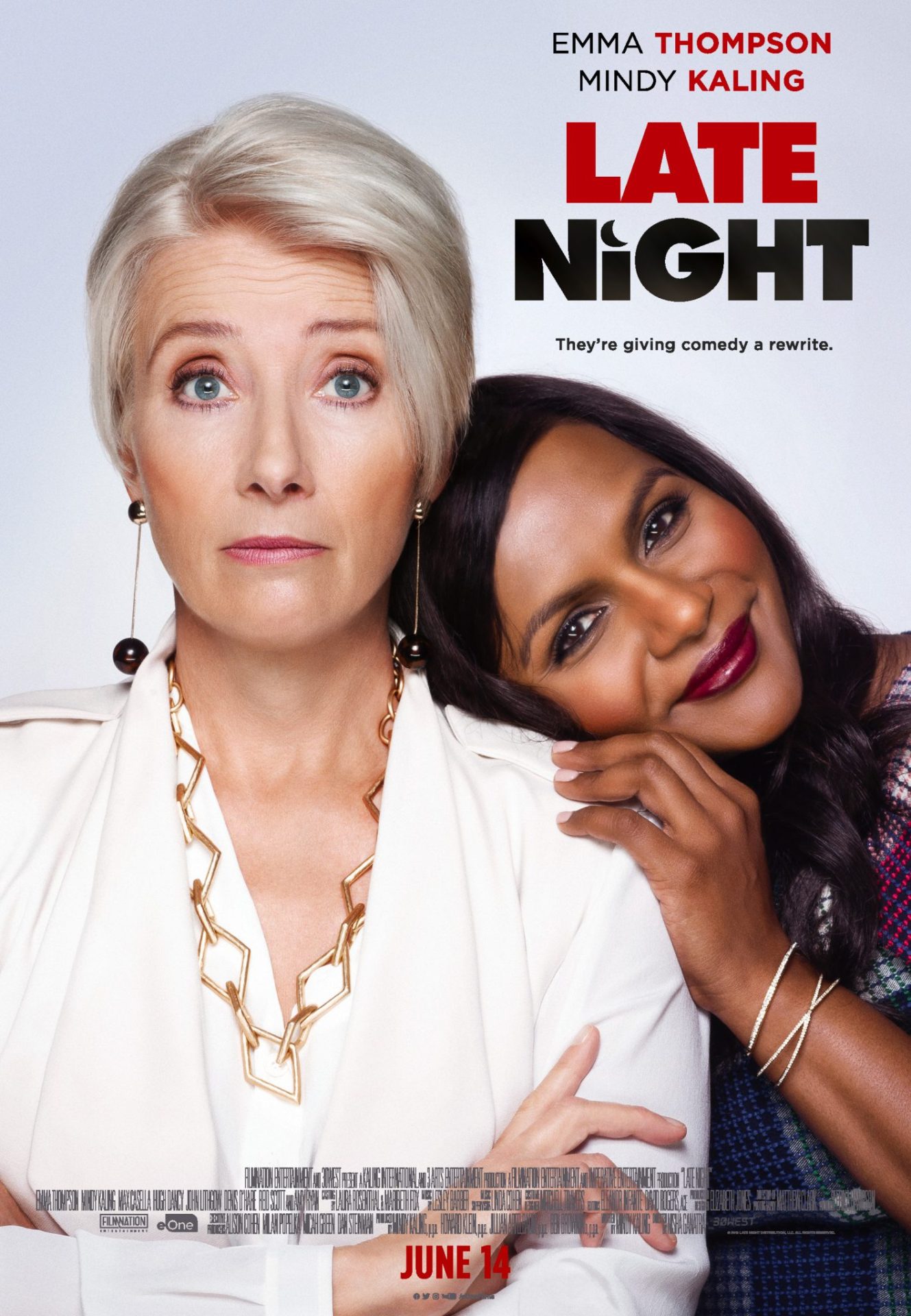 Starring

Emma Thompson, Mindy Kaling, John Lithgow

Writer

Mindy Kaling

Director

Nisha Ganatra

Rating

14A (Canada), R (United States)

Running Time

102 minutes

Release Date

June 7th, 2019
Rating Summary
Late Night was a excellent hilarious and surprisingly emotional comedy featuring a sharp script, that perhaps isn't as timely, accentuated by a sensational Emma Thompson and an equally strong Mindy Kaling who also wrote the script.
One of the largest acquisitions from this year's Sundance Film Festival, Late Night proves that its was well worth it. Today's late night TV landscape is mostly male-dominated thus this film gives this industry more of a female perspective though its message resonates well beyond late night television. This message unfortunately isn't as groundbreaking but it's still an important one and will surely rub oversensitive audiences the wrong way though it never became overbearing. The plot may not be the most original, however, it was also incredibly hilarious, heartwarming, and surprisingly emotional.
Late Night served as a coming-of-age story on multiple fronts. Molly Patel (Kaling) was an aspiring comedian and a big fan of Katherine Newbury (Thompson) and her late night talk show. Patel put Newbury, who was considered a pioneer, on a pedestal but she would quickly find out that behind the genius was quite the opposite after she found a way to get a job as a writer on Newbury's show despite having no writing experience whatsoever. There would be a reason for this as Newbury's once highly-successful show has been on a consistent decline over the last decade and she looked to quash her reputation of hating women.
As Patel arrived on the scene, she would be confronted with the male-dominated writers room though the fact that she was an unproven commodity would weigh almost as much as the fact that she was a woman. What happened here was what one would expect as she would unsurprisingly be a disrupting force for a show that has gone complacent. As she found a place while learning the inner workings of a late night television show, she gained confidence in herself and in the process, would prove Newbury and the other male writers wrong. Meanwhile, as a result of declining ratings and swaying public opinion, Newbury stood a chance of losing her show.
Newbury was nowhere near the person she played on television, she was rude, self-centered, closed-off, and generally abrasive but those around her would let her get away with it because she was so successful. However, that success would come at a price as it led to a complacency that prevented her and her show from adapting to today's climate. She had her own style that she believed worked for her therefore having to almost completely reinvent her show and herself to a certain extent would be easier said than done as the show was her life. She would have Molly's help though it would not be until that threat got closer to being real that she would break down and begin to see the so called error in her ways.
As mentioned, Late Night was hilarious, just as a film revolving around a late night talk show would be, with some sharp and current dialog. Newbury and Patel were so fun and compelling to watch as each character shared similar, albeit somewhat predictable, journeys over the course of the film. Thompson and Kaling as both women were the best part of the film by far. Thompson was sensational as Newbury, showing range and vulnerability as the hilarious late night personality carrying plenty of inner pain. Kaling brought energy with a strong performance of her own as the strong-willed and ambitious but still human Patel. Her likability and relatability made Patel's journey compelling to watch. Lithgow was also great in a limited role as Newbury's husband Walter.
It's too bad Katherine Newbury's show isn't real since Emma Thompson would be a great late night TV host.
*still courtesy of eOne Films*
---
If you liked this, please read our other reviews here and don't forget to follow us on Twitter or Instagram or like us on Facebook.