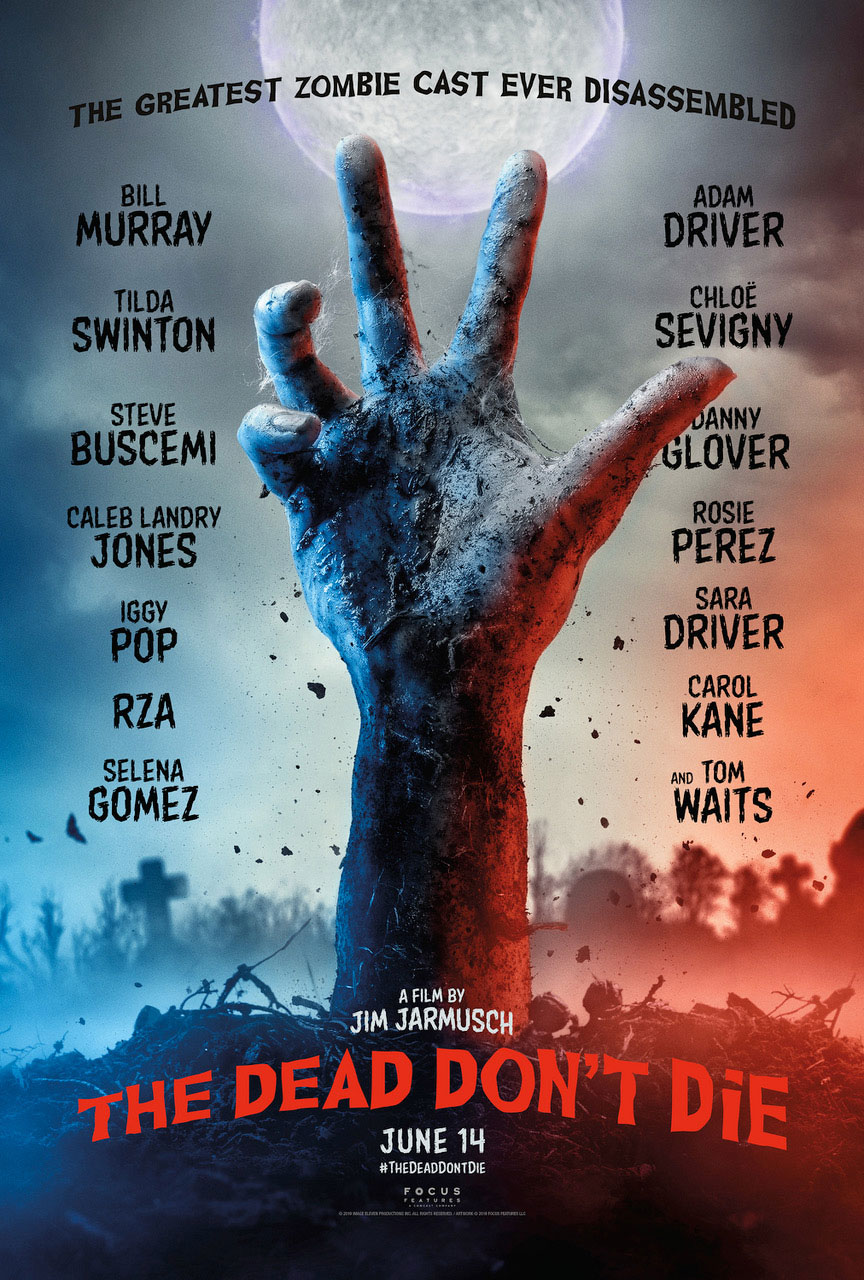 Starring

Bill Murray, Adam Driver, Tilda Swinton

Writer

Jim Jarmusch

Director

Jim Jarmusch

Rating

14A (Canada), R (United States)

Running Time

104 minutes

Release Date

June 14th, 2019
Rating Summary
The Dead Don't Die is an entertaining zom-com that starts slow but is a riot when it gets going. While it doesn't quite stick the landing or fully embrace the deadpan, Bill Murray, Adam Driver, and a weird Tilda Swinton are all up to the task and worth the price of admission.
If its trailers were of any indication, The Dead Don't Die isn't your typical zombie film and this would definitely be a good thing. Perhaps the best way to describe the film would be a quirky, dry or deadpan style of comedy that just happened to take place during a zombie apocalypse. These contrasting styles don't often appear together in the same film, for good reason as each have limited appeal, and this meshing certainly won't be for everyone. While this tone doesn't always work, the film, for the most part, is a fresh and entertaining take on the genre that also acts as social commentary that albeit didn't always work either.
When it comes to zombie films, it doesn't matter all that much how it came to be since it didn't really make too much sense anyway. The story here took place in a seemingly every day small town named Centerville. Centerville was a peaceful little town where everybody knew everybody and nothing every happened. Obviously that would change here but once something was indeed happening, suffice it to say that most of the town was not quite ready for it or even know how to deal with it. All of this began with the officers of the Centerville Police Department which included Chief Cliff Robertson (Murray), and officers Ronnie Peterson (Driver) and Mindy Morrison (Chloë Sevigny).
The rest of the town of Centerville was full of fun and very eccentric characters though perhaps by introducing all of these characters and their respective subplots, the film does get a little slow at times, especially at the start. However beyond the three members of the police and also the town's funeral home operator named Zelda Winston (Swinton), it was difficult to care about any of the other characters on any deeper level. Despite this, they were all fun to watch though some people will find the dialog and the deadpan delivery may be a little too lifeless for some but it was also layered, meaning that an additional watch may be needed in order to catch everything.
Once the story finally got going, it became even more fun to watch as the police department and the other residents of Centerville dealt with their new zombie problem was a just a same that the series couldn't find the right balance between being a quirky film and a zombie film. The Dead Don't Die never seem to go far enough with either despite featuring some great moments either way, there just should have been more of them. The general detachment between the characters and what was happening doesn't always work in films, however, it worked here for the most part and was hilarious. Unfortunately, the film couldn't quite sustain this until the end which would miss the mark.
The best part of the film was its great performances across the board. The Dead Don't Die boasts an impressive cast but all the actors were definitely up to the task here when it came to deadpanning their way through except for Swinton who was different and simply a weird delight as Winston. It was just a shame that we didn't get enough of her as it was clear that she was having a blast in the role. More specifically, the best part of the film was watching Murray, Driver, and to a lesser extent Sevigny riff off of one another. Their dynamic worked so well because of their amazing chemistry so much so that simple dialog scenes would be more interesting than those with zombies (but they were still fun with the zombies).
Hopefully it's theme song catches on:
*still courtesy of Focus Features*
---
If you liked this, please read our other reviews here and don't forget to follow us on Twitter or Instagram or like us on Facebook.