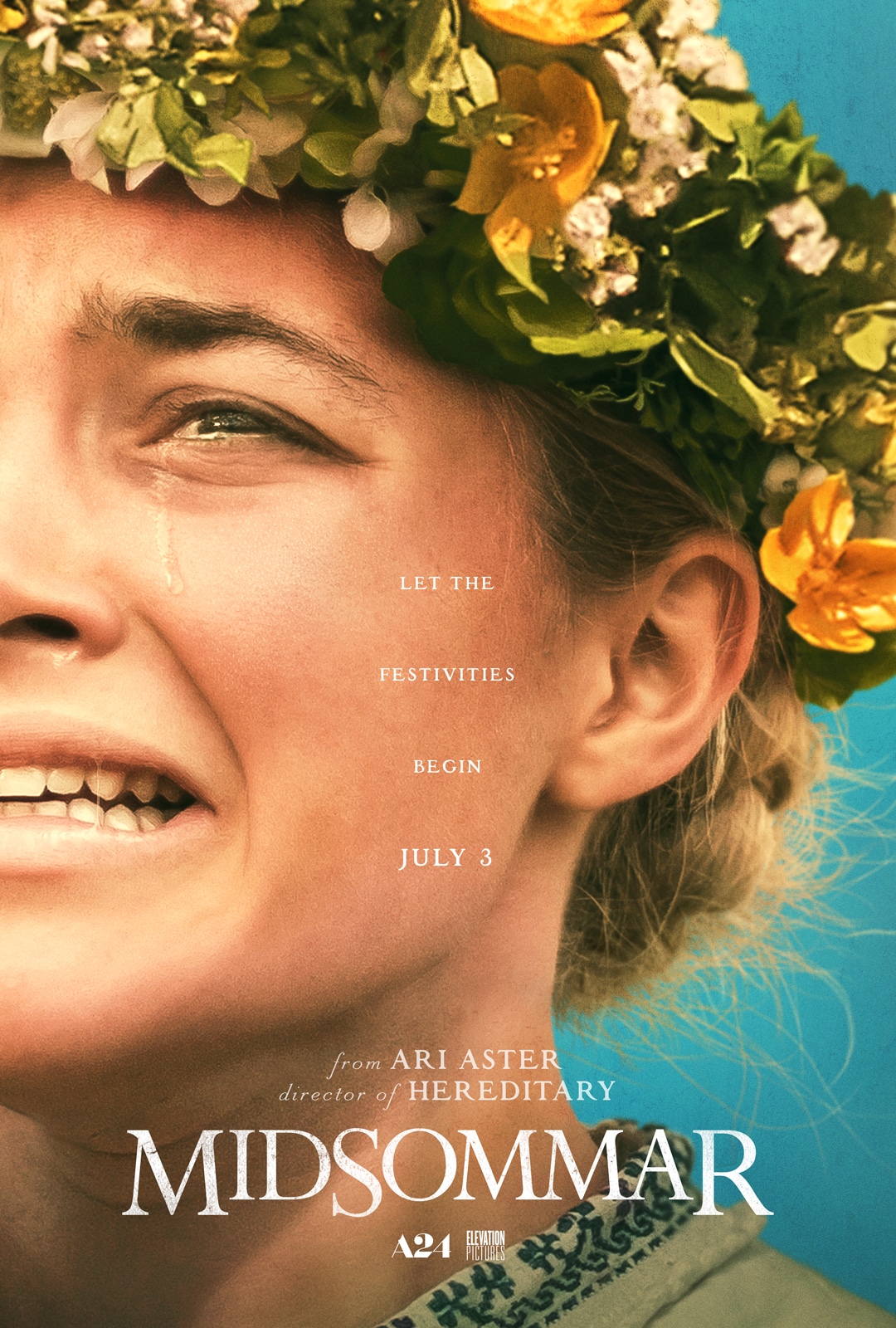 Starring

Florence Pugh, Jack Reynor, Will Poulter

Writer

Ari Aster

Director

Ari Aster

Rating

R (United States)

Running Time

140 minutes

Release Date

July 3rd, 2019
Rating Summary
Midsommar is an unexpectedly funny, gleefully depraved dissection of relationships through the lens of a folk horror tale.
Writer/director Ari Aster came bursting onto the scene last year with his shocking horror film Hereditary. Now he's back with a new film that is sure to make audiences squirm but is also good for more than a few laughs. With Hereditary, Aster sent us through a ringer of disturbing images and depressing emotional heft, laughing at us as he did so. With Midsommar, however, it's as if Aster has finally invited us to come laugh along with him. Not only is there a hefty dose of good-natured humor present in the film, the disturbing elements at play here have a much more comedic, albeit still very twisted, light shone on them. In other words, this film is a lot more fun.
Midsommar focuses on Dani (Pugh), as she accompanies her boyfriend Christian (Reynor) and his friends on a trip to a beautiful little commune in Sweden. But, as these things tend to go in the horror genre, the small community slowly reveals itself to not be blissful as they first believed. 
Expectations have been high for Midsommar and rightfully so due to the success of Hereditary. While the film is undoubtedly a worthy follow up, fans should take note: these two films are very different. Both are fantastic, there's no doubt about that, but too many preconceived notions that may have formed in audiences due to Aster's previous work may lead to disappointment with this film, so be warned.
Regardless of what notions you take into this film, you will be in for one weird and wild ride. Midsommar is absolutely bonkers in the best way possible, and it is a nightmarish, yet often hilarious, delight from beginning to end. Aster's direction is incredibly strong. He crafts an intricately balanced tone between true dread and good humor without skipping a beat. The entire cast is brilliant, with particular highlights being an absolute powerhouse performance from Pugh and a very entertaining turn from a girl-chasing, vape-smoking Will Poulter as a character named Mark who would serve as the comic relief. Meanwhile, the cinematography on display is beautiful, the sets and scenery are awe-inducing, and the blood and gore, while sparse, is gruesome and brilliantly done.
Aster's script is very well written and touches on many subjects, most notably the many different types of codependent relationships we face in the world. He has clearly had issues with codependency before, and despite being a dreamlike, fairy tale like film, it feels quite personal. 
Overall, Midsommar definitely proves that Hereditary was no fluke, and that Aster is for sure a force to be reckoned with not just in the horror genre, but in the film industry in general. The film is a ferociously eerie, morbidly funny film with a lot more on its mind than just a fish out of water horror story.
*still courtesy of Elevation Pictures*
---
If you liked this review, you can follow me on Letterboxd to see more. And my Twitter is a lot of fun too.
Read our other reviews here and don't forget to follow us on Twitter or Instagram or like us on Facebook.